Trump Inaugural Committee Chair Defends Saudi Arabia Killing Journalist Jamal Khashoggi, Says, 'Atrocities in America Are Equal or Worse'
Thomas Barrack, a close ally of President Donald Trump's who was in charge of fundraising for his inaugural committee, has defended Saudi Arabia after the kingdom's leadership was blamed for the brutal murder of journalist Jamal Khashoggi.
Speaking in Abu Dhabi on Tuesday, Barrack argued that the U.S. was in no position to judge Saudi Arabia's actions.
"Whatever happened in Saudi Arabia, the atrocities in America are equal, or worse," Barrack told a CNN reporter during an event. "So for us to dictate what we think is the moral code there, when we have a young man and regime that is trying to push themselves into 2030, I think is a mistake," he added, referring to Saudi Arabia's young Crown Prince Mohammad bin Salman.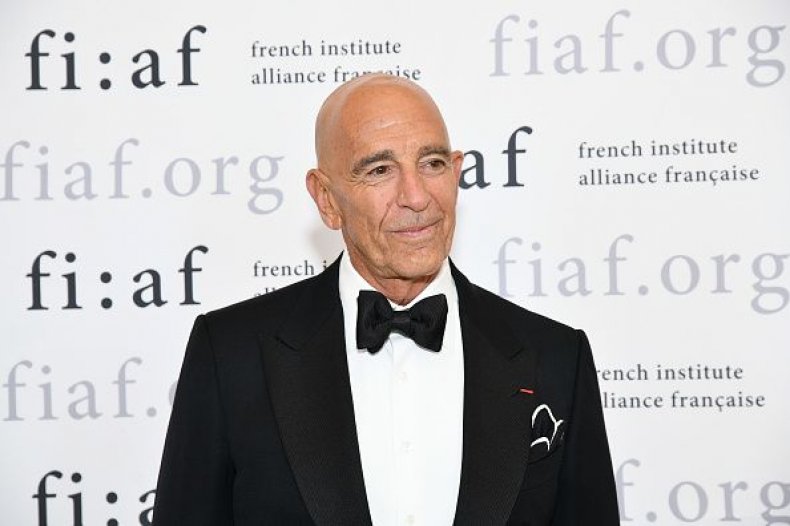 "So, the West is confused, it doesn't understand the rule of law in the kingdom, it doesn't understand what succession in the kingdom is, it doesn't understand how there can be a dilemma with a population that has 60 percent of people under the age of 20," Barrack noted, continuing his full-throated defense of Saudi Arabia. "The corrupt hand of the West has been the primary instigator in the kingdom, and in the resource curse across the region forever."
Khashoggi was murdered in the Saudi Consulate in Istanbul, Turkey, after he entered the building to obtain documents needed to marry his fiancé. He was a vocal critic of the Saudi regime who wrote a regular column for The Washington Post, and his death sparked outrage around the world.
Bin Salman denied having ordered the murder, but the U.S. intelligence community later determined it would not have taken place without the Crown Prince's approval. Evidence suggested that MBS, as the crown prince is known colloquially, was in constant and direct contact with the individual who orchestrated the brutal killing.
Only President Donald Trump has cast doubt on whether the Crown Prince was responsible. On Friday, the Trump administration missed its deadline to report to Congress its conclusions about whether the Crown Prince is responsible for the journalist's death.
Some Republican lawmakers, including Republican Senator Marco Rubio, said that the administration's failure to meet the deadline constitutes a violation of the Global Magnitsky Human Rights Accountability Act. The law requires the president to determine within a 120-day period whether the U.S. will impose sanctions on a country accused of human rights abuses.
Barrack has recently been in the news because his investment company Colony allegedly attempted to use its connections to Trump to build relationships with foreign officials without giving the appearance that it was officially lobbying for foreign entities. A memo obtained by ProPublica demonstrated that Colony had a "strategic plan" to open an office in Washington and set up roundtables between ambassadors and Trump administration officials. An ambassador from Saudi Arabia attended at least one 2017 meeting with Treasury Secretary Steve Mnuchin and Colony executives, according to ProPublica. Barrack personally attended the meeting. Barrack is of Lebanese heritage and speaks Arabic. He has frequently supported U.S. efforts to boost its business ties to Saudi Arabia.
Last week, federal prosecutors in Manhattan also subpoenaed the Trump inaugural committee of which Barrack was a part, requesting all information about potential donations from foreigners and benefits the committee may have offered.