Trump Inauguration Demonstrators Make Presence Felt in Washington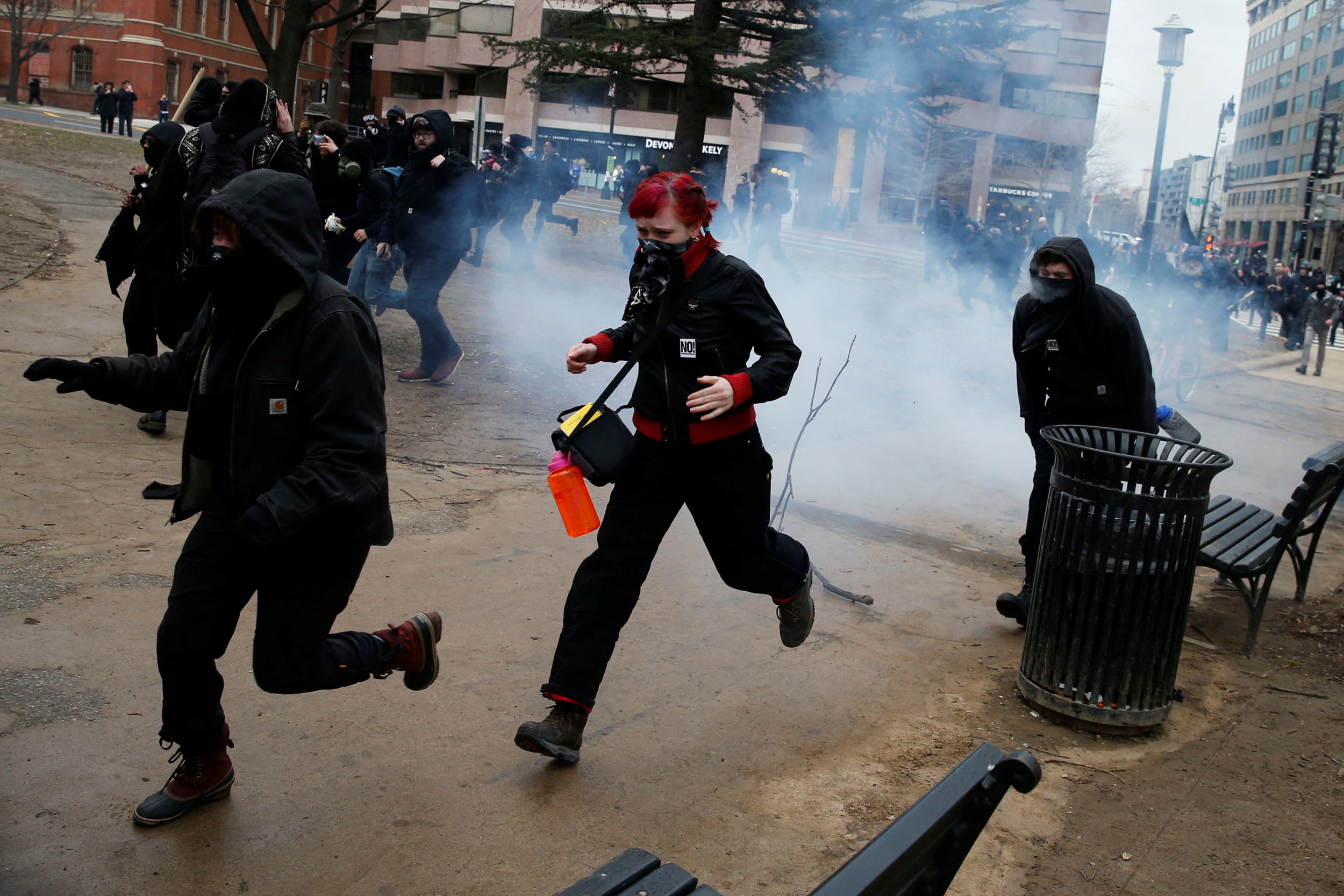 Updated | Demonstrators protesting against a Donald Trump presidency didn't succeed in their goal of shutting down his inauguration, but they were a noisy, disruptive presence in Washington on Friday. And as the day wore on, they grew more destructive, with black-clad anarchists appearing on the streets downtown, smashing windows and setting up barricades in the roadways.
Shortly before Trump was sworn in as the 45th president of the United States, a horde of brick-throwing anarchists smashed windows at retail outlets in the heart of Washington's business district and skirmished with police. By mid-afternoon, they were massing on K Street, one of the city's main arteries. Police in riot gear fired stun grenades, pushing the crowds in the street back bit by bit. To stop the police's advance, several dozen demonstrators—many wearing gas masks or black bandanas over their faces—uprooted trash cans, park benches and mailboxes and dragged them into the street. Others set fire to signs and trash, filling the air with smoke, as helicopters buzzed overhead.
Only a fraction of the people gathered on K Street, a thoroughfare normally bustling with button-downed businessman and lobbyists, were actually contributing to the chaos. Hundreds of protesters hung around the margins—watching and filming, occasionally chanting and then running as the grenade fire closed in. One protester with a bullhorn chastised two masked men pulling down a bus stop sign. "Working class people take those buses!" he yelled. The men ignored him. Down the street, hundreds more protesters crammed McPherson Square, just blocks from the White House, to listen to speakers inveigh against Trump and his incoming administration.
In an early evening press conference, the city's Interim Police Chief Peter Newsham told reporters 217 people had been arrested and charged with rioting for the mid-morning vandalism that left businesses like McDonald's and Starbucks with boarded up windows. Six police officers sustained minor injuries after protesters threw rocks and bricks. Newswham said the police used pepper spray to dispere the crowd of several hundred, many armed with hammers and crowbars. He said his department was looking into reports of police using stun grenades on the crowds along K Street Friday afternoon. Initially, police had claimed protesters may have been tossing the grenades but it seemed clear from the origination and direction of the grenade fire, and from multiple corroborating news reports, that they were coming from the line of riot police. Police were still monitoring several groups of protesters as night set in; Newsham said he expected it to be "a long day."
It was a much edgier mood than early in the morning, when demonstrators staged mostly peaceful protests focused on specific policy issues. Demonstrators sang, danced, chanted and, in some cases, confronted the police and Trump supporters coming to watch the new president of the United States take the oath of office or walk the parade route from the Capitol to the White House.
As promised, protesters sought to disrupt security checkpoints set up around the inaugural parade route and the mall. That secure zone was walled off with fences and barricades except for a few entry and exit points, which gave them the opportunity to blockade revelers coming to watch the every-four-year spectacle. One of the most intense confrontations played out at a checkpoint along the parade route at 14th Street and Pennsylvania Avenue NW, where hundreds of environmental protesters linked arms and refused to allow people through the gates.
Singing and waving signs decrying the Dakota Access Pipeline, an oil pipeline being built in North Dakota, the demonstrators were able to shut down the entry point for roughly an hour. A few Trump supporters in "Make America Great Again" baseball caps and American flag garb tried to weave through the human chain, but eventually gave up. Others turned back rather than risk a confrontation. "I guess we're not getting in this way," one middle-aged man grumbled.
The blockade was eventually broken up by a cadre of police officers, who began forcibly dragging protesters away, three or four officers at a time, while the crowd of protesters booed. Skirmishes broke out as one phalanx of police officers tried to push through a crowd of protesters. Other demonstrators stood silently as officers put goggles and bags over their faces, preparing to saw off the makeshift PVC pipe sleeves they'd used to link their arms. Eventually, security officials restored order and soldiers lined the walkway, allowing people through. Protesters, however, continued to sit and chant along the walkway.
A group of pink-clad feminist protesters staged a similar blockade further up the route, on 10th and E streets NW. Though they did not block the gates, they did clog the walkway leading to them, making it difficult to pass through. "We have paralyzed the inauguration!" a woman declared through a bullhorn. Not exactly: Attendees were still passing steadily through the entrance, and parade-goers elsewhere were lining up at checkpoints entirely unopposed.
As Trump's swearing-in ceremony was getting underway, people were trickling in along the parade route. Many wore pro-Trump garb, but others held anti-Trump signs or sported the campaign shirts in support of Democratic presidential candidates Bernie Sanders and Hillary Clinton. Security officials anticipated attendance on the Mall for the swearing in and the parade to be roughly half what Barack Obama drew to his first inauguration, in 2009—800,000 to 900,000 people, compared to the 1.8 million who clogged central Washington to celebrate the first black president. The city was noticeably less crowded than eight years ago, with the Metro platforms and trains going downtown virtually empty as the day started.
Protesters were a major presence across town—some solo or in small groups silently carrying signs, others in large congregations. Not all of them were disruptive. At one checkpoint, glitter-covered LGBT advocates staged a dance party, Whitney Houston blaring from a set of speakers. The demonstrators twirled hoola-hoops and waved rainbow flags and signs declaring "Dyke Power," but made no attempt to get in the way of the Trump supporters passing through the gates. One group of young men en route to the parade even joined the demonstrators in the dancing.
This article has been updated with information about protesters becoming more violent later in the day and a press briefing by the D.C. mayor and interim police chief.