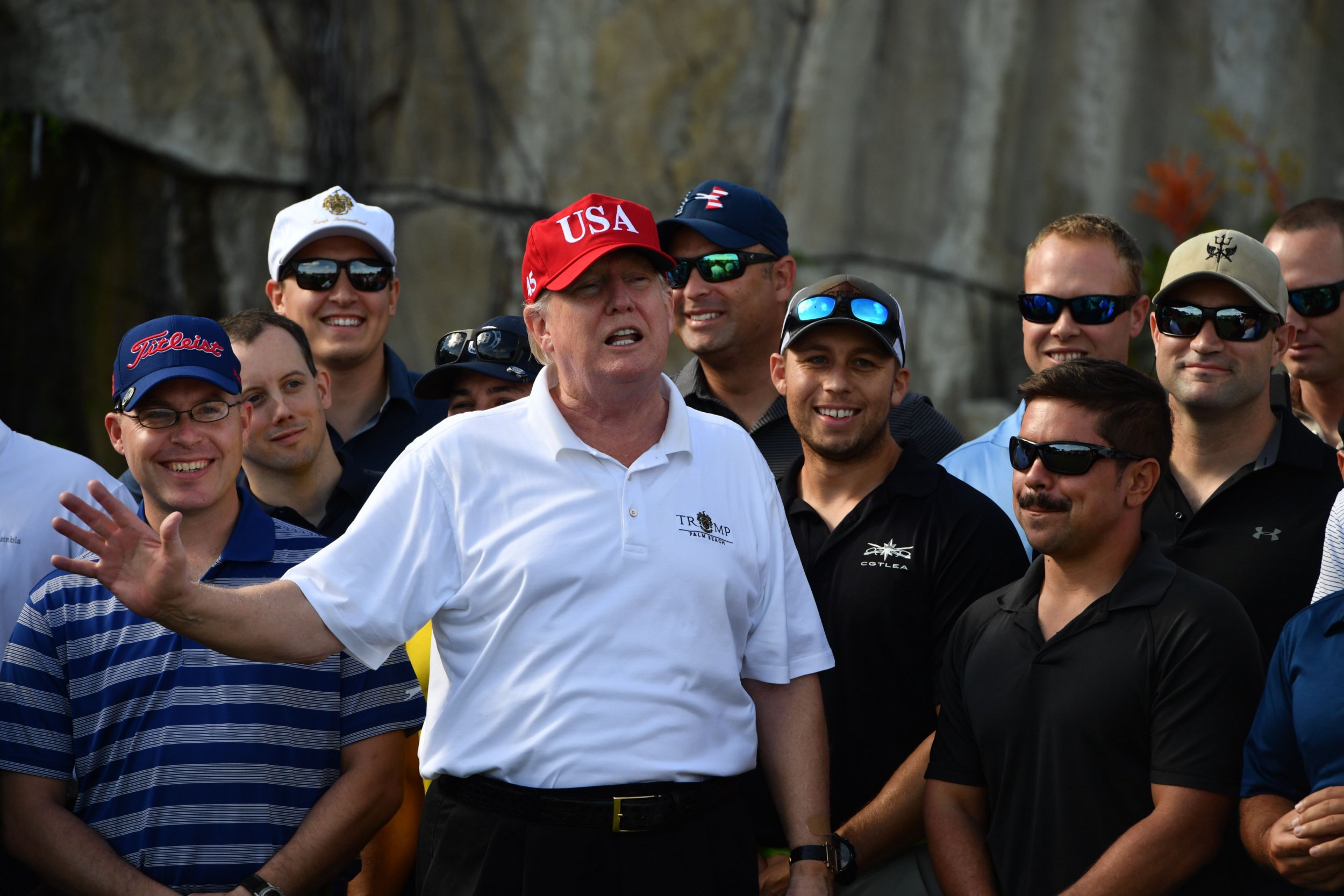 President Donald Trump has spent 122 days, or a third of his first year of presidency, visiting his own commercial properties.
Trump, who promised to separate himself but not divest himself from all aspects of his global business empire before taking office, has routinely promoted his properties and products while carrying out official presidential duties, according to a new study by Citizens for Responsibility and Ethics in Washington (CREW), a non-partisan watchdog group.
In addition to Trump's visits, 70 White House officials, 30 members of Congress, and over a dozen state officials have visited Trump's Organization properties this past year. President Trump and his advisers also promoted Trump properties or entities at least 35 times.
"Every decision President Trump makes in the course of his job is followed by the specter of corruption," Noah Bookbinder, CREW executive director said in a statement. "Because of his steady stream of conflicts, we have to question whether each decision he makes was made in the best interest of the American people or the best interest of his bottom line."
According to analysis, the president spent at least 50 days at his Mar-a-Lago property, a club with a $200,000 initiation fee that Trump has dubbed "The Winter White House." While in Florida, the president visited the Trump International Golf Club in West Palm Beach 33 times.
During warmer months, Trump spent 30 days at his New Jersey Bedminster Golf Club, which he and his staff members called "The Summer White House." The club printed a brochure granting its members access to the president. "If he is on-site for your big day," it said, "he will likely stop in & congratulate the happy couple."
While in D.C., the president dined at his Trump International Hotel seven times and has golfed at the Trump National Golf Club 23 times.
And it's not just Trump, CREW has recorded 70 administration officials making 200 visits to Trump Organization properties in the first year.
At least three top officials: Treasury Secretary Steven Mnuchin, National Economic Council Director Gary Cohn, and small business administration head Linda McMahon, spent weeks at The Trump International Hotel while commuting between New York and DC, according to the Associated Press.
Secretary Mnuchin and former assistant to the President Omarosa Manigault both held wedding receptions at the hotel.
More than 30 members of Congress made 44 trips to Trump Organization properties. Senators Lindsey Graham, David Perdue, Rand Paul, Bob Corker, Marco Rubio, Lisa Murkowski and John Barrasso were all seen on Trump's golf courses and hotels. As were a number of representatives.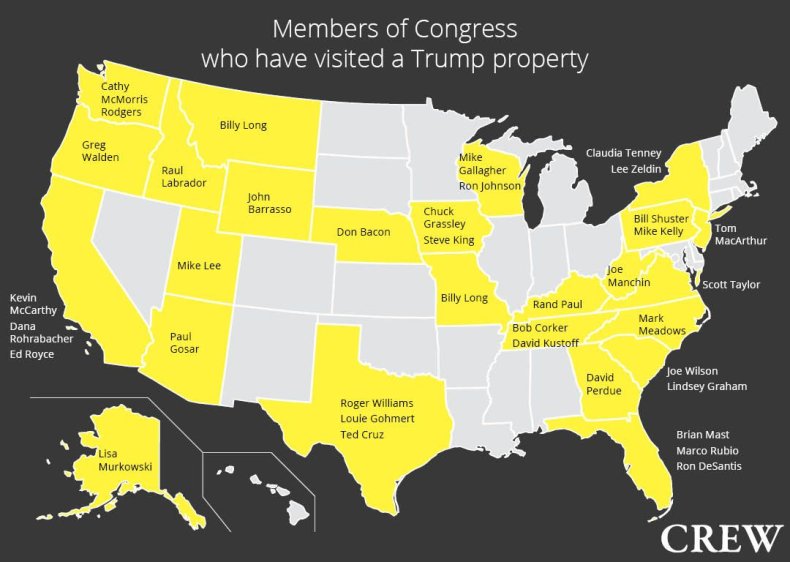 In May, 10 Republican governors met at Trump National Doral for a Governors Association event and Florida Governor Rick Scott shared meals with the president on his properties at least three times.
The president and his staff promoted Trump products and properties throughout his first year.
After the Charlottesville, Virginia protests that left one dead, the president said from Trump Tower in New York, "I own a house in Charlottesville…I own actually one of the largest wineries in the United States. It's in Charlottesville."
The president began a speech to the United Nations General Assembly by mentioning his nearby building, "I actually saw great potential across the street, to be honest with you, and it's only for the reason that the United Nations was here that that turned out to be such a successful project," he said.
"Just as we feared, President Trump is not only making money in spite of his official position, in many cases, he's making money because of it," said Bookbinder. "This is the least ethical first year of any presidential administration in modern history."