Watch Donald Trump NRA Speech Live From Indianapolis: Will President Speak About Pete Buttigieg in Dem's Home State?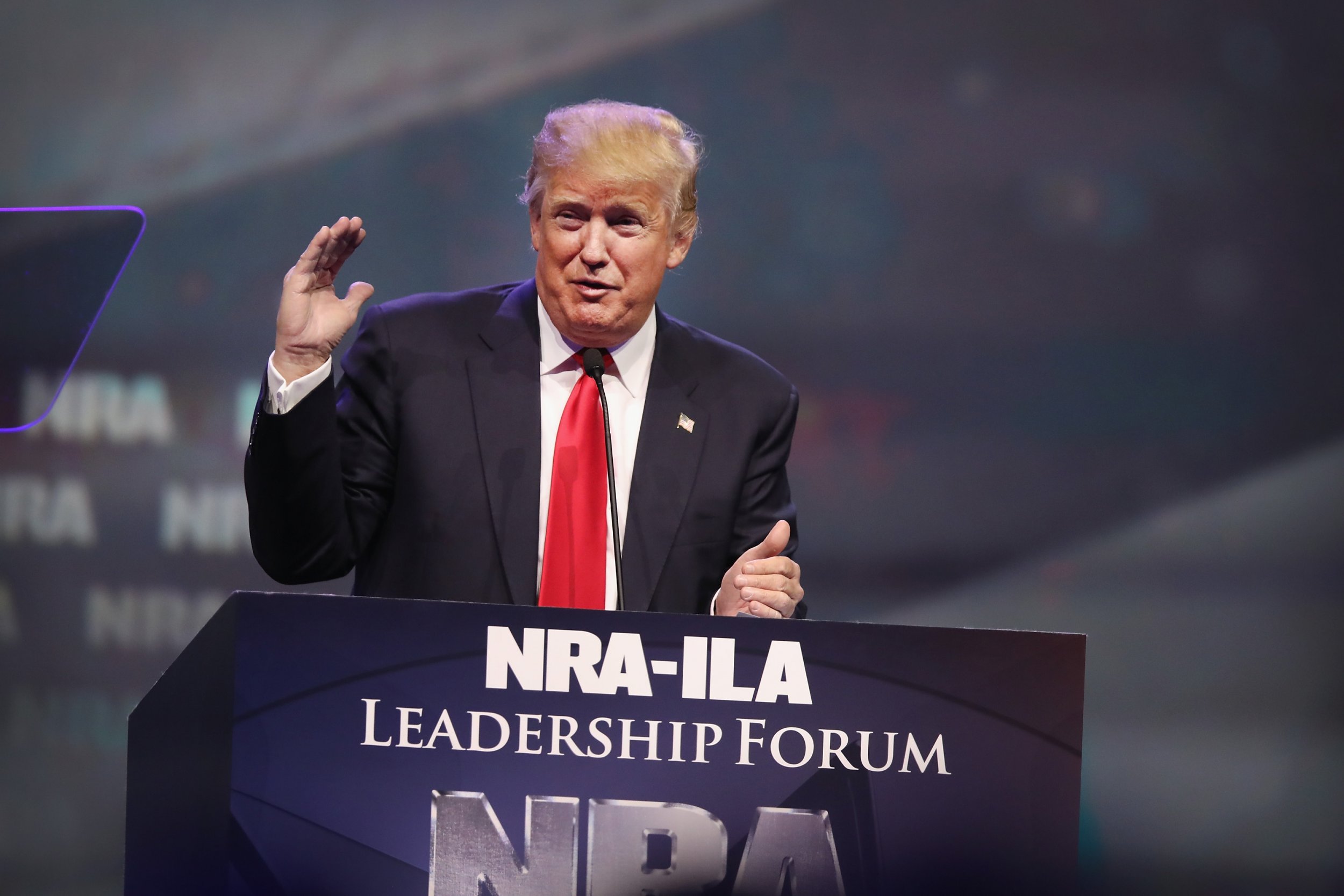 For the third consecutive year, President Donald Trump will be the keynote speaker that the National Rifle Association of America's annual convention. Trump's speech this year, on Friday morning, has the added political dimension of taking place in Indianapolis, in the home state of South Bend mayor and 2020 Democratic presidential candidate Pete Buttigieg.
Trump's visit to Indiana for the NRA Institute for Legislative Action Leadership Forum will be his first to the state since Buttigieg announced his bid. The forum is taking place at the Indiana Convention Center from 11 a.m. to 4 p.m. local time, with Vice President Mike Pence slated to begin speaking around 11:10 a.m. Trump is expected to speak afterward.
The president and vice president's remarks will be live-streamed on the NRA's Facebook page and on the White House YouTube channel below.
Early Friday, Trump tweeted enthusiastically as he traveled to Indiana.
"Heading to Indianapolis to speak at the big NRA Conference. Love being in Indiana. The @NRA is getting stronger & stronger and doing some really great and important work," Trump tweeted. "Having their powerful support has been vital to #MAGA!"
On Thursday afternoon, Trump prefaced his visit by tweeting the NRA's post about the forum and commenting, "Look forward to seeing everyone in Indianapolis, Indiana tomorrow!"
The NRA, which has more than 5 million members, is largely considered part of Trump's base. Members have counted on Trump supporting their mission to defend the Second Amendment's right to bear arms, and resist legislative efforts to enact stronger gun control measures.
"Donald Trump is the most enthusiastic supporter of the Second Amendment to occupy the Oval Office in our lifetimes. It is truly an honor to have President Trump address NRA members for the fifth consecutive year," NRA-ILA executive director Chris Cox said in a statement about the forum.
"President Trump's Supreme Court appointments ensure that the Second Amendment will be respected for generations to come," Cox stated. "Our members are excited to hear him speak and thank him for his support for our right to keep and bear arms."
Trump in a sit-down interview Thursday night with Fox News host Sean Hannity did not criticize Buttigieg but said he doubted the mayor would win the Democratic primary. Buttigieg, 37, the only openly gay candidate in the 2020 race so far, has garnered significant media attention since he announced in mid-April.
"I hope he would," Trump said of Buttigieg's chances in the primary. "I'm rooting for him, but he is not going to make it."