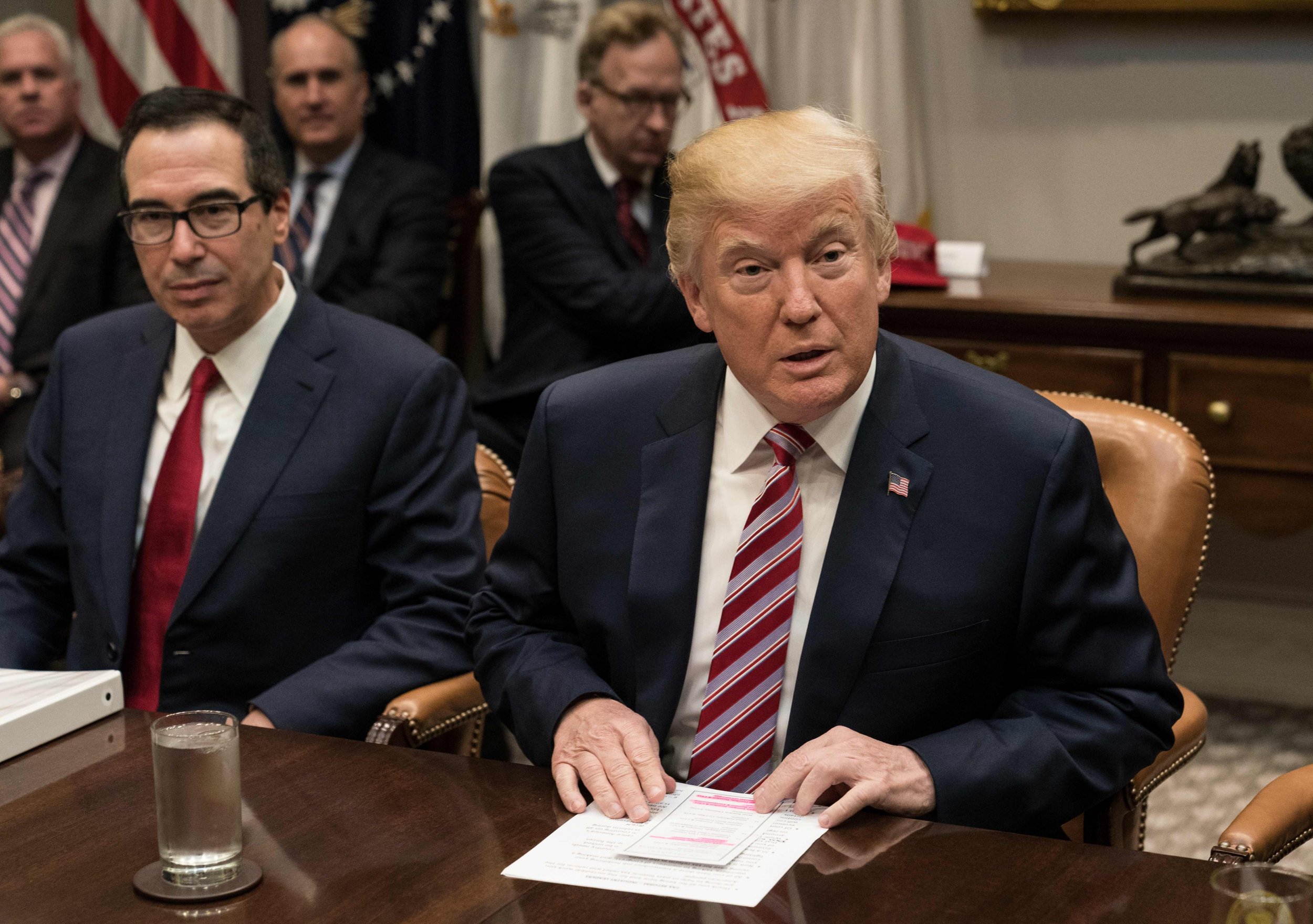 President Donald Trump's cabinet and inner circle haven't always had the kindest words for their leader, and often hurled insults about the president behind closed doors, according to a new book that offers an insider's view of the administration.
Even those closest with Trump called him names and questioned his efficacy, as detailed in Fire and Fury: Inside the Trump White House, a book by journalist Michael Wolff that is set to publish next week.
"For Steve Mnuchin and Reince Priebus, he was an 'idiot,'" reads the book. "For Gary Cohn, he was 'dumb as shit.' For H.R. McMaster he was a 'dope.' The list went on," Wolff wrote, according to excerpts reported by NBC.
Priebus, former White House chief of staff, has already lost some of his good standing with the president, after being ousted in July, but Mnuchin, the current Secretary of the Treasury, could face some heat for this alleged comment.
Mnuchin blasted the book as "fake" on Twitter on Thursday using the hashtag "#MAGA" to seemingly demonstrate his continued support of Trump despite his reported criticism included in the book.
Wolff also detailed an email that circulated the White House in April, "purporting to represent the views of Gary Cohn," chief economic advisor to President. In the alleged email, Cohn doesn't hold back.
"It's worse than you can imagine. An idiot surrounded by clowns," reads the reported email. "Trump won't read anything—not one-page memos, not the brief policy papers; nothing. He gets up halfway through meetings with world leaders because he is bored. And his staff is no better."
National Security Advisor McMaster was previously reported to have criticized Trump, calling him an "idiot" with the intelligence of a "kindergartener" back in November.
McMaster is not the only one in Trump's inner circle with previously reported insults against the president. Secretary of State Rex Tillerson famously called Trump a "moron," or a "fucking moron," according to NBC News. He has yet to completely deny that he questioned the president's intelligence.
Thomas Barrack, a friend and adviser to Trump was quoted in the book telling a friend that the president is "not only crazy, he's stupid," though the New York Times reported that Barrack called the account "totally false."
The book is filled with dozens of salacious details of life within the White House, such as that Trump and his campaign didn't even want to win the election, that Ivanka Trump wants to be the first female president and that Steve Bannon called Donald Trump Jr.'s meeting with Russians "treasonous."
Wolff has in the past been characterized as an unreliable narrator, like in a New Republic profile that described his style as overly sensational and sometimes unfair.
Trump and Press Secretary Sarah Huckabee Sanders have denounced the forthcoming book, painting Wolff as a liar. Sanders released a statement calling it "trashy tabloid fiction" that is "filled with false and misleading accounts from individuals who have no access or influence with the White House."
Wolff, however, told the Times that he was "wholly comfortable with my numerous sources."