Ritual Held at Trump International Hotel to Protect President from the Deep State
Since the beginning of Donald Trump's presidency, his Washington D.C. hotel has been a flashpoint for controversy. Profits from the Trump International Hotel may violate the Constitution's emoluments clauses, which ban the president from using his office for financial gain, particularly from foreign states like Saudi Arabia, which spent $270,000 at the hotel in the three months after the 2016 election. Similar incidents have made Trump International Hotel the target of multiple lawsuits.
But Friday, December 7 saw a very different gathering at the Trump International Hotel. Rather than lobbyists and foreign diplomats flocking to the Washington, D.C. outpost of Trump's empire, the hotel hosted Revolution 2018, a conference of charismatic Christian ministries organized by Jon and Jolene Hamill of Lamplighter Ministries.
Convening in a ballroom of the Trump International, Hamill and worshippers from other Revolution 2018 ministries lead rituals to thwart the Deep State and support the Trump administration, believing his presidency will bring about a spiritual "turnaround" in the United States.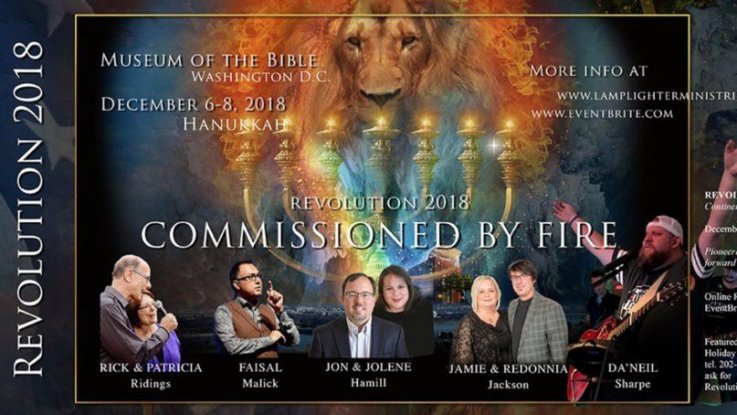 The Hamills have placed Trump at the center of their ministry. Their latest book, Midnight Cry, offers readers "prophetic insights on Donald Trump as well as clear chronicle of the historic national turnarounds now in play," further promising "key revelation regarding the ongoing exposure of betrayal, the conflict of thrones in Israel, the Mideast, Korea and more."
Jack Jenkins of Religion News described Hamill and his followers speaking in tongues. Speakers at the event recounted supernatural encounters, direct conversations with God and angelic beings.
"In Jesus' name, we declare the Deep State will not prevail," Hamill said, before banging a gavel on a podium.
A similar prayer ritual, lead by Jolene, was aimed at the "false media network," calling on worshippers to "repent of drinking the cup of media, because it is a false cup."
Lamplighter is part of a growing movement of independent charismatic Christian groups intertwining a spiritual mission with politics. President Trump has become an important rallying point for adherents, who often characterize the administration as acting on behalf of a divine mission. Opposition to the president or his policies is recast as against the will of God.
Conference attendees credit their prayers with helping the Trump administration directly, such as with the confirmation of Brett Kavanaugh, now a Supreme Court Justice despite multiple credible accusations of sexual assault.
"God drew the finest group of intercessors on the planet to come here and pray through the darkest hour of President Trump's presidency," Hamill told the gathered conference attendees.
Right Wing Watch documents how another preacher at the Revolution 2018 conference, Chuck Pierce, described the move from the Museum of the Bible (which turned down hosting the event after hosting Revolution 2017) to Trump International as orchestrated by God. Pierce warned worshippers at the event about the battle ahead—"a season of demonic confederacies" that must be "dethroned" in every state.
"FROM STATE TO STATE BORDER WARS ARE BEGINNING! THE DAY OF BIPARTISAN RULE HAS NOW SHIFTED! A NEW RULE FOR A NEW ERA!" one slide in Pierce's presentation read, promising "A NEW DAY is breaking in AMERICA."