Trump Interrupted by 'Fart Noises' While Speaking With Ashli Babbitt's Mom
A call from Donald Trump was interrupted by a man with a placard reading "Fart Noises," at a rally in Washington D.C. held to show solidarity with those arrested following the January 6 Capital Hill riot.
The former president spoke to Micki Witthoeft, the mother of Ashli Babbitt, the 35-year-old Trump supporter who was shot by a police officer during the January 2021 attack on Congress and later died in hospital.
Addressing a crowd of around a dozen protesters outside a D.C. jail by phone, Trump said: "Micki it's an honor to be with you and everybody listening. It's a terrible thing that has happened to a lot of people that are being treated very, very unfairly.
"That man that shot Ashli is a disgrace and then he goes on television and it looks like he was actually bragging about it.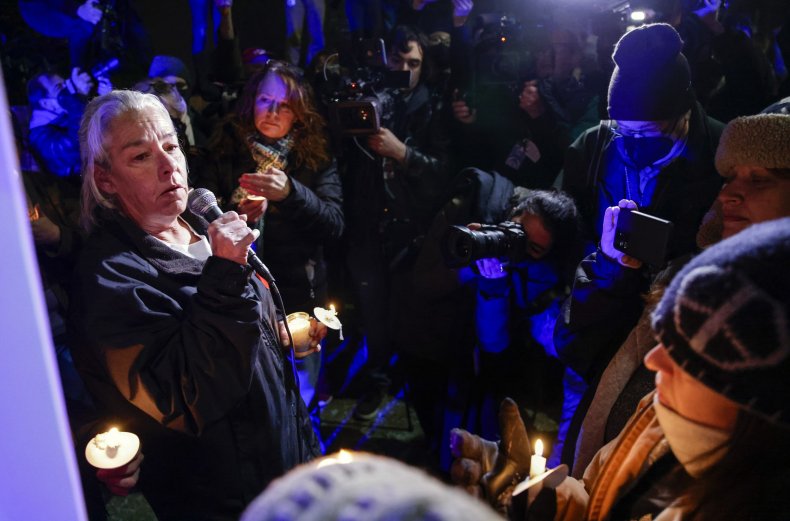 "There's never been a thing like this that's happened in our country and I just want to tell everybody that's listening we're with you, we're working with a lot of different people on this and we can't let this happen."
At around this time the counter-protester moved behind the demonstration, holding up his "Fart Noises" placard. Some of the Trump supporters attempted to cover it with American flags and a brief scuffle ensued.
Trump continued: "You look at all the riots that took place for the last long period of time, not just in 2020, and almost nothing has happened to those people. What they're doing here is a disgrace, it's a disgrace to our country and it just cannot be allowed to happen and it cannot be allowed to continue."
Witthoeft was later interviewed by Ford Fischer, a journalist and documentary maker.
Referring to Trump's comments she said: "It means a lot to me to know he's supporting the J6'ers.
"Don't forget that unarmed American citizens were murdered that day. They were beaten by the Capitol police that day."
Babbitt, a U.S. Air Force veteran, was shot by Capitol Police Lieutenant Michael Byrd whilst attempting to scramble through a smashed window inside the Capitol Hill complex.
An investigation by the Department of Justice and District of Columbia Police concluded the shooting was "lawful and within Department policy."
Capitol Police backed their officer, saying he "potentially saved Members [of Congress] and staff from serious injury and possible death" through his actions.
Byrd said his actions had been justified during an interview on NBC.
The officer said: "I tried to wait as long as I could.
"I hoped and prayed no one tried to enter through those doors. But their failure to comply required me to take the appropriate action to save the lives of members of Congress and myself and my fellow officers."
Thus far, at least 910 people have been charged over the Capitol Hill riot, an attempt by Trump supporters to stop Congress certifying the 2020 presidential election results.
Trump has previously suggested he could pardon those convicted over the violence if he returned to the White House for a second term.
The former president is continuing to insist the 2020 presidential election was rigged, despite this being rejected by the courts and independent polling experts.
Trump has been approached for comment.