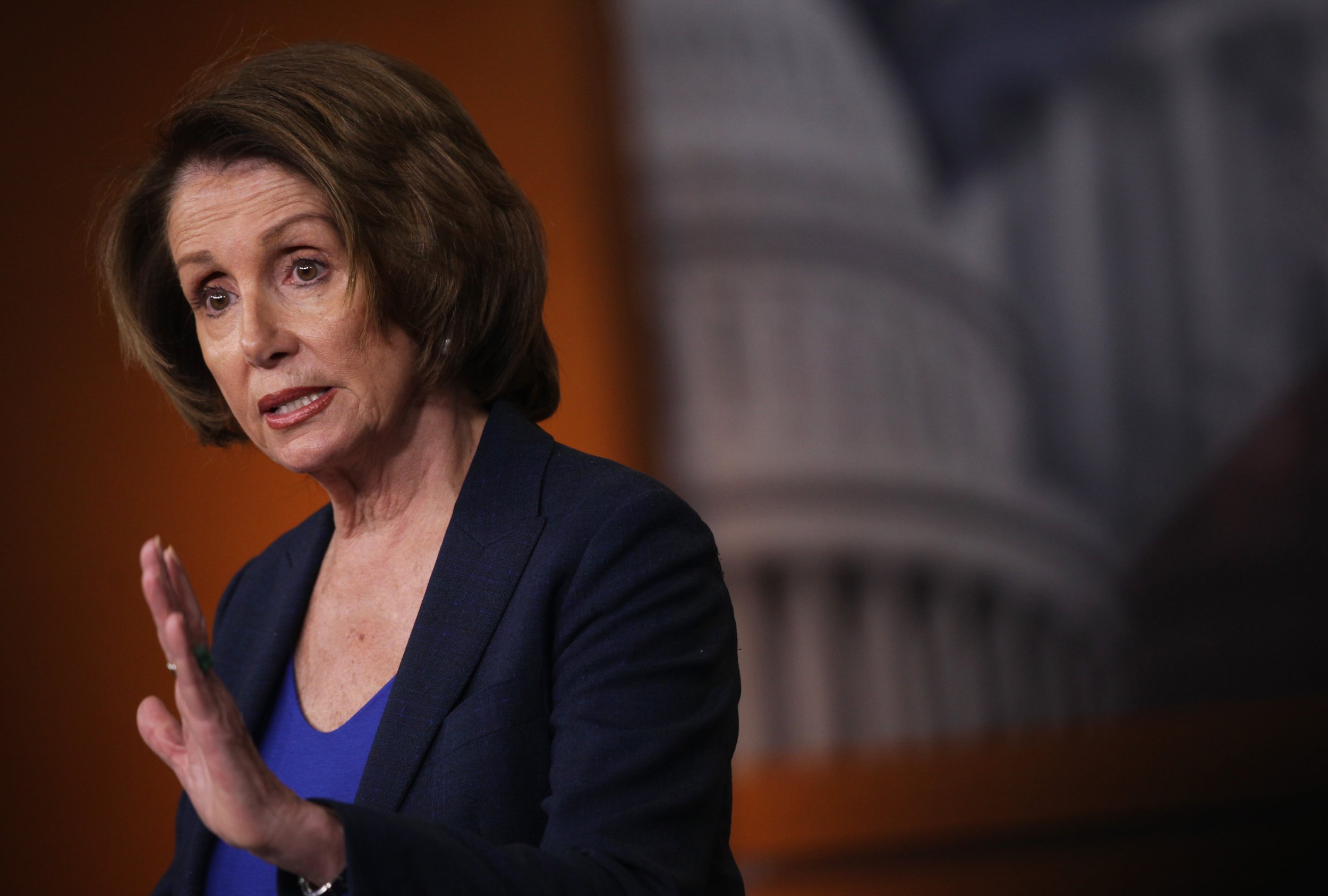 For months, House Minority Leader Nancy Pelosi has been hesitant about joining some of her colleagues who are advocating outright for President Donald Trump's impeachment. Now, she's ready to discuss another I-word option for dealing with the volatile president: intervention.
"I think an intervention is really needed here," she told Chelsea Handler during an episode of the comedian's talk show released Friday. "We have to make sure the president knows what he's talking about.... What are the facts?"
Pelosi, a Democrat representing California, came prepared with a prime example of Trump flubbing—or simply ignoring—the truth. She brought up his meeting with House and Senate leaders just after his inauguration in January. Pelosi said she sat down at the table, ready for Trump to give an important speech, and was disappointed.
"What is he going to say? Will he quote the Bible? Will he quote our founders? What poetry might he talk about in order to talk about the momentous nature of the occasion? And what'd he say? 'You know I won the popular vote,'" Pelosi told Handler in a clip surfaced by The Hill. "To which I said: That's not true."
Democrat Hillary Clinton won the popular vote last November, nabbing about 2.8 million more ballots than Trump. But at the meeting, the president insisted that up to 5 million people had voted illegally, and so he was in fact the victor.
That's when Pelosi gave up.
"I said, 'You know, if we're going to work together, we have to at least stipulate to fact. We will have our disagreements over priorities, or the course of action, or the timing, but we have to stipulate a set of facts,'" she told Handler. "We did that with President Bush even though we disagreed over the war in Iraq. What could be worse than that?"
The Chelsea appearance was just the latest in a series of weird milestones in the Pelosi-Trump relationship. At one point they were close: Trump donated $20,000 to the Democratic Congressional Campaign Committee and congratulated Pelosi on her promotion to speaker of the House in 2007, according to The New York Times. By March of this year, however, Trump was tweeting that Pelosi needed to be investigated for her connections to Russia.
In September, Pelosi and Senate Minority Leader Chuck Schumer had a secret meeting with Trump to hammer out a deal to replace the Deferred Action for Childhood Arrivals (DACA) program. They had the briefest of honeymoon periods. Afterward, Pelosi said she'd asked the president to tweet out a message that would reassure young immigrants they weren't immediately being deported, and he did. But the White House then told reporters there wasn't a deal after all.
Throughout all of this, Pelosi has been reticent to demand Trump be removed from office. While some of her outspoken fellow Democrats have called for impeachment—Texas Representative Al Green actually read an impeachment resolution on the House floor just last week—Pelosi has been diplomatic.
"It's a big deal to talk about impeachment," Pelosi reportedly told lawmakers in June. "I think he's going to self-impeach."
At this point, an intervention may seem more likely.