Donald Trump Interview Removed by YouTube Decried as 'Insane' Censorship
Conservative figures have accused YouTube of political censorship after the video hosting platform removed an interview with Donald Trump over "misinformation."
In July, the former president appeared on the Clay Travis & Buck Sexton Show, with the interview still available to watch on Facebook and on the podcast's website.
However, the interview has been pulled from YouTube, with a message on the site stating that the video had violated its community guidelines.
In a series of tweets, Travis said YouTube took down the video for "misinformation" without giving further details.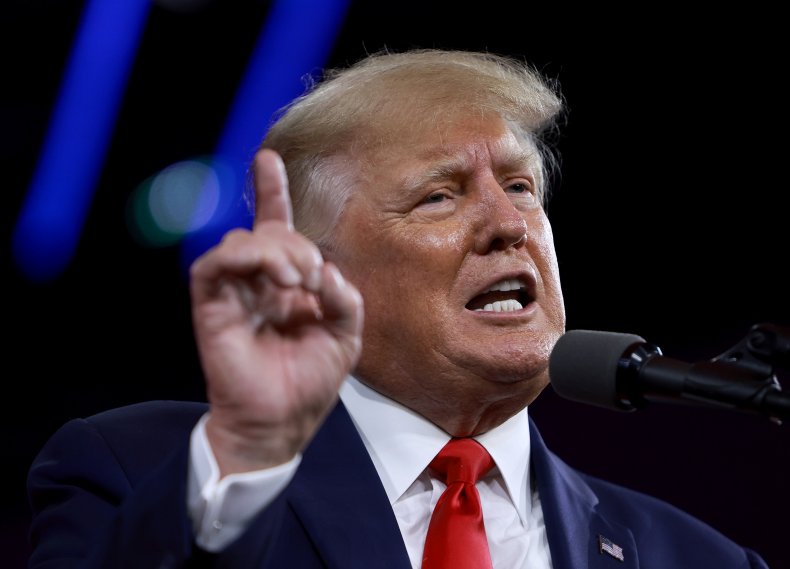 "How does censoring interviews with political leaders aid any voters or democracy itself? This is scary. When have political censors ever been on the right side of history?" Travis tweeted.
"Voters should be able to see everything that any political figure says in public in order to judge for themselves whether they want to support or not support that person. That's democracy itself. YouTube should be ashamed for censoring interviews with any political figure."
Replying to the tweets, Texas GOP Senator Ted Cruz wrote: "This...is...insane."
Trump attorney Jenna Ellis also described the video's removal as "ridiculous," with Sean Davis, co-founder of the conservative website The Federalist, tweeting: "These Big Tech tyrannies have become governments unto themselves. They don't need to be regulated or reined in. They need to be destroyed before they destroy our entire constitutional republic."
It's unclear what prompted YouTube to remove the video.
During the interview, Trump claimed that the 2020 Election was "rigged and stolen"— a claim he has made in almost every interview and public appearance for nearly two years now.
As he persisted with the unsubstantiated claims, Trump even expressed concern that the video might be removed.
"No sitting president's ever even come close, and I lost. It was a rigged election," Trump said. "I hope they don't take you off the air, but if they do, please, just delete this, because I don't want to see you guys go off the air."
Elsewhere in the July interview, Trump also appears to suggest that there is a link between the rise of COVID cases in the U.S. and the fact the midterm elections would be taking place in a few months.
"I looked at a map yesterday. It's very interesting. We have an election coming up, and all of a sudden, they're saying COVID is all over the place," Trump said.
When Clay responds that the "midterm variant is certainly spreading," Trump replies: "May have to go to mail-in ballots. Crooked mail-in ballots."
Conspiracy theorists have previously attempted to make the claim that the coronavirus pandemic was a hoax so mail-in voting would have to be brought in for the 2020 Election, making it easier to rig it against Trump.
Conservatives have also frequently spoken out about how so-called "Big Tech" such as Google, Facebook or YouTube reportedly censor right-wing voices in favor of more liberal ones.
YouTube has been contacted for comment.