Trump Invited Putin to U.S. for Meeting and Kremlin Is Ready, Says Russia
President Donald Trump recently invited his Russian counterpart Vladimir Putin to Washington but never followed up with any details, Moscow's top diplomat has claimed.
Russia's Foreign Minister Sergey Lavrov said the Kremlin had taken Trump at face value when he suggested Putin should visit the White House during a recent conversation, but is now unsure if the offer still stands.
"We assumed that the president of the U.S. made such an invitation during a phone conversation, which is widely known about and is not a secret of any kind, means he will be happy to see [Putin] in the White House and then they would be happy to meet in the context of a follow-up visit," Lavrov told state news agency RIA Novosti. It is not clear what conversation he is referring to, but one of Putin's aides, Yury Ushakov, made similar claims earlier this month.
Ushakov, who is one of the Kremlin's top experts on the U.S., said that during a call between the two leaders last month, Trump suggested holding a bilateral meeting with Putin in Washington.
Related: Russia's Lavrov accuses U.S. of "genocide by sanctions" after Syria standoff
Such an invitation was not mentioned in the White House's official readout from the call and the Kremlin statement made no such claim either. The readout issued by Putin's office mentioned that Trump and Putin dedicated "particular attention" to holding a possible high level meeting but did not refer to its location or who invited whom. Trump himself , after the call, voiced his intention to meet Putin "in the not too distant future," but also did not say where and whether he had initiated an invitation. Asked about the prospect of Putin visiting the White House on Trump's invitation, the State Department referred Newsweek to the White House, while the White House did not immediately confirm or deny Lavrov's account of the conversation.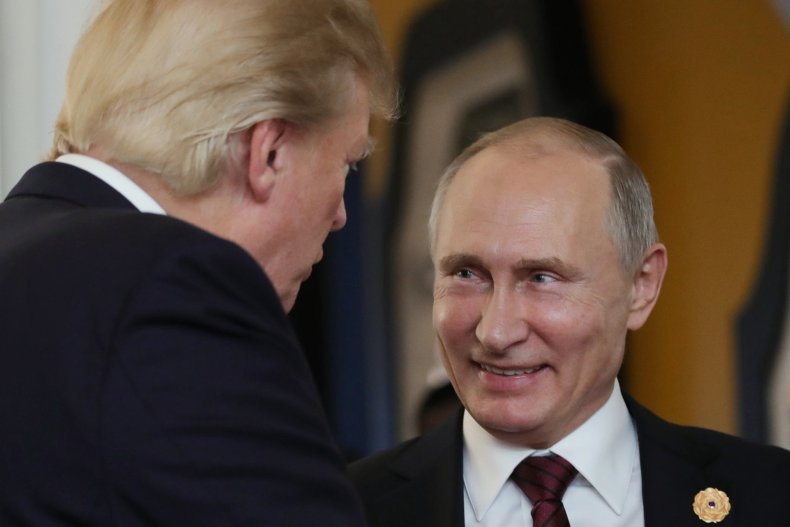 According to the Russian diplomat, Trump mentioned the idea of a meeting more than once. "That is why we naturally let our American colleagues know that we do not want to be intrusive but we do not want to be discourteous either and, taking note of the fact that President Trump had made such a proposition, we assume that he will elaborate on it," Lavrov said.
Asked what has happened since, Lavrov answered tersely: "President Putin is ready for such a meeting." Preparatory work for the meeting is not going ahead, however, and Lavrov said Moscow would announce it if the possibility for a meeting draws nearer.
The Kremlin has a history of jumping at the suggestion of a meeting with Trump, when the U.S. president has suggested this is a possibility, often to little avail. Most awkwardly, Trump hinted he may meet Putin in November, on his way to a summit in Vietnam, only for a succession of Russian officials to go on the record to suggest that the meeting is likely and, eventually, definite. The White House and then Secretary of State Rex Tillerson ultimately said no exchange was agreed and that Washington would only organize one if it was a "meaningful meeting." Ultimately no sit-down took place and the two leaders exchanged pleasantries and a few remarks on the sidelines of the summit.
Ex-U.S. Ambassador to Ukraine Steven Pifer told Newsweek at the time that Putin may be keen to boost his image by simply meeting with the U.S. president, without the intention of a paradigm-shifting discussion. The Trump administration does not benefit in the same way from superficial run-ins with the Russian president.