Trump's Iowa Rally: President Maligns Democrats and Media, Says He Will Build a 'Solar Wall'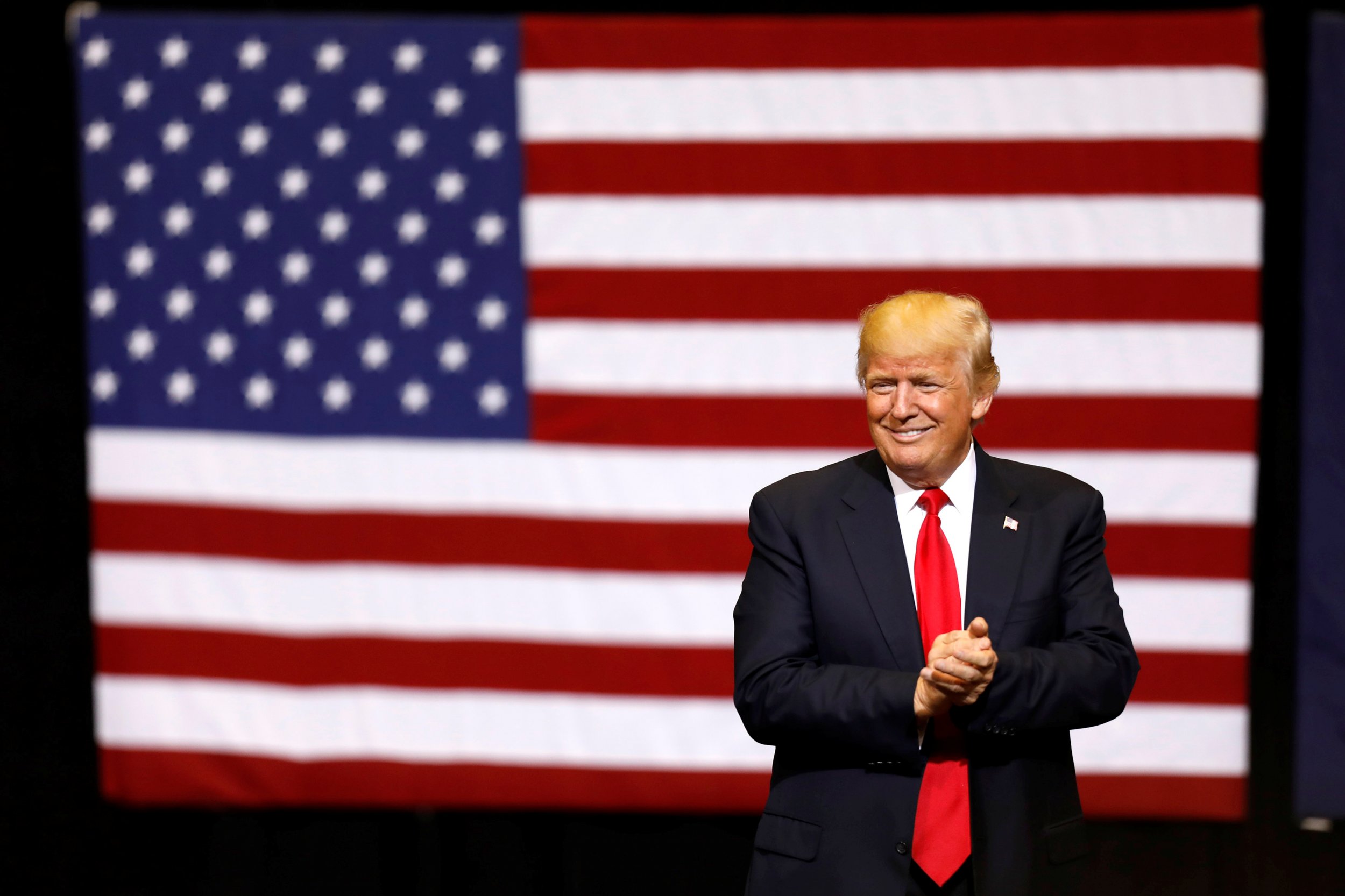 It was like the heady days of 2016, the heat of the battle against Liddle Marco, Lyin' Ted and Low Energy Jeb, with Crooked Hillary looming somewhere on the horizon. This time, though, the man who took the stage in Cedar Rapids, Iowa, was not looking forward to a primary caucus. Instead, he was the president.
As such, President Trump delivered a remarkably divisive speech at a campaign-style rally that maligned his usual enemies: the Democrats and the journalists who love them. The unity Trump had called for in the wake of the shooting of Representative Steve Scalise was not to be found.
"These people are being driven crazy," he said, speaking of Democrats and their supposed enablers in the press. "All we do is win, win win," he said, seemingly borrowing a line from the 2010 hit song by DJ Khaled.
Related: Trump kicks off 2020 re-election campaign
"They're very lucky that our people don't protest," Trump added, alluding to demonstrators—some of them affiliated with Black Lives Matter—who frequently disrupted his rallies during the 2016 presidential campaign. Perhaps he was thinking ahead to 2020, as he prepares to launch his re-election bid on June 28th.
Trump plainly yearned to return to the all-offense mode of the campaign, even as he sought to highlight his achievements and celebrate the previous night's Republican victories. "It's always terrific to leave that Washington swamp," he said, to consort with "American patriots."
"We're 5-0," the president said of the congressional special elections the GOP has won since he came into office. Specifically, he was celebrating Karen Handel's triumph in suburban Atlanta, where she defeated upstart Democrat Jon Ossoff in the most expensive House election in modern American history—and Ralph Norman, who won a House seat in South Carolina. There have also been Republican victories in Kansas and Montana. Despite Trump's boast, however, there has not been a fifth Republican victory in a special election in 2017.
No matter. Trump seemed gleeful as he mocked the media, suggesting it had fallen in love with the photogenic Ossoff. "They couldn't get out of there fast enough," he said of the major networks calling the victory for Handel. NBC came in for particular abuse. Unsurprisingly, only Fox News, he said, was fair.
Trump then basked in the adulation of the friendly crowd. "People love us," he said, appearing to use the majestic plural to refer to his administration. "We love our people, and they love us."
Never mind that the president's approval rating is currently 36 percent, astonishingly low for a new occupant of the Oval Office. And there have been signs that even some segments of the Republican base are starting to flee his unusual coalition. Trump did not appear concerned about this. Well beyond the Beltway, the President seemed happy.
After the pointed attacks on the media and Democrats, he delivered the kind of meandering stump speech most Americans became acquainted with during the presidential campaign. He talked about the wealthy men in his administration, including Commerce Secretary Wilbur L. Ross, Jr., "a legendary Wall Street genius," and Gary D. Cohn, who left the helm of Goldman Sachs to head the National Economic Council. "I love all people, rich or poor," Trump said. However, he did not want "a poor person" managing the economy.
He discussed the repeal of Obama-era regulations—"Farmers are able to plow their fields"—and earned a standing ovation for his withdrawal from the Paris climate accord by saying he was elected to lead Americans, mentioning several battleground states that he won in November and will need to win again in 2020.
"And yes, we will build the wall. We've already started planning, it will be built," he said, alluding to a potential scheme to make the border barrier with Mexico. He suggested that the barrier might be "a solar wall" that would generate electricity. This proposal came immediately after his attack on renewable energy and the attendant promise to return to an economy based on "beautiful coal."
"Pretty good imagination, right? My idea," Trump said of the solar wall. There is no indication there are any plans to build such a wall, or a wall of any other kind.
He then discussed the gang MS-13, one of his favorite topics: "true animals," he said of its members, who mainly come from El Salvador. He wondered about the gun violence in Chicago, seeming to suggest that tougher policing would solve the problem. He praised his successful nomination of Judge Neil M. Gorsuch to the U.S. Supreme Court. He reminisced about his victory over 17 candidates in the Republican primaries, as well as his general election defeat of Hillary Clinton. He rebuked nations that funded terrorism.
But nothing animated Trump—or his audience—like his periodic attacks on the media. At one point, he even complained that the cameras wouldn't show the size of the crowd, another favorite theme of the campaign trail.
"We're not even campaigning, and look at this crowd," he said. "It is a big, beautiful arena, and it is packed."
As he left the stage, music began to play, the same song that followed his victory speech in November: The Rolling Stones' "You Can't Always Get What You Want."