Trump Administration Blasts Iran for Treatment of Human's Rights Defender as 'Great Ally' Saudi Arabia Puts Activists on Trial
The Trump administration harshly criticized Iran in the wake of the sentencing of Iranian human rights lawyer Nasrin Sotoudeh to decades in prison as well as lashes.
State Department spokesperson Robert Palladino said Tuesday that the U.S. condemned the sentence "in the strongest possible terms," Radio Free Europe noted. "We are outraged to hear reports that the Iranian regime sentenced...Sotoudeh to 38 years in prison and 148 lashes," Palladino continued, describing the punishment as "beyond barbaric."
Sotoudeh, a long-time defender of human rights in Iran, had been charged with "encouraging corruption and debauchery," "colluding [and] propaganda against the system," and "disrupting public order," according to her husband Reza Khandan. The lawyer was detained last summer and initially told she would be given a five-year prison sentence. But this week, her husband told Agence France-Presse that she'd been handed down seven new verdicts. Conflicting reports have suggested different totals for the number of years Sotoudeh will be incarcerated, with 38 years being the longest reported length of time.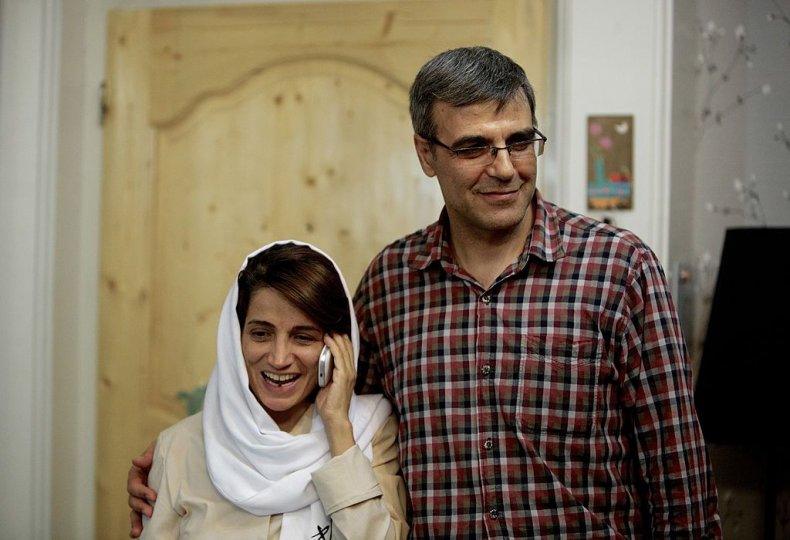 While the Trump administration has been quick to condemn Iran for its treatment of Sotoudeh, it has been unwilling to strongly criticize Saudi Arabia in the wake of numerous grave human rights violations. On Wednesday, the BBC reported that several women's rights activists, including prominent citizens who had led the campaign to grant women the right to drive, have gone on trial in the Middle Eastern kingdom, which Trump has previously referred to as a "great ally."
"As many as 10 women were expected to appear at the criminal court in Riyadh on Wednesday," according to the BBC. Among those facing charges is Loujain al-Hathloul, a prominent figure from the campaign to permit Saudi women to drive. Last year, the kingdom officially lifted its ban on female drivers. It was the only country in the world implementing such a ban.
Jamal Abdi, president of the National Iranian American Council, told Newsweek that Iran's treatment of Sotoudeh and other activists was "a violation of its international human rights obligations." However, he also criticized the Trump administration's double standard on human rights in the Middle East.
"For Trump and his team, human rights is just another cudgel they wield opportunistically in service of a vision for the Middle East dictated to them by the likes of [Saudi Arabia's Crown Prince Mohammed] bin Salman and [Israeli Prime Minister Benjamin] Netanyahu," Abdi argued. He pointed out that the "U.S. actually has leverage with our allies like Saudi Arabia to enforce human rights and international norms," but "it turns a blind eye and even offers cover for the most perverse violations."
"Yet with Iran, where the Trump Administration has sanctioned itself out of influence and isolated itself on the world stage, it issues empty condemnations while punishing and undermining the Iranian people it claims to support," he said.
Many Democratic and Republican lawmakers in Washington have also criticized the Trump administration's continued support for Saudi Arabia's leaders, pointing to the murder of journalist and U.S. resident Jamal Khashoggi, as well as the humanitarian crisis in Yemen. A Saudi-led coalition has been waging war in Yemen, leading to the death of many civilians and a large-scale famine.
"Saudi Arabia is consistently ranked among the worst human rights abusers in the world and is responsible for famine/cholera outbreak in Yemen," progressive Democratic Congresswoman Ilhan Omar, who represents Minnesota, wrote on Twitter Tuesday. "Yet it is the top buyer of U.S.-made weapons. Why is Donald Trump siding with weapons manufacturers over human rights activists?" she asked.