43 Percent of Americans Approve of Donald Trump's Strike on Iranian General Qassem Soleimani
More Americans approve than disapprove of President Donald Trump's decision to kill a senior Iranian military figure at the Baghdad International Airport in Iraq, a new survey found—although the public largely does not believe that the president has a clear strategy toward Iran.
The new poll from HuffPost and YouGov, conducted in the days following the airstrike targeting Major General Qassem Soleimani and Iraqi militia leaders, found that 43 percent approve of the president's use of force, while 38 percent disapprove of it.
The numbers break down differently among people who reported greater news literacy about the subject: People who say they've "heard a lot" in the news about the airstrike disapprove of the decision 48 percent to 47 percent. And among people who've only "heard a little" in the news about the killing, Trump wins their approval by 45 percent to 34 percent.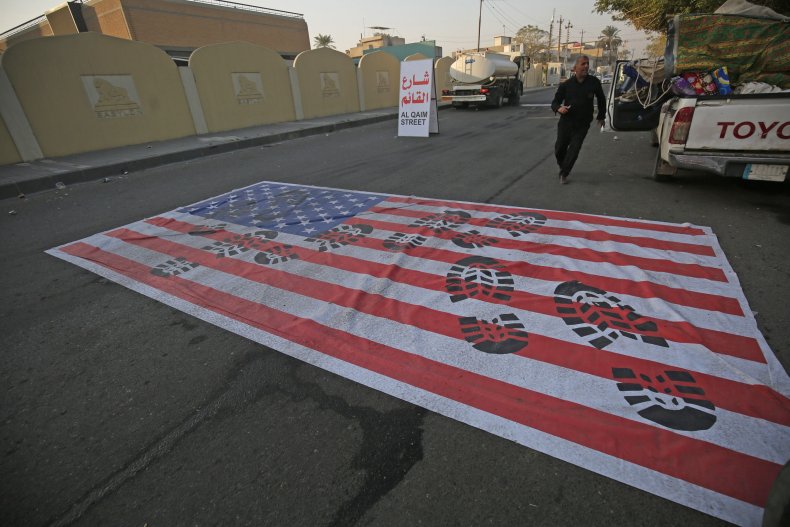 While the overall public appears to be somewhat inclined to back Trump's decision, Americans remain skeptical of how Soleimani's death fits within a larger coherent strategy in the Middle East. Forty-seven percent of respondents in the survey reported that they think Trump does not have a "clear strategy for dealing with Iran," while just 32 percent think he does.
Moreover, 44 percent think that the president should have obtained prior authorization from Congress before ordering the airstrike, 10 percentage points higher than the share who think prior authorization was not necessary.
The president's defenders have claimed that congressional authorization was not necessary because intelligence indicated attacks on American interests were imminent. Despite allusions to some of these alleged threats, specific, detailed intelligence has not been provided to justify these claims.
And while the administration has invoked what it alleges is an urgency underpinning its decision, it has simultaneously claimed that the move enhanced security for Americans. Secretary of State Mike Pompeo told Meet the Press moderator Chuck Todd it is a "100-percent certainty that America is safer today" because of Soleimani's demise.
Despite his assurances, Americans largely view Iran as still a very credible threat to the United States. In the YouGov poll, 71 percent of Americans said that Iran poses a serious threat to America, compared with just 18 percent who thought the country posed no serious threat. This trend held true across all partisan categories and was comparable between both Clinton and Trump voters.
More Americans also disapprove—46 percent—than approve—40 percent—of the way Trump is handling Iran as a foreign policy matter more broadly. In terms of Trump's decision to rescind participation in the nuclear deal with Iran, Americans are somewhat evenly divided, although a substantial share, at 25 percent, do not have an opinion.
By wide margins, registered Democrats think former Vice President Joe Biden is most equipped to handle foreign relations with Iran out of every other candidate in the 2020 Democratic primary. He is the only candidate to earn a majority-share of Democratic support on this question. However, Senators Bernie Sanders and Elizabeth Warren also earn substantial shares of the Democratic electorate's trust on Iran issues.