Donald Trump Claims U.S. 'Was Not Involved' in Iran's Satellite Crash, Sends 'Best Wishes'
President Donald Trump claimed on Friday that the United States did not have a hand Iran's recent failure of a satellite launch his administration had condemned.
Trump commented on the affair a day after NPR released satellite imagery showing plumes of smoke rising from what appeared to be the Semnan Site One launch pad the Imam Khomeini Space Center in northern Iran. The president, known for his often-sarcastic social media commentary claimed he had nothing but the best intentions for his rivals in Tehran.
He referred to the Safir, an Iranian satellite launch vehicle previously used at the same site, from which Iran was reportedly attempting to launch the Nahid-1 satellite into space.
"The United States of America was not involved in the catastrophic accident during final launch preparations for the Safir SLV Launch at Semnan Launch Site One in Iran. I wish Iran best wishes and good luck in determining what happened at Site One," he tweeted alongside a high-resolution image allegedly detailing the scene of the incident.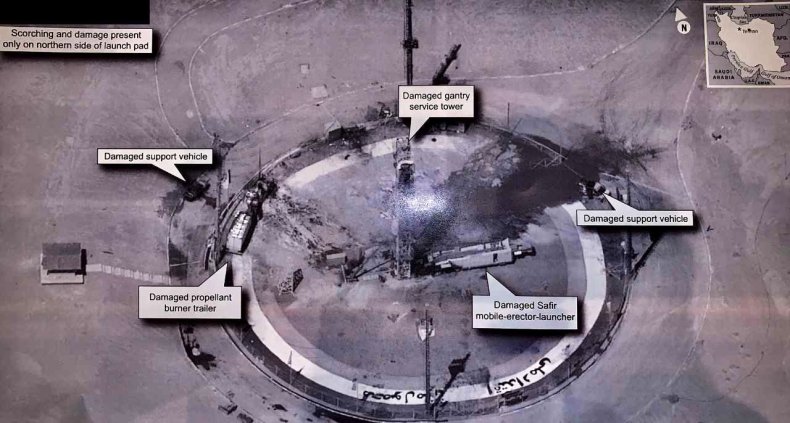 Such a launch itself did not amount to a clear violation of the 2015 Joint Comprehensive Plan of Action, better known as the Iran nuclear deal, nor an accompanying United Nations Security Council Resolution. Still, Secretary of State Mike Pompeo warned that a previous satellite launch attempt in January was a violation because it "shows that Iran is pursuing enhanced missile capabilities that threaten Europe and the Middle East."
Trump left the deal completely last year, arguing that Iran's unfrozen assets allow it to better support militant groups and develop ballistic missile technology. He has since imposed sweeping sanctions on the Islamic Republic in an effort to rein in its regional activities, while at the same time expanding the U.S.' own presence in the Middle East. Iran has always denied seeking nuclear weapons, but has vowed to continue developing its military in self-defense as both Tehran and Washington accused one another of destabilizing the region.
Iran's latest satellite failure came a day after The New York Times revealed an alleged covert U.S. cyber operation in June that took out a database used by the elite Revolutionary Guards to track ships in the Persian Gulf region, citing an unnamed senior official. Trump himself was said to have signed off on the attack, according to Fox News.
That alleged strike was carried out hours after the Revolutionary Guards downed a U.S. Navy spy drone, a move that nearly pushed Trump toward conducting retaliatory strikes on Iranian military sites. Tensions continue to mount in the Persian Gulf as the U.S. formed a naval coalition so far including Australia, Bahrain and the United Kingdom, while Iran sought to rebuild regional relations with nearby Arab states, an initiative backed by Russia and China.
Also in June, CNN reported that the U.S. conducted a cyberattack on Iran-backed Iraqi Shiite Muslim militia group Kataib Hezbollah in an effort to disrupt their network across Iraq, Iran and Syria, citing two unnamed U.S. officials. The U.S. and Israel were also widely believed to be behind the 2010 Stuxnet cyberattacks Iran's nuclear program, but neither country has admitted being behind the incident.
As for the most recent affair, however, Fabian Hinz, a researcher at the James Martin Center for Nonproliferation Studies at the Middlebury Institute of International Studies in Monterey, California, said "in space exploration that can happen even with the most proven design but still its something that could make you a little suspicious."
Hinz described the Safir as "a bit of an aged Iranian design" and "a quite small SLV which they have launched several times before" with several successes and failures. He said it was "basically a Shahab 3 missile with a second stage added, so not really that powerful," referring to a type of Iranian medium-range ballistic missile.
"Now the really big question everyone is asking is what that picture Trump tweeted is, because the resolution is just insane. So perhaps drone footage or a really, really advanced satellite, but not sure one could even do that with a satellite," Hinz told Newsweek, calling it "quite something to tweet that out" as it was "obviously a photo of an intel briefing."
Trump has said he may be willing to sit down with Iranian President Hassan Rouhani for new negotiations, but Iranian officials have so far refused the offer unless sanctions were first lifted and the 2015 deal respected.