Trump on Iraq War: U.S. 'Should Never Ever Have Left'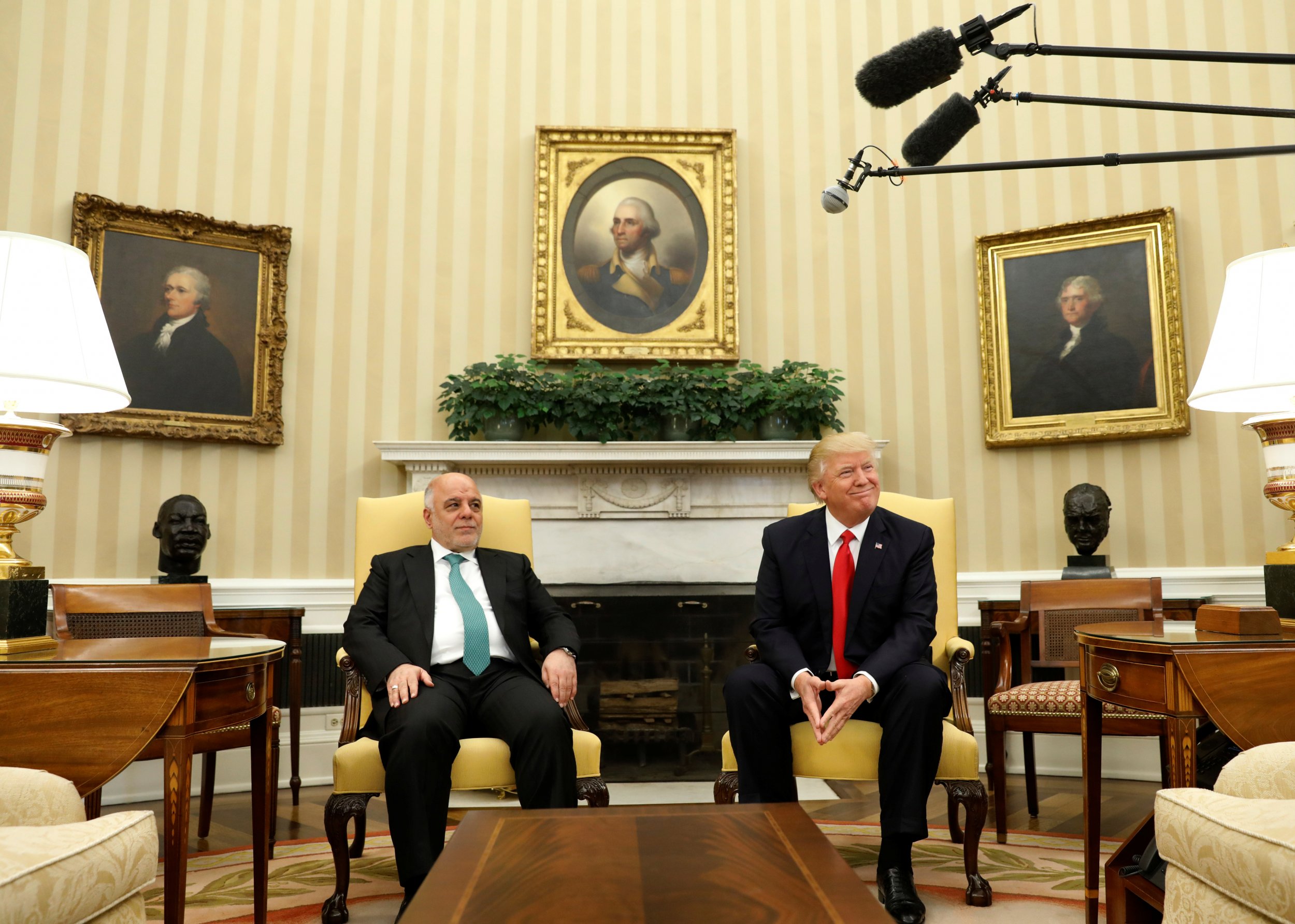 President Donald Trump said the United States "should never ever have left" Iraq. During a meeting Monday with Iraqi Prime Minister Haider Al Abadi, Trump praised the Iraqi leader for doing a "good job" and said the United States supports Iraqi soldiers "fighting hard" to reclaim the city of Mosul. Iraq's second largest city was seized by the Islamic State group in 2014 as the center of their so-called caliphate in the Middle East.
Trump seemed to be distancing himself from his predecessors in his remarks, The New York Times reported Tuesday. U.S. ground troops exited Iraq in 2011 under President Barack Obama. The date was determined by a 2008 security agreement brokered by President George W. Bush, who launched the U.S.-led invasion of Iraq 14 years ago.
"Certainly, we shouldn't have left. We should never ever have left," Trump said during the meeting. "A vacuum was created, and we discussed what happened."
He added: "We will figure something out. Our main thrust is we have to get rid of ISIS."
Trump portrayed himself as the anti-war candidate during the 2016 presidential campaign, railing against Democrat Hillary Clinton for supporting the Iraq War. But he also vowed to "bomb the s___" out of ISIS and described Obama as a weak leader who allowed the terrorist group to flourish amid conflicts in Syria and Iraq.
Al Abadi said he hasn't seen Trump's plan to defeat ISIS, but praised his tough rhetoric against the Islamic extremists. "We have been given assurances that the support will not only continue but will accelerate," Al Abadi said after the meeting, during an appearance at the U.S. Institute of Peace in Washington. "I think this administration wants to be more engaged in fighting terrorism. I sense a difference in terms of being head-to-head with terrorism."
Trump's administration has sought to strengthen relations with Iraq in its first months of office. A ban on travel from people from seven Muslim-majority nations initially included Iraq, but the White House eventually dropped the war-torn nation from a revised version of the policy, citing military cooperation between the U.S. and Iraq.
Iraq advocated for the U.S. exit from the nation in 2011 in part because many Iraqis saw Americans as occupiers responsible for civilian deaths. The Iraq War has displaced more than 4 million people since 2003.
"The incomplete sovereignty and the presence of foreign troops are the most dangerous, most complicated and most burdensome legacy we have faced since the time of dictatorship. Iraq should get rid of them to protect its young democratic experiment," Iraqi Prime Minister Nouri al Maliki said after agreeing to the withdrawal in 2008.