Former Trump Official Pushes Conspiracy Theory that ISIS and Antifa Were Involved in Las Vegas Shooting
A former Trump administration National Security Council official and a retired CIA agent are pushing a conspiracy theory started by Infowars' Alex Jones that the Islamic State group (ISIS) and antifa had a hand in the deadliest mass shooting in United States history, in Las Vegas last year. The massacre in an anti-President Donald Trump effort.
"There's substantial evidence that ISIS was involved in this," Rich Higgins, who worked in the White House for several months as the National Security Council's strategic planning director, told Politico in a report published Friday.
Higgins, a former Pentagon official, and the retired CIA officer Brad Johnson are among about a dozen intelligence and special operations community members backing the conspiracy theory, according to Politico. The theory, which is utterly contradicted by the Las Vegas Metropolitan Police Department's report, was introduced by Jones shortly after Stephen Paddock gunned down 58 people and injured more than 800 others in Las Vegas in October 2017.
Along those lines, Higgins claimed the attack was motivated by an "anti-Trump bias."
A month after the massacre, Higgins and Johnson began an alternative investigation and produced a 51-page PowerPoint document compiled through data mining and open source information. They submitted it to people they knew in the CIA and FBI. Top officials have not acknowledged the document.
The document was anonymously posted online earlier this year and named Los Angeles resident Brian Hodge as Paddock's accomplice in the massacre.
Higgins alleged that Hodge was "the go-between ISIS and antifa," a view that Johnson shared.
At least one member of Congress has spread the conspiracy theory on-air.
ISIS quickly claimed responsibility for the mass shooting, but the FBI swiftly stated there was "no connection with the international terrorist group."
The Las Vegas Metropolitan Police Department in its final report on the shooting stated that Paddock's motivation was not clear but that he did not have ties to "any hate group or any domestic or foreign terrorist organization" and "acted alone."
FBI spokeswoman Sandra Breault told Politico that the agency's Las Vegas office "has the utmost confidence in our agents and analysts' investigative techniques" when asked about the conspiracy theory.
Johnson defended the conspiracy theory when the Politico reporter questioned its logic.
"Everybody does what you've been doing," Johnson said. "Sitting here and talking to us right now, saying, 'How could the FBI be denying? How could they all be misleading us?' And so forth. But it's all bullshit. Almost nothing you think is true is true."
Jones, an American radio show host, is famous for creating conspiracy theories and has become wealthy doing so. While Trump has floated more than a dozen conspiracy theories, the Las Vegas one is not among them.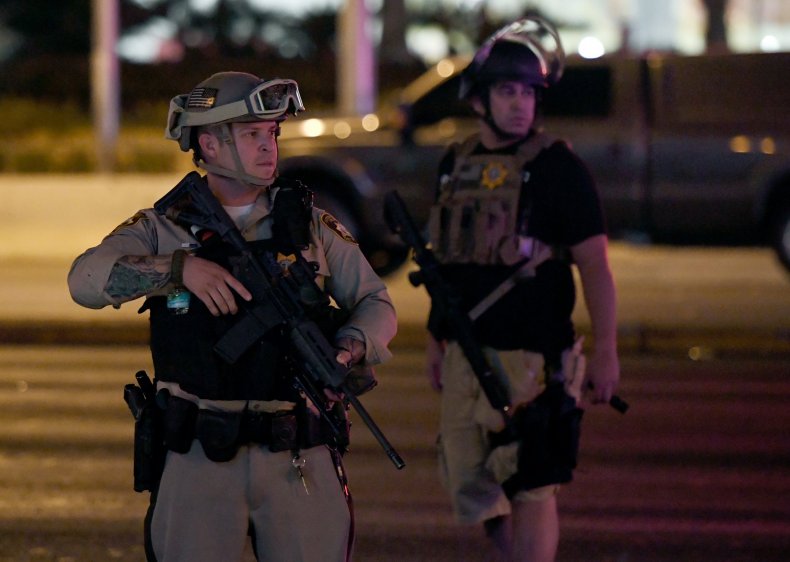 Conspiracy theories arose after the massacre that blamed groups besides ISIS and antifa. Sheila Zilinski, a conservative Christian media analyst and minister behind the Weekend Vigilante website, said that the "deep state" secret society Illuminati was responsible. Other theories include one linking the shooting to O.J. Simpson's prison release, and another claiming that MGM Resorts International destroyed evidence from the incident.