Donald Trump Says ISIS Fight Was a 'Mess' Before He Took Over and U.S. May Declare Total Victory Next Week
President Donald Trump has criticized his predecessor's approach to fight against the Islamic State militant group (ISIS), which he said was within a week of total defeat.
Addressing a gathering of the Global Coalition to Defeat ISIS in Washington, Trump said Wednesday that the U.S.-led campaign to defeat ISIS was a "mess" before he took office in January 2017. The Republican leader inherited the mission, launched in 2014, as the jihadis took over half of Iraq and Syria, at the peak of the conflict's intensity, with parallel offensives moving toward major cities.
Since losing the urban strongholds of Mosul, Iraq, and Raqqa, Syria, at the hands of the U.S. and allied local forces, the militants' standing army has been entirely beaten in Iraq and isolated to a mere pocket of territory in Syria's far east, where a separate campaign waged by the Syrian government and its Russian and Iranian allies have also devastated ISIS.
With the Pentagon-backed, Kurdish-led Syrian Democratic Forces closing in on just a handful of villages under ISIS control there, Trump said that it "should be formally announced sometime probably next week that we will have 100 percent of the caliphate."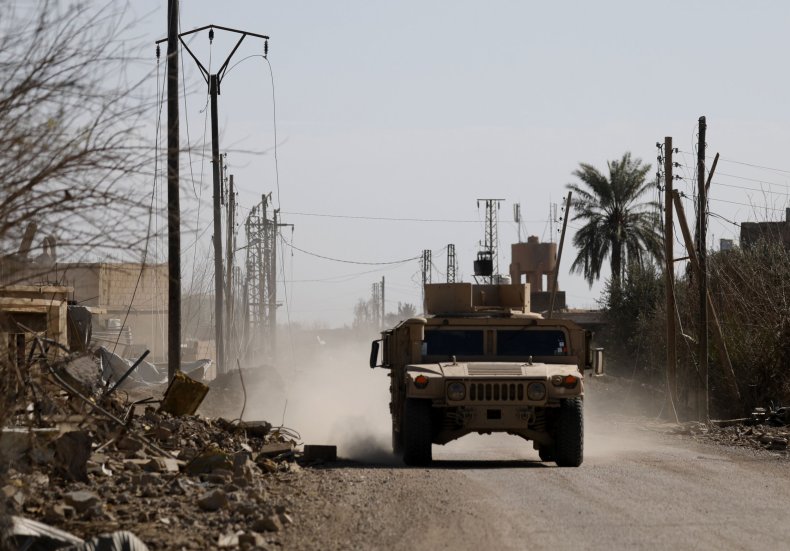 ISIS formed in 2013, a decade after the U.S. invasion of Iraq stirred a Sunni Muslim insurgency that ultimately bled across the border after a 2011 rebel and jihadi uprising against Syrian President Bashar al-Assad turned violent and security forces clashed with opposition groups backed by the U.S. under former President Barack Obama and regional allies. ISIS grew increasingly powerful as it absorbed rival movements and threatened to unseat the Iraqi and Syrian governments.
As Iran mobilized Shiite Muslim forces to tackle ISIS in support of the Iraqi and Syrian armed forces, the U.S. formed an international coalition in 2014 to begin bombing the jihadis as part of a mission welcomed by Baghdad, but considered illegal by Damascus. The following year, Russia intervened at Assad's request, and the U.S. began to shift its support away from increasingly Islamist-led insurgent forces and toward the Syrian Democratic Forces.
By 2016, ISIS was on the defensive and the U.S.-led coalition supported Iraqi and Syrian partners' advance on Mosul and Raqqa, which would not fall until July 2017 and October 2017, respectively, months after Trump had taken over in the U.S. As a result, the Republican leader has often taken credit for successes against ISIS, which continued steadily through 2018.
In December, Trump announced that the U.S. would be withdrawing the roughly 2,000 troops it has deployed in Syria. The move has received bipartisan pushback from officials and politicians who have feared an ISIS resurgence and growing Iranian influence in the region, but Trump said there were only "remnants" of the group left and, while "remnants can be very dangerous," he looked forward to welcoming U.S. troops home.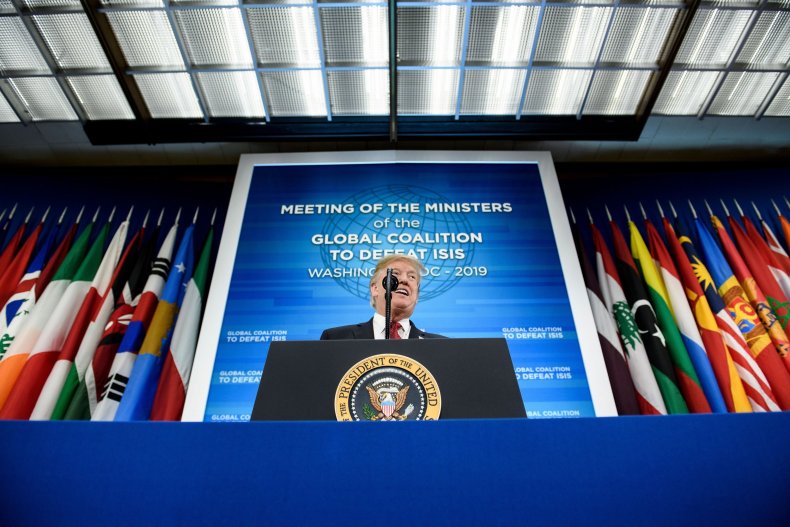 Earlier Wednesday, Secretary of State Mike Pompeo met with the anti-ISIS coalition, to which he explained that "President Trump's announcement that U.S. troops will be withdrawing from Syria is not the end of America's fight."
"The fight is one that we will continue to wage alongside of you," Pompeo added. "The drawdown of troops is essentially a tactical change—it is not a change in the mission. It does not change the structure, design, or authorities on which the campaign has been based. It simply represents a new stage in an old fight. The drawdown will be well-coordinated, and our policy priorities in Syria have remained unchanged."
Pompeo again, however, added two additional goals to the U.S. mission in Syria, which was officially limited to defeating ISIS. The diplomat said that "in addition to this coalition's laser-like focus on defeating ISIS," Washington sought "a political solution in line with U.N. Security Council Resolution 2254—which the U.S. defined as warranting a political process without the Syrian government—and "the removal of all Iranian-led forces from Syria."