Trump Isn't Concerned About Getting COVID at His Rallies Because He's on a Stage That's 'Very Far Away'
President Donald Trump on Sunday, suggested that he is not concerned about contracting COVID-19 at his campaign rallies because he is on a stage that is "very far away."
During a recent exclusive interview with the Las Vegas Review Journal, Trump spoke about holding campaign rallies indoors amid the pandemic.
"I'm on a stage and it's very far away," Trump told the Review Journal. "And so I'm not at all concerned."
The president told the publication's reporter that he was "more concerned about how close you are, to be honest."
Trump's comments come as he faces backlash from many residents across Nevada for holding a campaign rally indoors, as thousands flocked to a rally in Henderson, Nevada, on Sunday night.
According to NBC News, members of Trump's campaign said that everyone attending the event would be temperature checked upon entry and face masks would be provided and encouraged, but pictures from the event showed many attendees not wearing masks.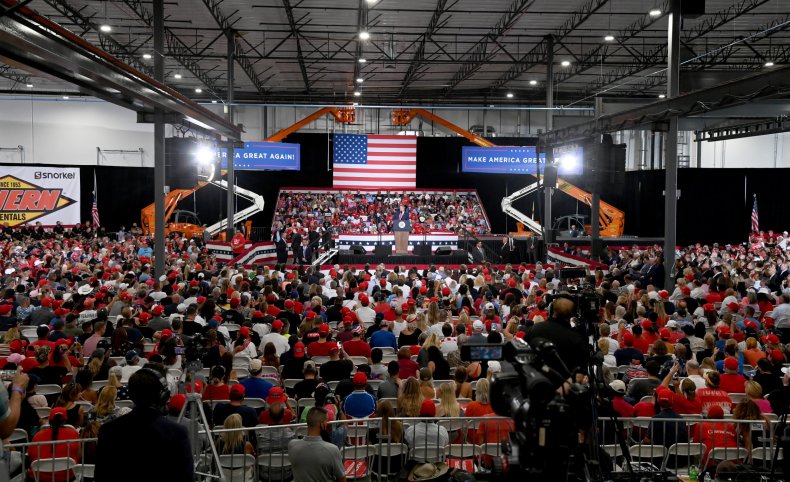 Nevada Governor Steve Sisolak has limited indoor and outdoor gatherings to 50 people, in an effort to mitigate the spread of the virus. In a statement issued Sunday, Sisolak criticized Trump, stating that he "is taking reckless and selfish actions that are putting countless lives in danger here in Nevada."
"Despite reports from his own White House, despite local officials in Southern and Northern Nevada reiterating to the venues the existing restrictions in State emergency directives, tonight, the President of the United States is knowingly packing thousands of people into an indoor venue to hold a political rally," Sisolak said in his statement. "The President appears to have forgotten that this country is still in the middle of a global pandemic."
"To put it bluntly: he didn't have the guts to make tough choices -- he left that to governors and the states. Now he's decided he doesn't have to respect our State's laws. As usual, he doesn't believe the rules apply to him," Sisolak's statement added.
During his interview with the Review Journal, Trump criticized Sisolak for forcing his campaign to cancel plans to hold an outdoor rally Sunday at Cirrus Aviation near McCarran International Airport and a Saturday rally in Reno.
"They canceled six different sites because the governor wouldn't let it happen, all external sites," Trump said during his interview with the Review Journal.
In response to the criticism for holding the indoor rally, Tim Murtaugh, communications director for Trump's campaign, told NBC News, "If you can join tens of thousands of people protesting in the streets, gamble in a casino, or burn down small businesses in riots, you can gather peacefully under the 1st Amendment to hear from the president of the United States."
Newsweek reached out to Trump's campaign for comment but did not receive a response in time for publication.