Trump's Israel Advisor Says U.S. Will Help Gaza When Hamas Renounces Violence
President Donald Trump's advisor on Israel-Palestinian negotiations said the U.S. would offer "an outstretched hand" to Gaza—but only when the Hamas leadership "renounces violence and ceases to threaten its neighbors."
Dozens were killed and hundreds more injured during several protests at the Gaza-Israel border after the Israel Defense Forces (IDF) opened fire, according to the Palestinian Health Ministry.
The IDF said it was responding to violent riots and attempted "terror attacks" by those trying to force their way through the border.
Jason D. Greenblatt is the Trump Organization's former chief lawyer, appointed by the president in 2016 to lead on international negotiations involving the U.S., including peace talks between Israel and Palestinian authorities.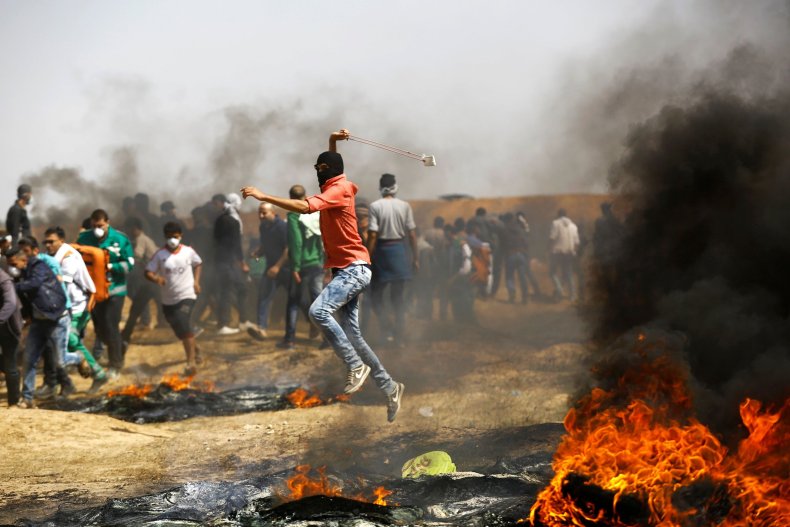 "When the leadership of Gaza renounces violence & ceases to threaten its neighbors, it will find an outstretched hand from the US, ready to help improve the quality of life of its inhabitants," Greenblatt tweeted on April 8. "Such a step forward can yield tremendous opportunity."
Hamas, the Islamist Palestinian militant group that governs Gaza, did not respond to a request for comment.
"The peaceful Marches held near the borders of the Gaza Strip reflect a bright image of brave, defiant and courageous Palestinians," said Ismail Haniyeh, leader of Hamas, in a statement posted to Twitter.
Israel said it is investigating the death of Yasser Murtaja, a 30-year-old Palestinian photojournalist wearing a flak jacket marked as "press" who was shot in the abdomen while reporting on the protests.
Palestinian groups accused Israeli snipers of targeting him.
"The IDF does not intentionally fire on journalists," the IDF told Ynet news in a statement. "The circumstances in which journalists were hit, allegedly by IDF fire, are unknown to us and are being examined."
On Twitter, the IDF posted an image of what it said were "two explosive devices placed by the terrorists at the scene" near the border fence separating Gaza and Israel.
The rights group Amnesty International called on the Israeli authorities to "stop using lethal and other excessive force against Palestinian protesters once and for all."
"The fact that live ammunition has been used against unarmed protesters is deeply troubling, and these deaths must be investigated as possible unlawful killings," said Magdalena Mughrabi, Deputy Director for the Middle East and North Africa at Amnesty International.