After Trump and Ivanka Visit, Louis Vuitton Artistic Director Posts He's 'Refusing This Association'
President Donald Trump, his daughter and senior White House adviser Ivanka Trump, and two Louis Vuitton executives may have been all smiles Thursday when the Trumps toured the designer brand's new manufacturing plant in Texas, but an artistic director has made it clear he was distancing himself from any association with them.
"Standing against any political action. I am a fashion designer refusing this association," Louis Vuitton artistic director Nicolas Ghesquière wrote in an Instagram post a few days after the Trumps visited. Ghesquière included the hashtag #trumpisajoke, indicating he did not want to associate with the first family, and #homophobia, calling out the president's seeming reluctance to vouch for the LGBT community.
The image on Ghesquière's post was of the 1984 song "High Energy" by Evelyn Thomas, with lyrics including, "High energy, your love is lifting me."
Louis Vuitton creative director for accessories Camille Miceli sided with Ghesquière, commenting with clapping hands and heart emojis.
Teddy Quinlivan, a transgender model, commended Ghesquière with clapping hands, raised hands and heart emojis and wrote, "BRAVO. Thank you for standing on the right side of history."
LVMH Moët Hennessy Louis Vuitton, the group that owns Louis Vuitton, has not made any public remarks about Ghesquière's message on Instagram. But at the ribbon-cutting, LVMH founder and chairman Bernard Arnault said "we are very honored to have the president of the United States."
"I am not here to judge his types of policies. I have no political role," Arnault said. "I am a business person. I try to tell him what I think for the success of the economy of the country, and the success of what we are doing."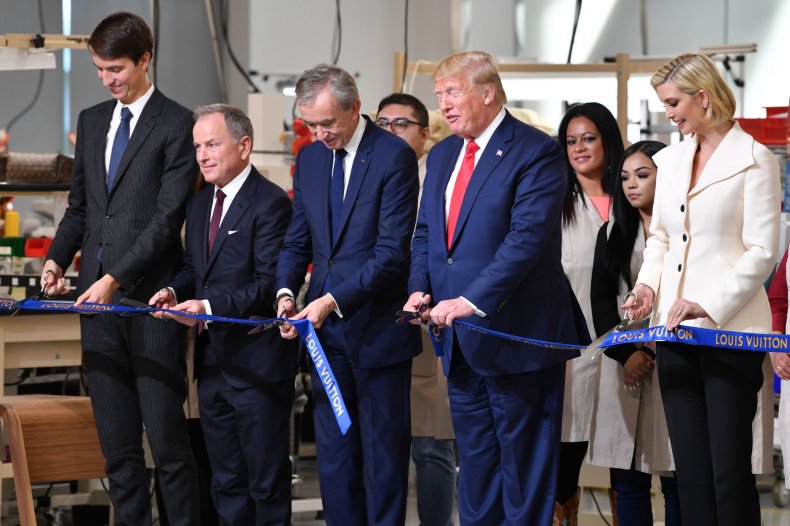 President Trump praised Arnault as having "faith" in his "vision for creating an American manufacturing renaissance" after he was elected president.
Arnault "promised to bring a brand-new factory to the United States. And today, wow, has he delivered, he's really delivered," the president said. Donald Trump also gave props to his daughter, saying, "what a good job you do" creating jobs in the United States.
Ivanka Trump, who shuttered her namesake clothing brand after entering the west wing, retweeted several videos that included her at the ceremony. One of the videos, from the White House, had a voiceover by the president saying, "We proudly celebrate the opening of the brand new Louis Vuitton, a name I know very well," but mispronounced "Voo-ton."
The plant will reportedly employ 500 people.
Louis Vuitton chief executive and chairman Michael Burke said: "We have nothing to do with the timing" of the president's rally that was scheduled in Texas after the factory tour.