Why Does Trump Love Andrew Jackson? 7th President Was Slaveholder Who Persecuted Native Americans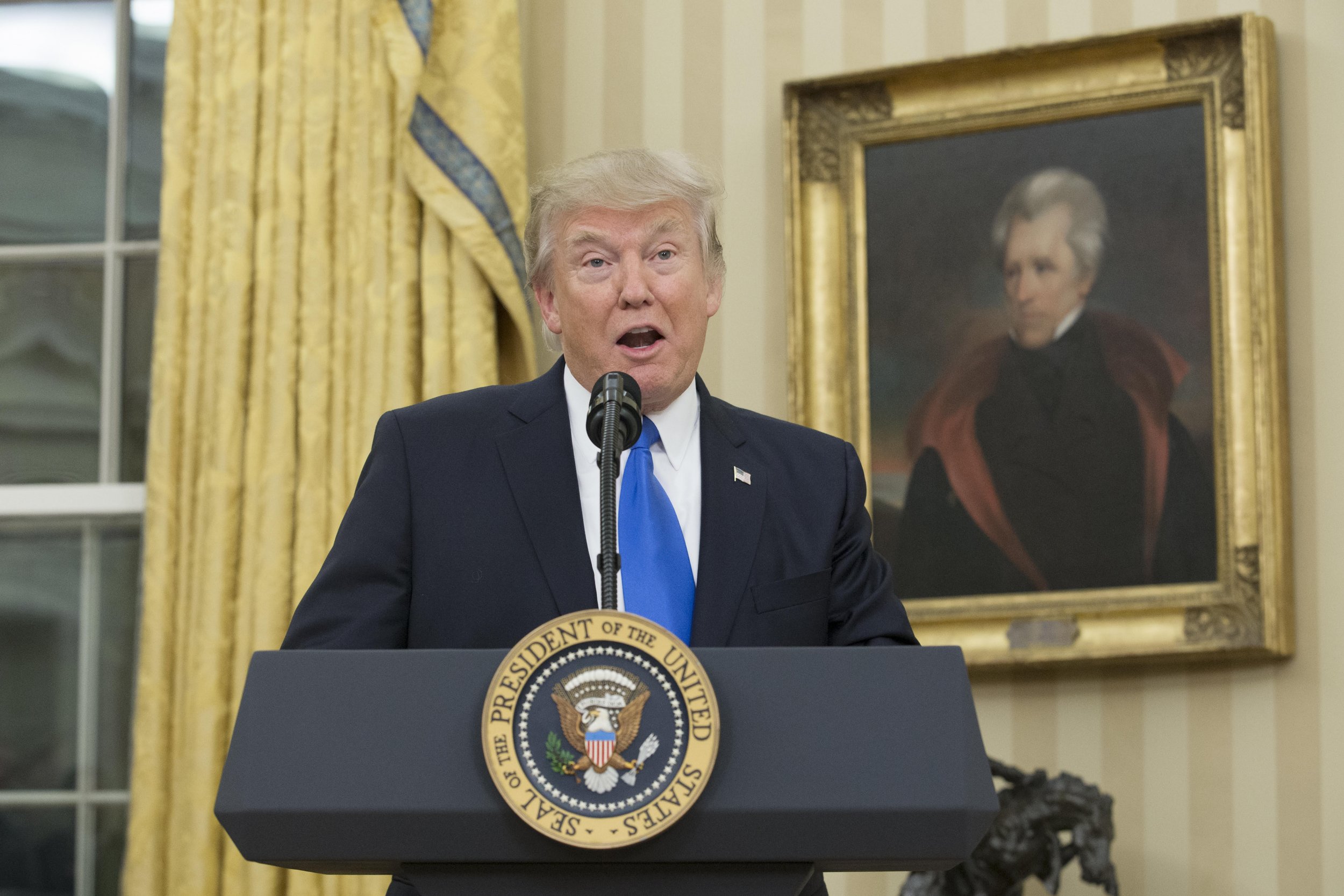 President Donald Trump is scheduled to visit the grave of one of his 44 predecessors, Andrew Jackson, Wednesday, in what will be just the latest sign of his admiration for the seventh president of the United States. Trump is set to lay a wreath at Jackson's tomb in Nashville in honor of the Tennessean's 250th birthday, ahead of holding a rally in the city.
Trump has already honored Jackson by hanging his portrait in the Oval Office just days after moving into the White House. But Trump and those around him have invoked the example of the man who served as president between 1829 and 1837 since before he even moved into the house Jackson once called home.
Days before taking office, Trump, through a spokesman, described Jackson as "an amazing figure in American history—very unique so many ways."
Trump has criticized the decision to replace Jackson's image on the $20 bill with African-American abolitionist Harriet Tubman.
Meanwhile, White House chief strategist Steve Bannon has compared Jackson's presidency to that of Trump.
"Like [Andrew] Jackson's populism, we're going to build an entirely new political movement," he told The Hollywood Reporter in November. Bannon later described Trump's inauguration address as "Jacksonian."
Comparisons between the two men are easy enough to make. Jackson has been widely cited as the first populist president. And while Jackson, unlike Trump, had political experience before taking the country's top job, he, too, was viewed as an outsider who ran against an ultimate insider.
In Jackson's case, he faced off with John Quincy Adams, the incumbent president and son of former president John Adams. Both Jackson and Trump inspired a sense of caution and distrust from political elites.
However, according to historian Jon Meacham, a Jackson biographer who has interviewed Trump, the analogy between the two is a pure Bannon creation. "I talked to Trump in May about history and role models, and Jackson never came up," Meacham told The Washington Post.
There are some aspects of Jackson's legacy that Trump may not want to be too closely associated with. Jackson's reputation has been damaged in recent years due to his history as a slaveholder, along with his role in the forced relocation of Native American tribes from the Eastern United States.
By the time of his death in 1845, Jackson is thought to have owned 150 slaves at his plantation on the outskirts of Nashville. In 1830, he signed the Indian Removal Act, which led to nearly 100,000 people being forced to march west from their homes in the South East. Up to 25 percent of the Native Americans, many forced to march in manacles, died en route.