President Donald Trump may have feelings of jealousy toward his Russian counterpart, Vladimir Putin, and how the long-standing leader wields his considerable power, according to a former director of the Central Intelligence Agency.
Retired Air Force General Michael Hayden, who acted as the head of the National Security Agency under Presidents George W. Bush and Bill Clinton, described what he believed to be Trump's "autocrat envy" of Putin.
"I think there is a bit of autocrat envy in terms of the president's attitude toward the President of the Russian Federation," Hayden told CNN's New Day on Friday.
Hayden referenced Putin's speech before the Russian Federation parliament on Thursday, during which he claimed Russia had a seemingly unstoppable nuclear weapon capable of thwarting all defenses.
"He actually admires the way Putin does business," said Hayden. "In his heart of hearts, [Trump] may look at what happened yesterday in the Russian Federation and have a certain sense—'Why can't I give speeches like that? Why can't I do those kinds of things?'"
Hayden continued: "The way [Putin] is able to govern, the things Putin is able to say, the way things seem responsive to Putin without the institutions of government pushing back on him. Yeah, I think he'd like that."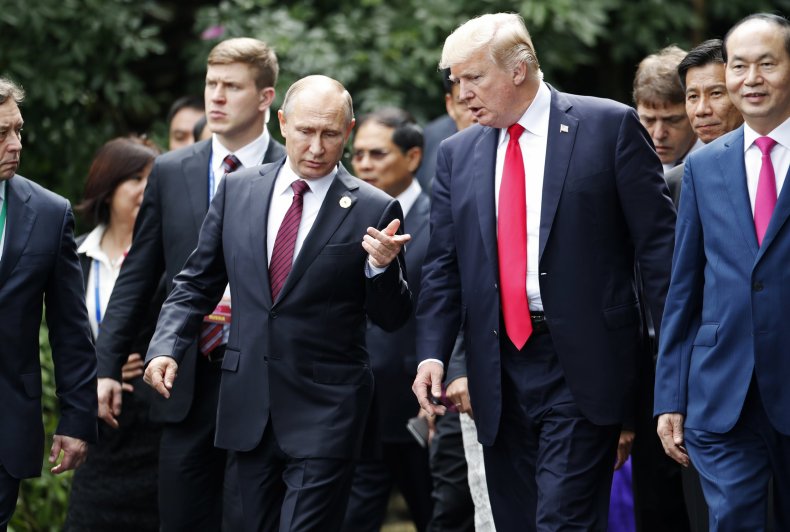 Trump's tactics and tough talk have long been criticized and likened to those of more despotic leaders. Recently, the Republican president suggested that all drug dealers should be killed, following ironfisted Philippines President Rodrigo Duarte's widely condemned murderous crackdown on drugs.
Trump also called for a very rare and expensive military parade later this year, similar to those that take place in Russia as well as Kim Jong Un's North Korea.
The president, like Putin, has launched verbal tirades against the press for what he considers negative or biased coverage. In the wake of the Parkland, Florida, high school shooting, Trump lashed out at CNN after it was incorrectly accused of scripting a survivor's question.
"'School shooting survivor says he quit @CNN Town Hall after refusing scripted question.''' @TuckerCarlson. Just like so much of CNN, Fake News. That's why their ratings are so bad! MSNBC may be worse," Trump tweeted February 22.
However, Trump has not gone nearly as far with the press or his critics as Putin is alleged to have done. Reports have linked Putin to the deaths of at least 10 of his critics during his time in power.