'Trump, Jerusalem Is Ours': Israeli Military Monument Defaced With Arabic Graffiti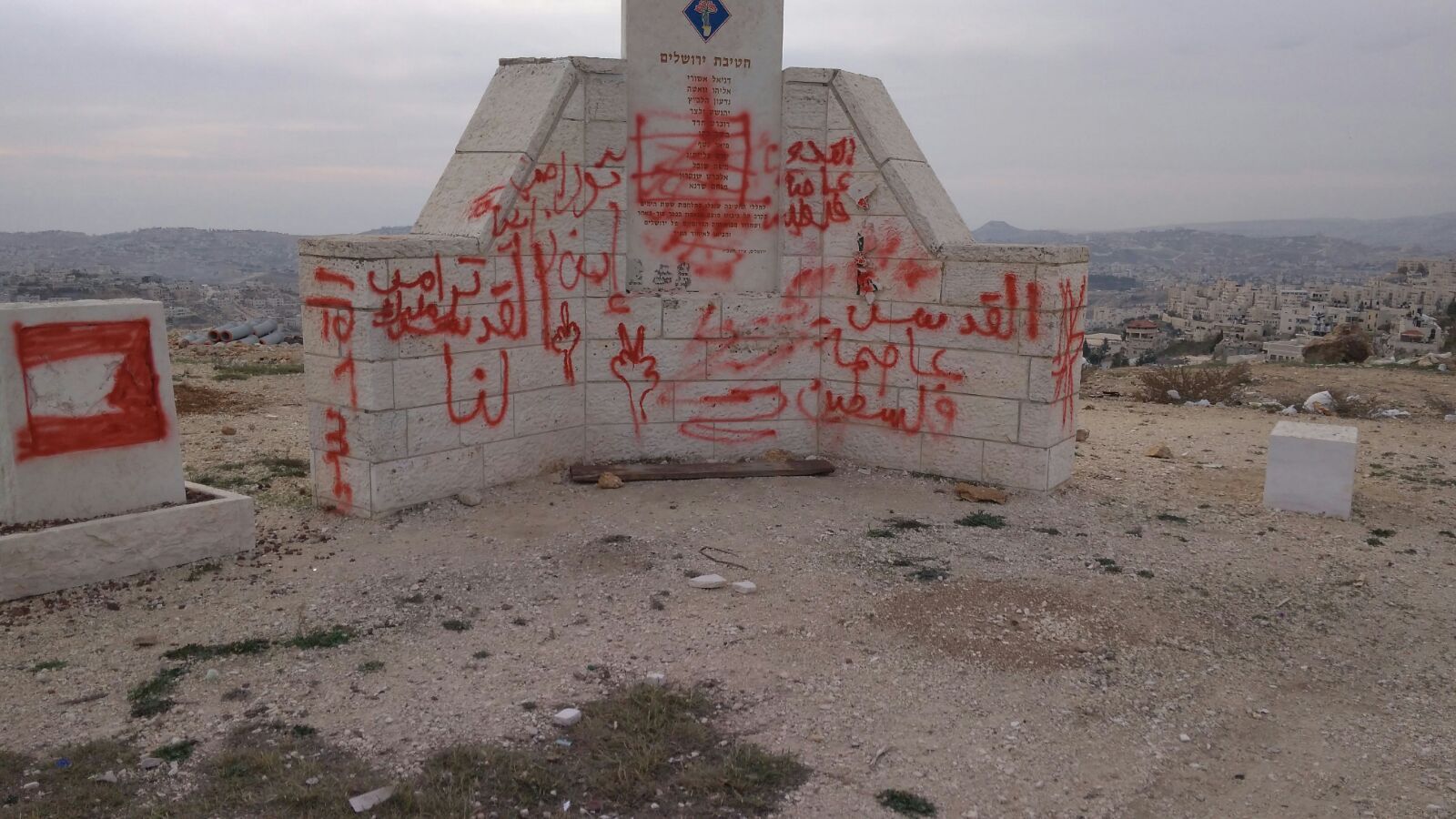 A Jerusalem monument has been daubed with Arabic graffiti opposing President Donald Trump's decision to relocate the U.S. embassy to Jerusalem.
The memorial commemorates the 11 members of an Israeli military unit who died in the 1967 Six-Day War with Jordan and other Arab nations.
The memorial is located near Kibbutz Ramat Rachel in southern Jerusalem on a road to east Jerusalem, the section of the ancient city that the Palestinians have earmarked as the capital of any future state.
East Jerusalem is the location that hosts the holiest site in Judaism, the Temple Mount, and the third-holiest site in Islam, the Haram al-Sharif, or Noble Sanctuary.
The red paint read "Trump, Jerusalem is ours," and "Jerusalem, the capital of Palestine."
Israeli police have opened a hate crime investigation and are searching for suspects involved in the vandalism of the monument, the Times of Israel reported.
It comes after Trump's December 6 announcement that he had ordered the relocation of the U.S. embassy from Tel Aviv to the contested city, ignoring the protests of Arab leaders and allies.
On Thursday, the U.N. General Assembly convened to vote on a motion that seeks to reject Trump's declaration of Jerusalem as Israel's capital.
U.S. ambassador to the U.N. Nikki Haley warned allies and members of the General Assembly that Trump would be "taking names" of states voting in favor of the motion. Trump also has threatened to cut aid to those countries who vote for the non-binding resolution.
"Let them vote against us. We'll save a lot. We don't care," he told reporters at the White House. "They take hundreds of millions of dollars and even billions of dollars, and then they vote against us."