Trump's Former Defense Secretary Jim Mattis Suggests He 'May Not Like' the President 'One Fricking Bit'
President Donald Trump's former Defense Secretary Jim Mattis suggested that he "may not like" his former boss "one fricking bit" in an interview published Thursday.
During the interview, written by Jeffrey Goldberg and published by The Atlantic, Goldberg asked Mattis: "And don't you have a duty to warn the country if it is endangered by its leader?"
"I didn't cook up a convenient tradition here," Mattis responded. "You don't endanger the country by attacking the elected commander in chief. I may not like a commander in chief one fricking bit, but our system puts the commander in chief there, and to further weaken him when we're up against real threats — I mean, we could be at war on the Korean peninsula, every time they start launching something."
Prior to that answer, Mattis had told Goldberg that he has been careful to avoid criticizing the Trump administration because he believed he owed "some silence."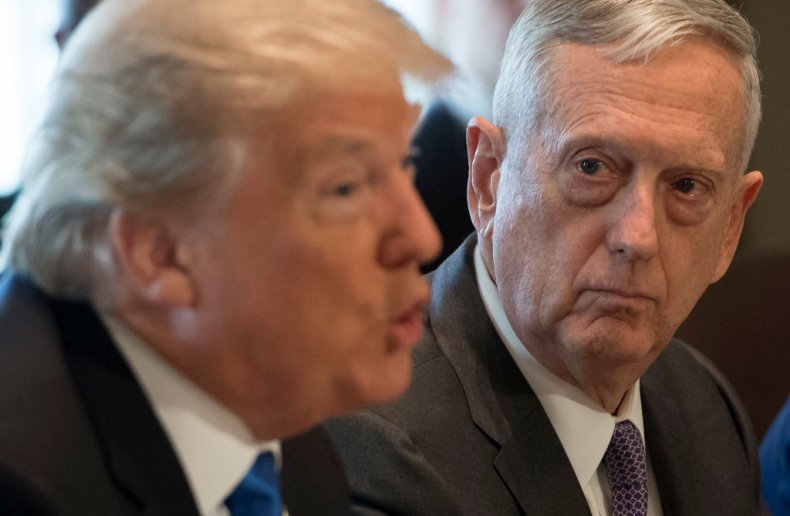 "If you leave an administration, you owe some silence," he stated. "When you leave an administration over clear policy differences, you need to give the people who are still there as much opportunity as possible to defend the country."
Goldberg wrote that Mattis had previously told him that the silence is "not eternal. It's not going to be forever."
The retired general, who served in the Marine Corps for more than 40 years, also argued that concerns people have about Trump should not be viewed "in isolation from everything else." He added: "We can't hold what Trump is doing in isolation. We've got to address the things that put him there in the first place."
Mattis also told Goldberg that a May tweet from Trump regarding North Korean missile tests was "beneath the dignity of the presidency."
The president's controversial tweet from May 25 said: "North Korea fired off some small weapons, which disturbed some of my people, and others, but not me. I have confidence that Chairman Kim will keep his promise to me, & also smiled when he called Swampman Joe Biden a low IQ individual, & worse. Perhaps that's sending me a signal?"
When asked by Goldberg about the post, Mattis responded: "Any Marine general or any other senior servant of the people of the United States would find that, to use a mild euphemism, counterproductive and beneath the dignity of the presidency."
The White House did not immediately return Newsweek's request for comment on Mattis' remarks.
Mattis resigned from Trump's administration in December over serious policy differences with the president. The move came after Trump controversially announced that U.S. troops would be withdrawn from Syria and pushed for a similar move in Afghanistan. The general believed that the move was essentially abandoning U.S. allies, as Trump's decision was also criticized by European leaders involved in the fight against ISIS.
"My views on treating allies with respect and also being clear-eyed about both malign actors and strategic competitors are strongly held and informed by over four decades of immersion in these issues," he wrote in his resignation letter.
"Because you have the right to have a Secretary of Defense whose views are better aligned with yours on these and other subjects, I believe it is right for me to step down from my position," he added.
Since then, Mattis had largely avoided commenting critically on the administration and the president. But on Wednesday he published an op-ed in The Wall Street Journal that was viewed by many as openly criticizing Trump.
"We all know that we're better than our current politics," he wrote, also warning that "all Americans need to recognize that our democracy is an experiment – and one that can be reversed."