Donald Trump's 2020 Campaign May Hinge on Bringing Back Factory Jobs: Here's How He Could Fail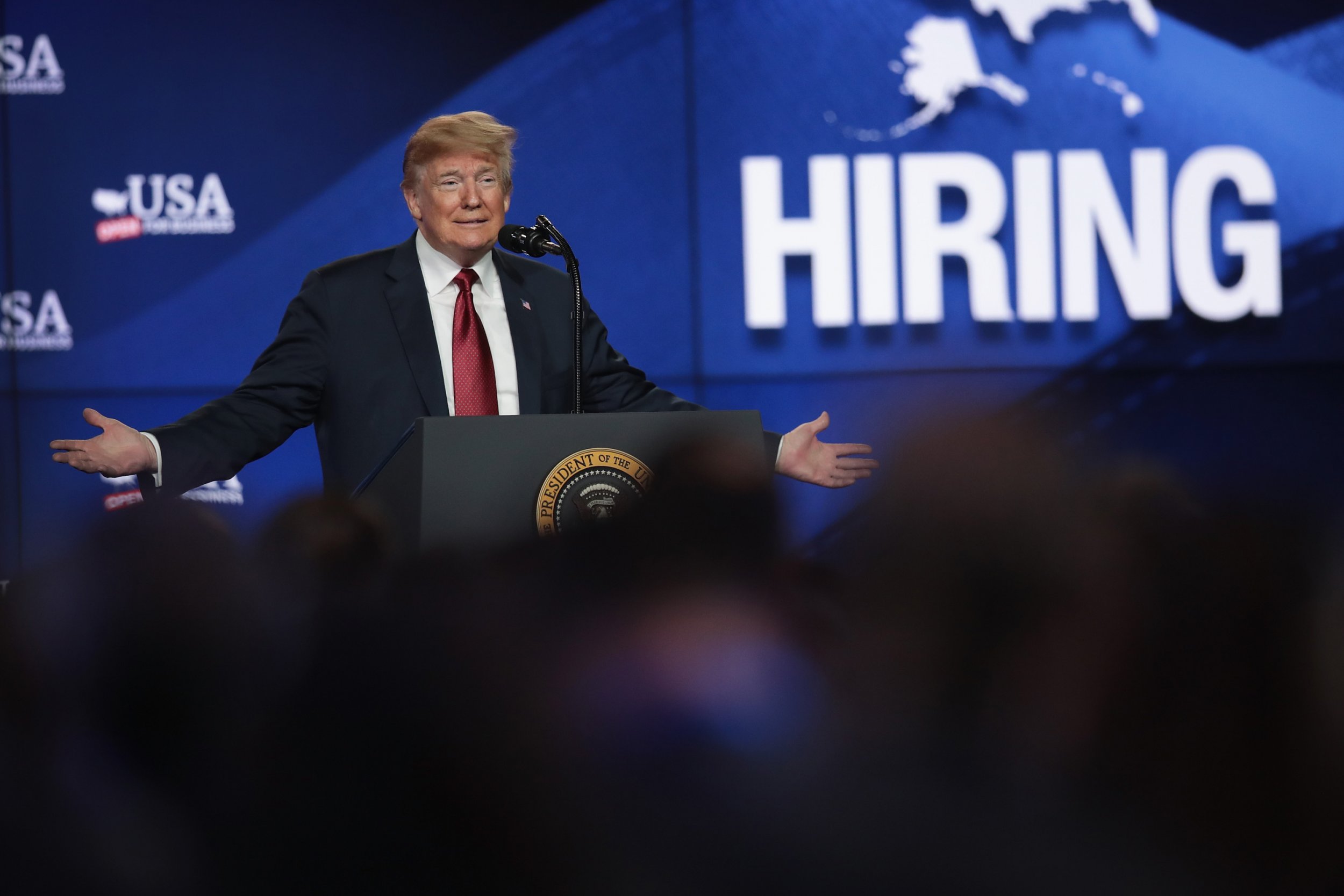 President Donald Trump has centered much of his 2020 reelection campaign on his ability to bring manufacturing jobs back to the United States, but recent data shows that the president might fall short of his claims.
"Last year was the best year for American Manufacturing job growth since 1997, or 21 years," the president tweeted earlier this year. "The previous administration said manufacturing will not come back to the U.S., 'you would need a magic wand.' I guess I found the MAGIC WAND - and it is only getting better!"
Manufacturing jobs did grow, by about half a million, during Trump's first two years in office. But jobs numbers are still about a third lower than they were in 1980 and lower than they were in 2008. New data indicates that growth is slowing down, partially due to the president's own tariff policies.
Employment growth for the sector in February grew by only 4,000 jobs—the weakest in more than a year. Payroll company ADP reported that the economy lost 2,000 net factory jobs in March.
Joe Biden, who is running for the Democratic presidential nomination, has been attempting to appeal to the same blue-collar workers who gave Trump his edge in 2016. Biden gave his first official speech in Pittsburgh Monday. "The country wasn't built by Wall Street bankers. It was built by you. It was built by the great American middle class," he said.
The Trump campaign and his surrogates were been quick to claim that the president had created more jobs in Pennsylvania than Biden did as vice president. "Joe Biden failed Pennsylvanians when he was Vice President," tweeted GOP Chairwoman Ronna McDaniel Monday. "Under Biden and Obama, 51,000 manufacturing jobs were lost in Pennsylvania alone. Under Donald Trump, 5,000 manufacturing jobs have been created and unemployment is the lowest in PA's history!"
The majority of those jobs were lost within the first year of Obama's administration when the economy was in recession and the auto industry was teetering on the brink of bankruptcy.
Recently, manufacturers have pointed to rising tariffs caused by President Trump's trade wars with Europe and China as a strong headwind to business. General Motors CEO Mary Barra warned last summer that "increased import tariffs could lead to a smaller GM, a reduced presence at home and abroad for this iconic American company, and risk less—not more—U.S. jobs." In February, GM began its closure of three factories, which are expected to result in about 14,000 layoffs.
The Wall Street Journal reported Tuesday that the village of Mount Pleasant, Wisconsin, had been particularly hard-hit by manufacturing promises not kept.
In 2017, President Trump and Foxconn Chairman Terry Gou made a deal to open a $10 billion mega factory in the area.
"As Foxconn has discovered, there is no better place to build, hire and grow than right here in the U.S.," said the president as he attended the groundbreaking ceremony. "I had this incredible company going to invest someplace in the world—not here necessarily," Trump said. "And I will tell you they wouldn't have done it here, except that I became president."
In exchange for the factory, the state promised $2.85 billion in tax credits and $150 million in sales-tax exemptions. Mount Pleasant and Racine County also provided an incentive package around $764 million. In addition, Wisconsin said it would spend $134 million to fix the roads around the factory.
Two years later about 75 homes in the area have been demolished, roads are being widened, and Mt. Pleasant has borrowed about $350 million to make infrastructure improvements for the factory.
But the factory isn't there.
The company, according to the Journal, has so far only spent $99 million, or 1 percent of its planned investment in the area. Foxconn, a Taiwanese company known for supplying parts to Apple, said it would create 2,080 jobs in the area by the end of 2019 and 13,000 jobs by 2032 but has so far only hired about 200 people.
"At some point we're talking about things that are just imaginary," said Nick Demske, a commissioner in Racine County, told the Wall Street Journal. "We're pretending."
In January, Foxconn attempted to pull out of the project because of high costs. After a phone call with President Trump, the company said work on the factory would continue but its ambitions would be scaled back.
Foxconn said in a statement that it stands by its pledge and will be fully operational by the end of 2020.
In April, Foxconn's chief U.S. strategist, Alan S. Yeung tweeted, "who has the crystal ball to predict if 13,000 jobs will be created by the year 2032? Esp in April '19?"
The president did not mention Foxconn during his Wisconsin rally this week.