Trump Employment Gains Are Not Helping His Rust Belt Base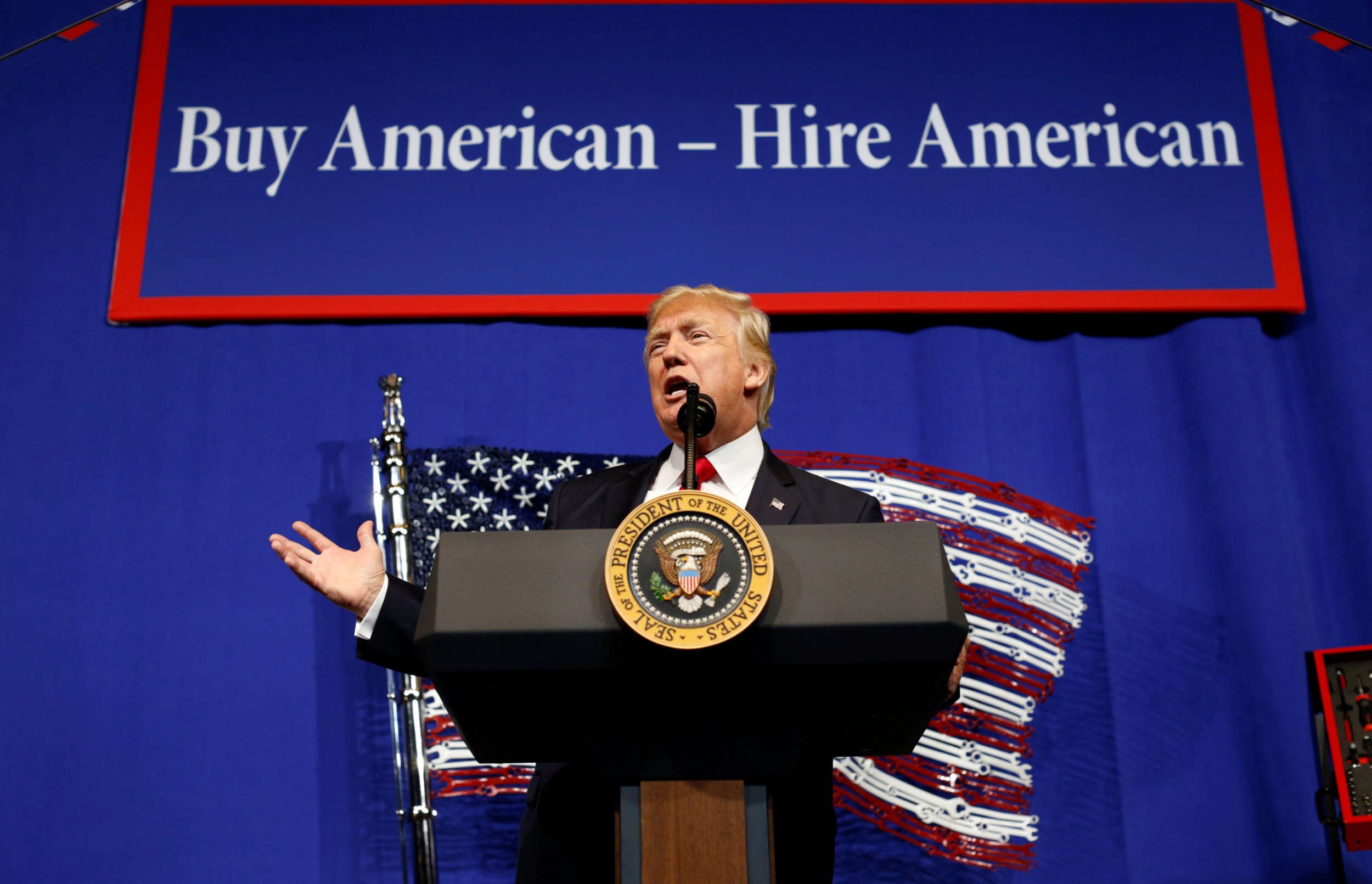 Update | President Donald Trump says America's dropping unemployment rate is one of his greatest accomplishments—but Rust Belt states so crucial to Trump's White House win last year have been largely left out of the employment boom.
Unemployment is up in Wisconsin, Michigan, Indiana and Ohio since May, according to data from the Bureau of Labor Statistics, even as the national unemployment rate is at a 17-year low of 4.1 percent.
A rise in unemployment rates can sometimes be a result of more people entering the labor force, but that's not the case in any of the Rust Belt states where joblessness is on the rise.
Factories nationwide have added 171,000 jobs so far in 2017, but most of the benefits are in the South, where labor unions are weakest. The largest gains in manufacturing jobs between 2010 and 2016 were in South Carolina, Tennessee and Georgia.
On the campaign trail last year then-candidate Trump chastised his rival as a "bad candidate who didn't go to Wisconsin or Michigan like they should have," but as president, Trump has so far been unable to make good on his promise to revitalize the deindustrializing Midwest by bringing back meaningful factory jobs.
And the Midwest is suffering not only from lost jobs. The Rust Belt was one of the biggest beneficiaries of the expansion of Medicaid under the Affordable Care Act, but most of the bills proposed by Trump to repeal or replace Obamacare would undo the expansion. And the Republican tax bill set to pass this week would likely increase insurance premiums, analysts say.
The bill largely favors the richest Americans, business owners and their shareholders leaving the struggling Midwest behind. The GOP claims that business owners will use their extra money to create jobs, but research shows that over the past 30 years, trick-down economics have have barely budged worker's wages.
President Trump's favorability has dipped in states like Michigan and Indiana, leaving some worried that he won't be able to win these crucial areas in 2020. Democrats have already targeted 12 GOP-held Congressional seats in the Midwest that they hope to take back in the 2018 midterm elections.
"Democrats should be able to win in all these places," said Krystal Ball, founder of the People's House Project, a political action committee that is focused on winning Rust Belt seats.
One of those seats belongs to House Speaker Paul Ryan (R-Wisc.), who is being challenged by iron worker Randy Bryce, a Democrat hoping to win his party's nomination. Bryce is focussing on Trump's failure to deliver.
"I say, 'Can you tell me one promise that [Trump has] kept you, one thing he's promised during his campaign that he's kept and that's the reason you're voting for him?'" he said. "And they'll tell me, 'Honestly, I can't.' It's a buyer's remorse. People are waking up."
A new poll out Monday shows that the majority of Americans believe Trump's policies have not helped middle-class families.
Story was updated to clarify that Bryce is one of two Democrats hoping to run against Ryan next year.