Donald Trump Backs Ron DeSantis' Florida Foe
Donald Trump has announced that he is endorsing Joe Gruters, a longtime ally of the former president and sometime foe of Florida governor Ron DeSantis, in his bid to become Treasurer of the Republican National Committee (RNC).
In a statement, Trump said that he will be backing Gruters, a state senator and outgoing Chairman of the Republican Party of Florida, as he attempts to replace current party treasurer Ron Kaufman in the January 27 vote.
Gruters, who was the Florida State Chair of Trump's 2016 presidential election campaign, had previously received Trump's endorsement when he ran for reelection as Florida state senator.
Trump praised Gruters for helping him win the state of Florida in 2016, as well as 2020.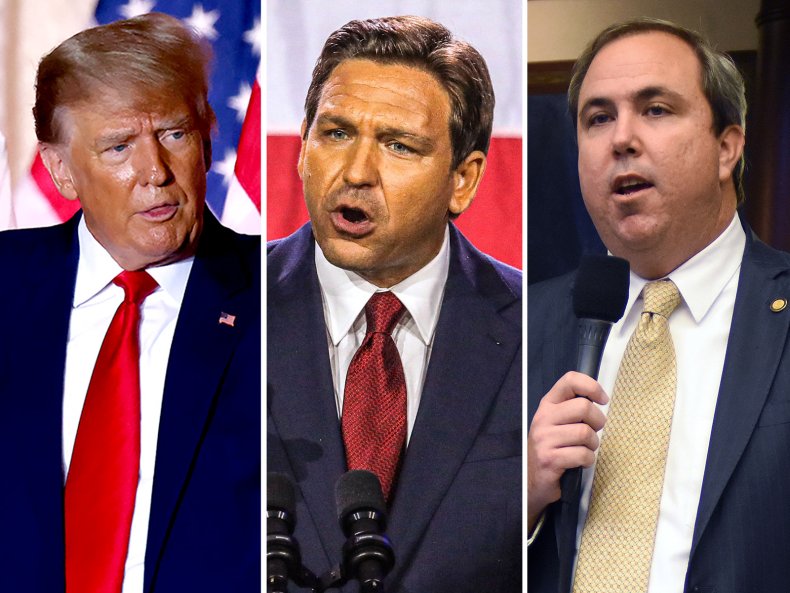 "I have known Joe since before I was a candidate in 2016, and before he was even elected to office. Now he is representing Sarasota, the home of Truth Social, very very well," Trump said.
"Joe has done a great job leading Florida Republicans to historic wins, including my two great victories, and he will do a fantastic job as RNC Treasurer. Joe Gruters has my Complete and Total Endorsement."
Gruters' opponent for RNC treasurer, is K.C. Crosbie, Kentucky's national committeewoman.
Gruters, along with Trump, is known for having a fractured relationship with DeSantis.
In 2019, DeSantis called for Gruters' $120,000 a year salary as Florida Republican party chairman to be cut so more money could be given to the party's executive director Peter O'Rourke.
In November 2020, Politico reported how DeSantis had yet to endorse Gruters for reelection as Florida GOP chair, with the pair frequently clashing over issues such as fundraising and how the party should be run.
"He doesn't like him, but doesn't want the blood on his hands," an unnamed DeSantis ally told Politico at the time.
In a November 2020 opinion piece for Florida Politics, Peter Schorsch suggested that it did not matter if DeSantis liked Gruters or not because the firebrand governor "doesn't really like anyone," including members of his own party.
However, DeSantis did later back Gruters, resulting in him being unanimously reelected as chairman of the Republican party of Florida in January 2021.
The pair seem to have somewhat patched up their differences, with Gruters openly supporting DeSantis' plan to overhaul the historically progressive New College of Florida, including the governor hand-picking six new conservative members to the board of trustees.
Following DeSantis' board appointments, Gruters said the move was "not a takeover," but a "bridge to save New College" during a meeting of Sarasota County's legislative delegations on January 19.
DeSantis has been contacted for comment.