Trump Performs Mocking Impersonations of John McCain and Mitch McConnell in Private: Report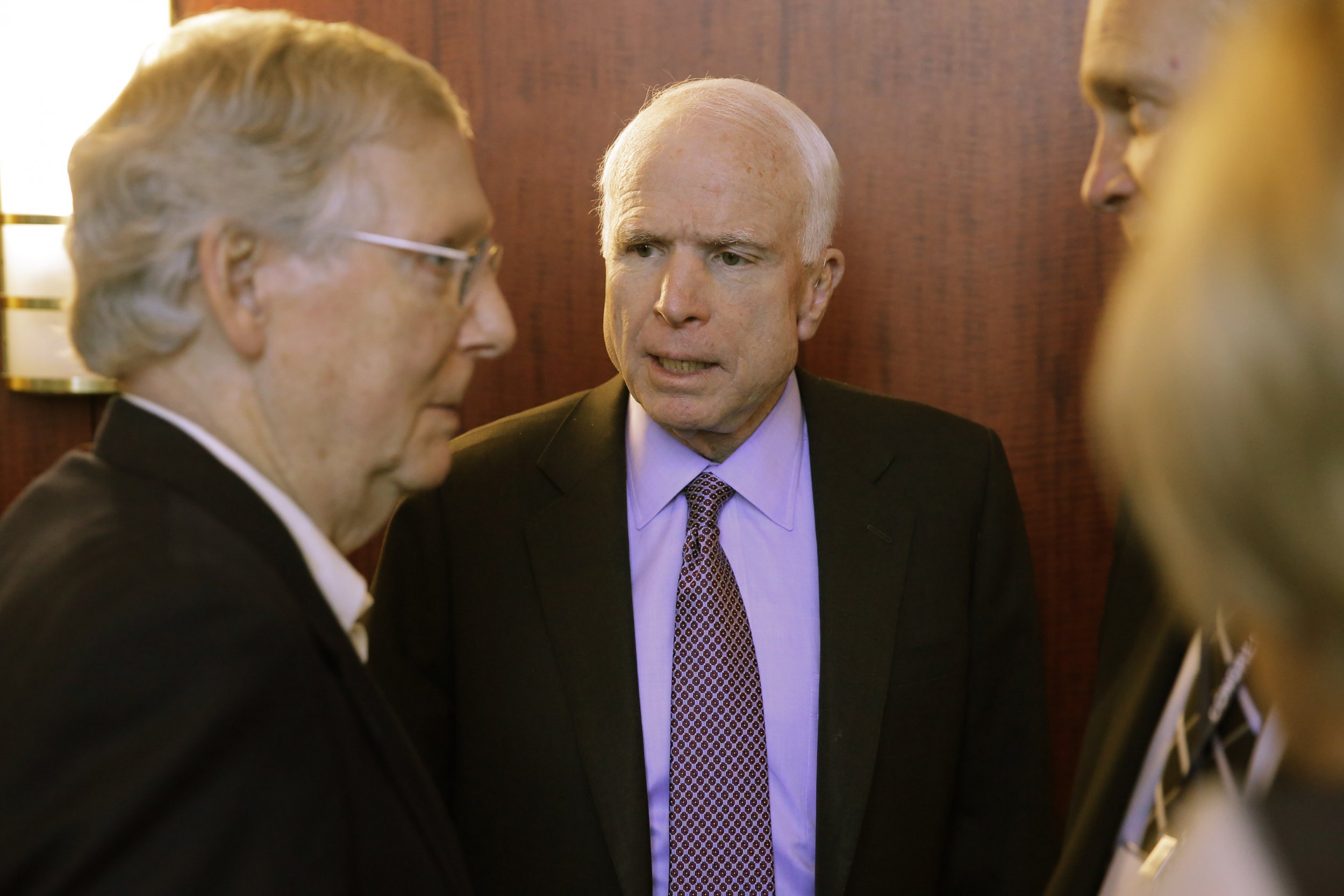 Frustrated with yet another failure to repeal and replace Obamacare, President Donald Trump has taken to doing mocking impersonations of leading Republicans in private, according to a report Wednesday. Trump is said to imitate Senate Majority Leader Mitch McConnell's "slumped shoulders and lethargic body language," according to Axios, and to Trump re-create Senator John McCain's famous thumbs-down gesture that signaled the death of the Republicans' health care overhaul in July.
Related: Trump has 'no humanity' for attacking McCain, who is dying, over health care law, critics say
Efforts to dismantle Obamacare—President Barack Obama's signature legislative achievement—has dominated the agenda during Trump's first eight months in office. But those attempts came to a crashing, and potentially fatal, halt Tuesday when McConnell conceded defeat in the effort to pass the Graham-Cassidy bill.
The bill represented the final chance for Republicans to pass legislation before the September 30 deadline allowing a simple majority vote rather than requiring 60 votes to avoid a Democratic filibuster. After confirming that the bill would not go to a vote, McConnell said attention will now turn to tax reform.
Trump has not yet responded directly to the latest failure, although he claimed in a tweet Wednesday morning that "virtually no President has accomplished what we have accomplished in the first 9 months."
When the health care efforts failed during the summer, Trump lashed out at Republicans, and McConnell in particular, for failing to get the job done after they "screamed repeal and replace for seven years."
Trump has also reserved particular ire for McCain, who has on more than one occasion proved to be a key vote in determining the fate of health care legislation. In July, the Arizona senator gave his dramatic thumbs down to a "skinny repeal" of Obamacare on the Senate floor just days after exiting a hospital, where he was receiving treatment for brain cancer. He dealt a major blow to the latest effort, too, when on Friday he released a statement that he would vote no.
Following that announcement, Trump went on the attack, accusing him of abandoning his pledge to replace Obamacare.
Trump's comments were the subject of widespread rebuke, including from one of the crafters of the bill, Senator Lindsey Graham, McCain's long-time friend.
"John McCain was willing to die for this country," Graham said. "So I would say to any American who has a problem with John McCain's vote that John McCain can do whatever damn he wants to. He's earned that right."
But Trump has long shown no hesitation about going after McCain, despite his experience as a prisoner of war in Vietnam.
"I like people who weren't captured," Trump said during his presidential campaign last July.
Trump is also no stranger to mocking impersonations. During his campaign, he mocked a reporter with a physical disability, prompting a wave of criticism.