Trump Joins Social Media Platform Rumble Before Saturday Night Ohio Rally
Former President Donald Trump has been banned from Twitter and Facebook, as well as Google and YouTube. Just hours before a pro-Trump rally Saturday night in Ohio, he joined a new social media platform.
Now, Trump's ready to Rumble.
Trump joined the platform Rumble on Saturday afternoon, and he quickly gathered followers for his newest mouthpiece to the universe. This isn't a replacement to Trump's plan to create his own social media outlet, though.
"It is a great way to reach the American people in a time of unprecedented assault on free speech in our country by Big Tech tyrants," Trump spokesperson Liz Harrington told Reuters.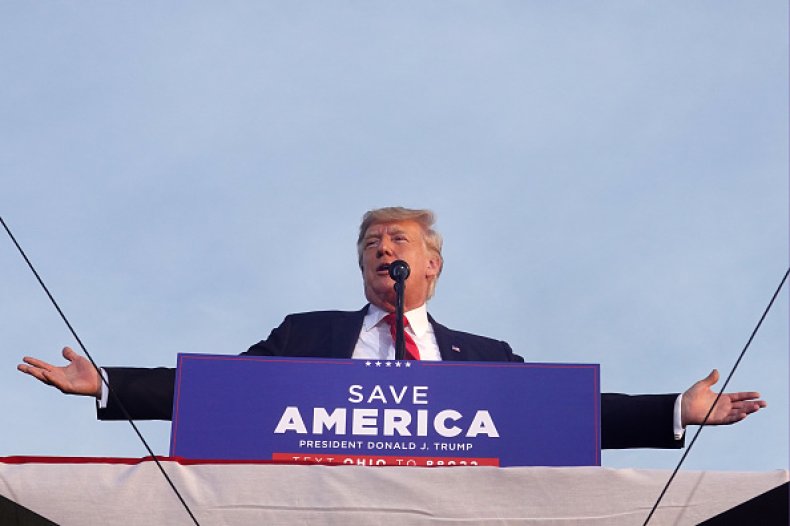 Rumble was launched in Canada in 2013 as a way to showcase videos in a similar style of YouTube, but this platform caters more to Conservatives when it comes to American politics. Rumble CEO Chris Pavloski assured Reuters this weekend that Trump had, indeed, set up an account with Rumble.
Though executives from Rumble did not comment any further than that, Trump's first live stream was Saturday night at the "Save America" rally in Wellington, Ohio.
Trump used his new platform to bash the 2020 elections, and said it was a bigger crisis than the increasing surge of migrants across the southern U.S. border.
"There is no more direct threat today than the crisis on our southern border, other than our elections," Trump said. "That's probably the biggest threat of all, is how that happened in the election. It's a disgrace. We'll be talking about that. Unless you'd rather not have me talk about it."
"Joe Biden deliberately and systematically, through his people because I don't think he did it, stopped America's border defenses and incited a flood of illegal migrants," Trump said. "They violated our laws from every single corner of the globe, they were invited in. And we can't do that. We can't afford it. We can't have it.
"When I left office, we gave the administration the most secure southern border our country had ever seen by far," Trump continued. "We have to defund his reckless immigration policies and restore our nation's southern border to where it was."
The former president has been banned from both Facebook and Twitter for allegedly inciting a riot at the U.S. Capitol on January 6 during Congress' certification of the 2020 election results. Meanwhile, Trump has flirted with starting his own social media platform to echo his voice. Although no service has been launched, it's clear he has dabbled in other outlets.