Donald Trump Tells LSU National Champions He's a Good President, 'Even Though They're Trying to Impeach the Sonofab---h'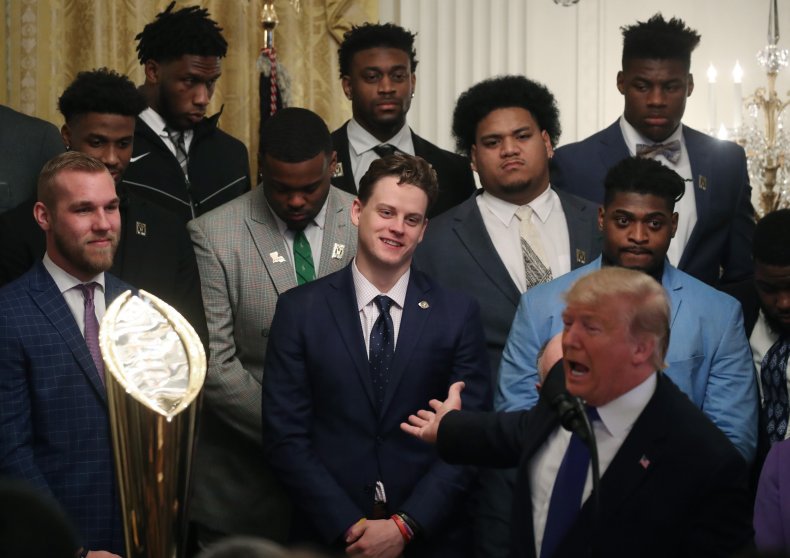 During a White House visit from the Louisiana State University Tigers in celebration of their college football championship Friday, President Donald Trump made a few jokes about his presidency and his recent impeachment.
"We can take whoever wants to come, to the Oval Office to take pictures behind the Resolute Desk," Trump said to the champions. "It's been there a long time, a lot of presidents, some good some not so good. But you got a good one now, even though they're trying to impeach the sonofab****, can you believe it?"
Trump was referring to his impeachment by the House of Representatives that is now the focus of an upcoming trial in the Senate. The president is accused of pressuring Ukrainian officials to investigate former Vice President Joe Biden and his son Hunter Biden in exchange for military aid to Ukraine.
The president's jokes did not stop with impeachment during the Tigers' visit to the White House, following their victory over Clemson this past Monday for the national title. While speaking about LSU quarterback Joe Burrow and how he fought back tears during his Heisman Trophy acceptance speech, Trump asked Burrow if that actually happened. Burrow replied: "A little bit."
"It's like the coach [Ed Orgeron], if you told me he cried I don't believe it. Maybe when he was a baby, but I doubt it," Trump said.
Trump also brought up the recent and controversial assassination of Iranian top military leader General Qassem Soleimani, He compared that killing to the way LSU beat other teams to win their title.
"We got the greatest economy we've ever had Joe, we got the greatest military," Trump said. "We took out those terrorists like your football team would have taken out those terrorists, right?"
Despite his jokes during the Tigers' visit, Trump stated that "the team is said to be one of the best ever, maybe the best ever."
The Tigers posted a number of different pictures from their visit to the White House across their different social media channels.
"Presidential Joe," the team wrote as a caption of Burrow sitting in the White House on their Instagram account.
"@WhiteHouse," the team wrote on their Twitter account, with a picture of the Heisman and national championship trophies.
The LSU athletic department stated they had no comment on the team's visit to the White House when contacted by Newsweek.