Donald Trump Jokes He'll Need to Call Ukraine to Beat 'Sleepy Joe Biden' at Mississippi Rally
President Donald Trump went on the offensive at a GOP rally in Mississippi on Friday—attacking the impeachment inquiry, dismissing ongoing quid pro quo allegations as a hoax and mocking the Democrats who have brought the claims.
Trump has addressed reporters only twice since Monday, but once in the state where he defeated Hillary Clinton by nearly 18 percentage points in 2016, the president batted away accusations of wrongdoing in front of the home crowd.
Speaker Nancy Pelosi, House Intelligence Committee Chairman Adam Schiff, and former Vice President and 2020 presidential candidate Joe Biden were all in Trump's line of fire as he addressed the Tupelo crowd.
The president dismissed the notion that lies at the heart of Democrats' impeachment push, joking sarcastically that the only way to defeat Biden was to enlist the help of Ukraine.
"Let's see, I've got a guy named Sleepy Joe Biden," Trump said mockingly. "How do I beat this guy?
"Gee, I guess there's only one way. Let's call up Ukraine for help."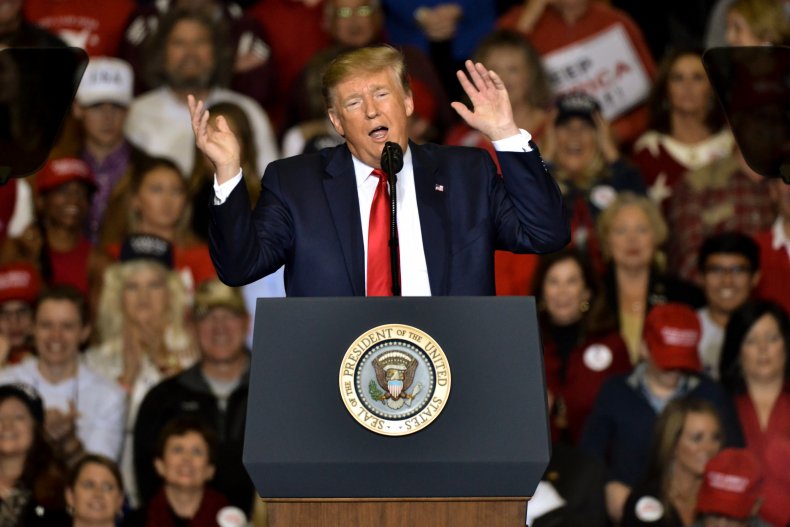 Trump also repeated the now-debunked claim that Biden threatened to withhold $1bn of aid to Ukraine in order to protect his son's business dealings.
He added he was even "impressed" with Biden's purported behavior, stating: "I didn't think he had the energy, the brain power," before mocking the former vice president again.
"Well, it turns out... he doesn't," Trump added. "By the way, he's dropping like a rock."
Returning to his own allegations of withholding military aid to Ukraine in return for a politically motivated investigation, Trump said he would not do something like that.
"Now I'm an honest person anyway, but do you think when I'm making a call to a newly elected president of a country that I would say something improper when I know so many people are listening on the line?" he said.
Turning his attention to Pelosi and Schiff, Trump said: "While we're creating jobs and killing terrorists, the Democrat party has gone completely insane."
"They've been plotting to overthrow the election since I won," he added. "They actually spied on my campaign," repeating an ongoing claim that has never been substantiated.
"Now corrupt politicians Nancy Pelosi and 'Shifty' Adam Schiff, and the media are continuing with the deranged impeachment witch hunt. The word impeachment, to me it's a dirty word, not a good word.
"The American people are fed up with Democrat lies, hoaxes and extremism."
Trump made the comments in front of a capacity 15,000 people who packed the arena, many waiting several hours to get in.
Aside from trying to dent the Democrats' impeachment efforts, Trump was also on hand to endorse Republican Lieutenant Governor Tate Reeves before a Tuesday vote against Democrat Jim Hood, the state's attorney general.
Before the night was finished, however, Trump also took aim at Beto O'Rourke, the Democratic presidential hopeful who announced his intention to leave the race after dropping to 1% in the polls.
"He quit like a dog," Trump said. "Beto, that poor b*****d—poor, pathetic guy."
"He said he was born for it, like he was born from heaven and came down," Trump added. "Anybody who says that he was born for this, they are in trouble."