Who Is Joseph diGenova, Trump's Newest Pick to Defend Him in Mueller Probe?
Updated | A Washington lawyer who has been critical of Special Counsel Robert Mueller will be joining President Donald Trump's legal team.
Joseph diGenova will join the group of lawyers representing Trump as the Mueller probe advances, Ty Cobb, another lawyer for Trump, confirmed to Newsweek on Monday following a report by The New York Times. Cobb, who is a White House employee, said diGenova will join lawyers John Dowd and Jay Sekulow as Trump's personal counsel involved with the probe.
The White House did not immediately provide comment.
A person who answered the phone at diGenova's law firm on Monday afternoon said, "There's no comment."
DiGenova, who regularly criticizes the FBI and Department of Justice in appearances on television, previously served as a United States attorney for the District of Columbia. In his role as an assistant U.S. attorney, he led the prosecution of Jonathan Pollard, who pleaded guilty to spying for Israel, according to the biography on his law firm website. Earlier in his career, he worked on a handful of Senate committees and for former Republican Senator Charles Mathias.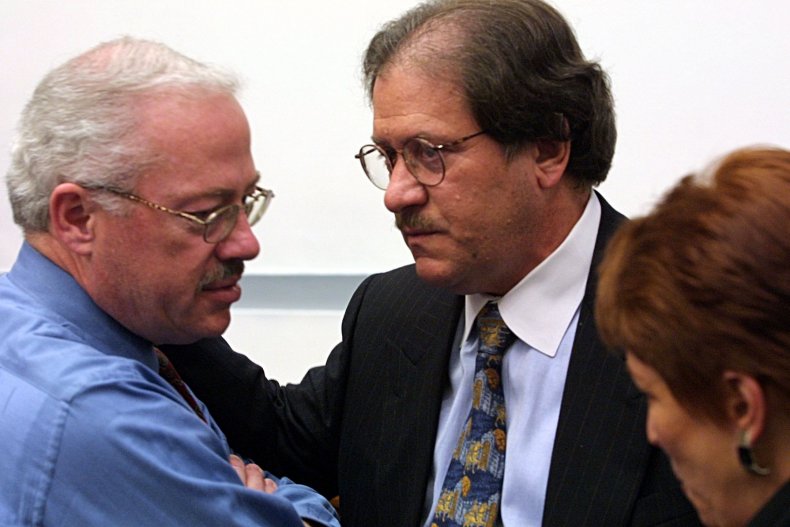 While he has been critical of the special counsel, diGenova sometimes found himself leading government investigations. In the early 1990s, he served as an independent counsel looking into whether officials in former President George H.W. Bush's White House illegally looked into former President Bill Clinton's passport files during the 1992 presidential campaign. ("They did things that were stupid, dumb and partisan, but those things are not a crime," he later concluded.)
In 2007, he worked for the New York State Senate to investigate then-Governor Eliot Spitzer for ordering police to monitor Joseph Bruno, the state senate majority leader at the time, in a scandal known as Troopergate.
With his wife Victoria Toensing, diGenova founded the firm diGenova & Toensing, which specializes in representing people and companies dealing with cases involving the U.S. government. Their firm has reportedly represented Mark Corallo, the former spokesman for Trump's legal team who was to meet with Mueller's office, and Sam Clovis and Erik Prince, two more witnesses in the Russia probes.
DiGenova has been a vocal supporter of the president, often appearing on television to speak of "a brazen plot" to "exonerate" Hillary Clinton and "frame" Trump. "This never should have been started," he once said on Fox News about the Mueller investigation.
DiGenova will be joining a team that has fluctuated since the the Mueller probe began last May. Trump's longtime personal lawyer Marc Kasowitz initially led the effort.
While Cobb had repeatedly said that the lawyers intended to cooperate with Mueller, Dowd told The Daily Beast on Saturday that Deputy Attorney General Rod Rosenstein should end the Mueller probe. That same day, Trump tweeted the special counsel's name for the first time, writing, "The Mueller probe should never have been started in that there was no collusion and there was no crime. It was based on fraudulent activities and a Fake Dossier paid for by Crooked Hillary and the DNC, and improperly used in FISA COURT for surveillance of my campaign. WITCH HUNT!"
But Cobb insisted that the tweet was not a sign of things to come. "In response to media speculation and related questions being posed to the administration, the White House yet again confirms that the president is not considering or discussing the firing of the special counsel, Robert Mueller," Cobb said in a statement Sunday.
This article has been updated to include confirmation by Ty Cobb that Joseph diGenova is joining President Donald Trump's legal team.