Trump Jr Accuses Biden of Stealing His Father's Ideas During Union Address
Former President Donald Trump's son, Donald Trump Jr., has accused President Joe Biden of stealing his father's ideas in his second State of the Union address on Tuesday.
Trump Jr. made the claim on his Rumble channel and a video of his remarks was shared to Twitter on Wednesday by attorney and former Republican Ron Filipkowksi.
The video clip had been viewed more than 500,000 times as of early Thursday morning and in his comments, Trump Jr. blamed the Biden administration for inflation, gas prices and a potential war.
He began by referencing his father's response to what he described as "Joe Biden's insane, dream world State of the Union last night, where he got up and literally seemed to run on like a Trump/Make America Great Again for the working-class platform, except we all see the results."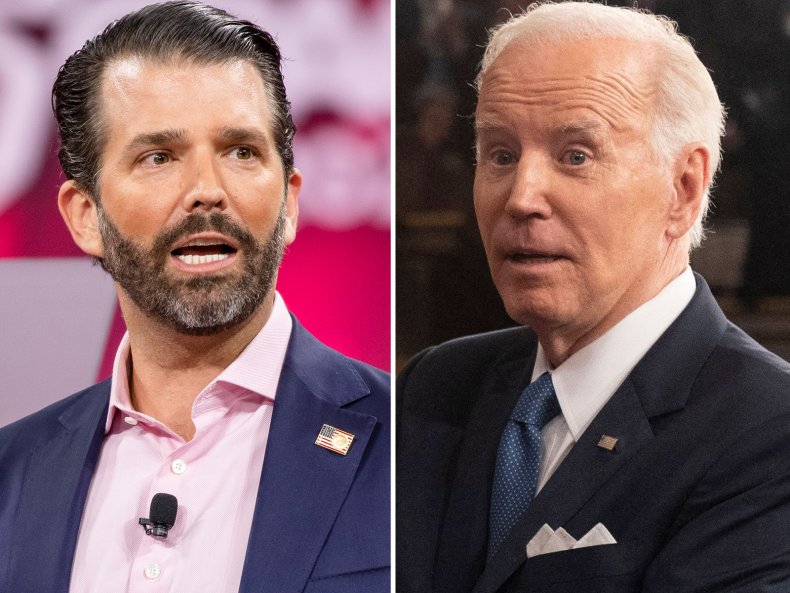 "It's a big lie, right? He talked about how he's reducing insulin pricing. My father did that. Joe Biden came in and canceled it. Now he puts it back in and takes credit for it, just like he's taking credit for 'job creation' by allowing people displaced from the pandemic to go back to work, right? That's not a real statistic. Allowing people to go back to work is not job creation, right?" Trump Jr. went on.
His comment about insulin prices is likely a reference to a Trump-era regulation that aimed to lower the cost of insulin at federally funded health centers.
An Associated Press fact check published on March 4, 2022 reported that the regulation had not been fully implemented when Biden repealed it and that experts believed it would have had a limited effect on pricing.
The president wants to cap the price of insulin at $35 per month for all Americans though that proposal could fail in Congress.
In his video, Trump Jr. continued: "The economy isn't booming. Look at what these policies are. They're not populist policies. They gave us skyrocketing inflation. They gave us skyrocketing gas prices. They canceled oil pipelines. They canceled those jobs."
The annualized rate of inflation in the U.S. has been falling in recent months and was 6.5 percent in December, down from 7.1 percent in November, while gas prices are also falling, according to the American Automobile Association (AAA).
U.S. Gross Domestic Product (GDP) rose at an annual rate of 2.9 percent in the fourth quarter of 2022, undermining suggestions that the country is heading for recession.
"They are putting us at the brink of war. They threw our grocery bills through the roof. Inflation is insane and so are our interest rates and as our markets reset, you're gonna see even more of that," Trump Jr. went on.
"It's all one big lie. But again, it's easy to lie when you have the mainstream media and big tech as your mouthpiece pretending you can do no wrong. It's insane," he added.
Newsweek has asked the White House for comment.