Donald Trump's Son Accuses CNN of Blackmail, Calls NBC 'Stupid,' in Latest Media Attack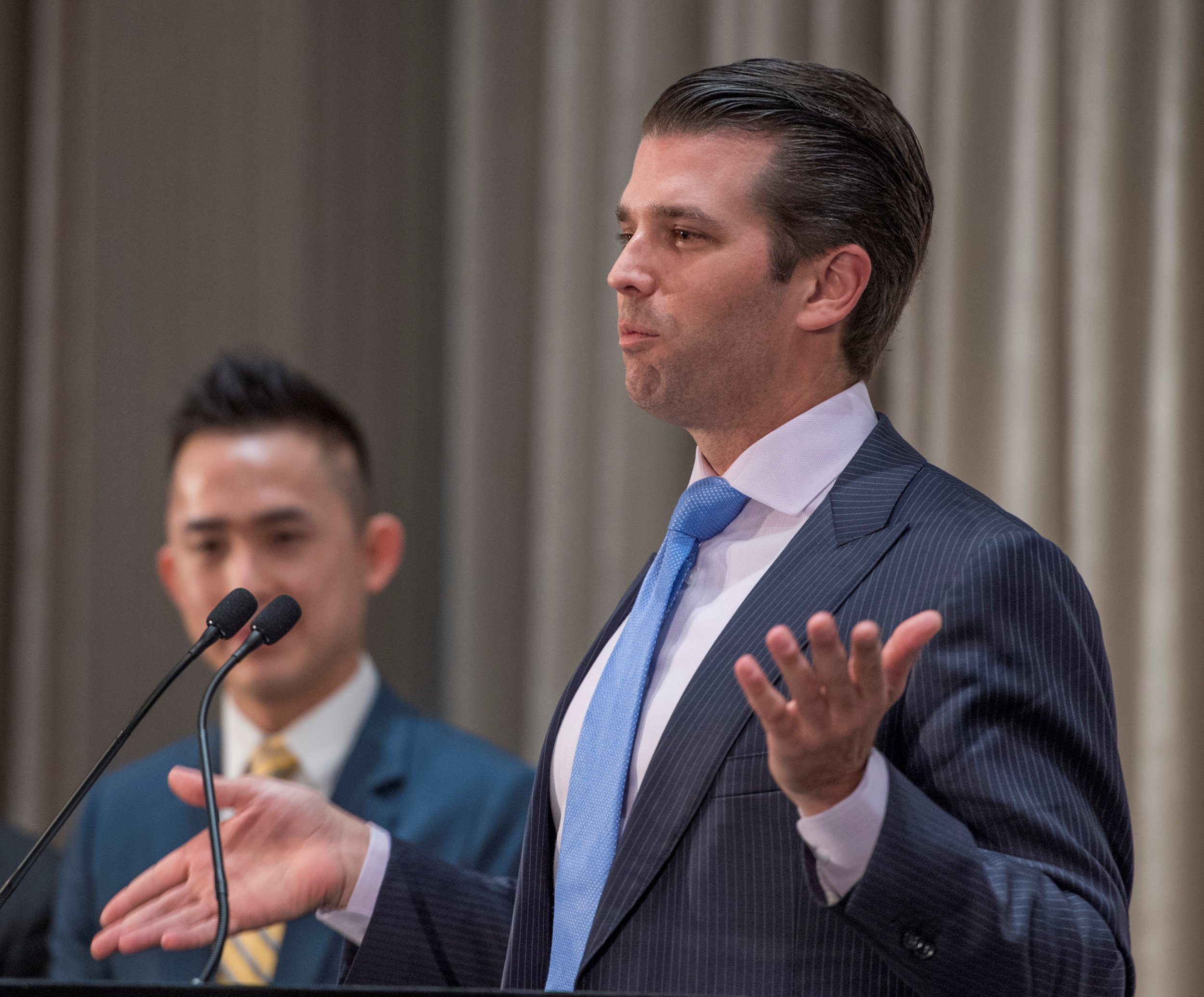 Donald Trump Jr., the president's oldest child, took aim at both CNN and NBC News Thursday morning, accusing both of covering "anything stupid and overly sensational" while citing a tweet from NBC's Meet The Press host Chuck Todd.
Todd's tweet was a criticism of President Donald Trump's comments following his speech Thursday in Poland. He placed blame on former President Barack Obama for not taking action against Russia for its meddling in last year's election while also calling out the American media. Trump also pointed to the U.S. intelligence community for concluding there were weapons of mass destruction in Iraq during the building up to war in 2003, which was later proven false.
" A trashing of the American press corps and Intel community in Eastern Europe of all places. Could Putin have asked for anything more? " Todd's tweet read.
Trump's first son, in keeping with his previous tweets from Wednesday, had blasted CNN over a controversy involving a Reddit user who created the GIF sent by his president father Sunday. The clip superimposed the cable network's logo on WWE owner Vince McMahon's face and showed the elder Trump clotheslining the network.
Earlier Thursday morning, Trump Jr. also called out CNN network president Jeff Zucker's comments during an interview with The New York Times.
He also put up a poll Wednesday that again took aim at CNN, asking "what was worse" the Reddit user controversy or former CNN contributor Donna Brazile forwarding topics before one of last year's Democratic debates to Hillary Clinton.CNNcut its ties to Brazile in October.
The GIF tweet, which garnered record retweets and likes for the president's official account, was widely viewed as another attack on the press from Trump, who's often lashed out at mainstream media outlets like CNN, MSNBCand The New York Times for reporting of investigations into his former campaign and alleged collusion with Russia.
CNN was accused of blackmailing the Reddit user HanAssholeSolo over the decision not to reveal his name publicly. In a report Tuesday, the network explained because he is a private citizen, had removed racist and anti-Semitic posts and deleted his account prior to speaking with CNN, that it had decided not to publish his name. However, an extra line in the report stressed the network reserved the right to publish his name "should any of that change."
The network Wednesday vehemently denied blackmailing or any deal with the Reddit user, who had issued an apology for his racist remarks in a subreddit, and panned the unproven notion that the user was a 15-year-old boy. He is an adult and CNNsaid its explanation for not revealing his name was included in the story for transparency.
Donald Trump's Son Accuses CNN of Blackmail, Calls NBC 'Stupid,' in Latest Media Attack | U.S.