Donald Trump Jr. said he felt like calling emergency services after Vice President Mike Pence "destroyed" the records of Democratic presidential nominee Joe Biden and his running mate at the vice presidential debate on Wednesday night.
The president's eldest son told Fox News that the vice president had done a "perfect job" at the head-to-head in Utah, and claimed that Harris was "not prepared for it."
He also accused the Democratic senator of "resorting to all sorts of lies" throughout the debate, despite the fact Pence made several false and misleading statements during the 90-minute showdown.
Speaking to Fox News' Hannity show on Wednesday, Trump Jr. said: "I felt like I needed to dial 911 to report a murder. He literally just systematically destroyed Joe Biden's failed record, Kamala Harris' disastrous record, Joe Biden's leniency and softness towards China that allowed them to grow while selling our American dream to them for nothing.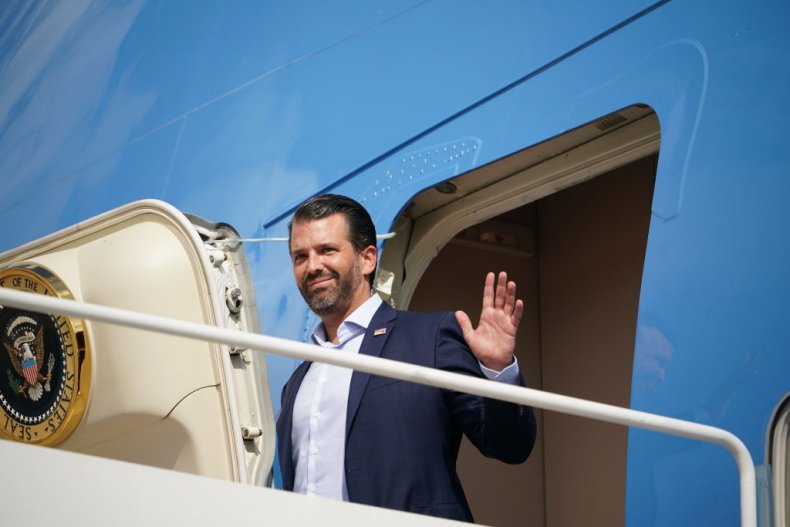 "I mean, he really did a perfect job. It was just awesome to watch and she was not prepared for it. You could see it in the facial expressions, in the attitude she took, and the fact that she had to start resorting to all sorts of lies."
Newsweek has contacted the Biden 2020 campaign for comment. This article will be updated with any response.
Vice President Pence and Senator Harris squared off in their only scheduled head-to-head debate of the 2020 election campaign at the University of Utah in Salt Lake City last night.
The pair raked over the administration's COVID-19 pandemic response, economic policy, and their plans for the Supreme Court vacancy left by the passing of Justice Ruth Bader Ginsburg last month.
Appearing in front of a masked audience behind plexiglass screens, Pence defended the Trump administration's handling of the COVID-19 pandemic, and suggested Biden's pandemic proposals were a copy of the president's own strategy.
"Quite frankly, when I look at their plan that talks about testing, creating new PPE, developing a vaccine, it looks a little bit like plagiarism," Pence said. He also recognized that America had been through a "very challenging time" amid the pandemic.
Harris called the administration's handling of the pandemic "the greatest failure of any presidential administration" in U.S. history, and accused Pence of concealing the threat of the virus from the American public earlier this year.
"The vice president is the head of the task force and knew on January 28 how serious this was," the senator said. She went on to criticize the administration's claim that it did not want to panic the public.