'Fake News Bullshit': Donald Trump Jr. Slams Report He and Jared Kushner 'Really Dislike Each Other'
First son Donald Trump Jr. on Wednesday slammed a report that he and his brother-in-law, senior White House adviser Jared Kushner, don't like each other, as "fake news bullshit."
Trump Jr. quote tweeted a post by Vanity Fair, which had published the report, which read, "'Don Jr. and Jared really dislike each other,' a Republican close to the White House said. According to the source, Don Jr. has told people he suspected Kushner was behind the initial leak of Don Jr.'s infamous Trump Tower meeting."
The post apparently entertained Trump Jr.
"If there's a single serious reporter covering the WH that believes a single word that [writer] Gabe Sherman 'reports' please step forward," Trump Jr. commented. "More fake news bullshit trying to sow discord because they're scared of the machine we've created to get @realDonaldTrump re-elected in 2020!"
Sherman's report was based on several anonymous sources. It also included a denial by Republican National Committee (RNC) Chairwoman Ronna McDaniel, and stated that Trump Jr. and the White House did not respond to requests for comment at the time of publication.
The report further quotes the unnamed source who said Trump Jr. and Kushner "really dislike each other" and that Trump Jr. suspected Kushner orchestrated the leak on the Trump Tower meeting with Russians to get damaging information on Hillary Clinton.
"Don was telling people Jared leaked it to hurt him. No one could figure out how it leaked. It was a closely guarded secret," the source is quoted as saying. "Jared has told foreign people not to work through Don Jr. And Jared has said it's on orders from the president."
Sherman states that five sources close to the White House told him in recent days "the escalating cold war between Jared Kushner and Donald Trump Jr. for control of the reelection" is posing a problem for President Trump's reelection campaign. The president's eldest son and his son-in-law both have solid relationships with Trump campaign manager Brad Parscale and are "jockeying" to be the decision makers, according to the report.
"Jared wants to take control of the campaign," a person with ties to Trump Jr. is quoted as saying.
"It's about power," says a former West Wing official, who opines that the $105 million the Trump campaign has already raised shows that "money isn't going to be" the problem.
McDaniel in an email to Sherman denied another claim by an anonymous source that Kushner is attempting to marginalize Trump Jr.'s friend and RNC co-chair Tommy Hicks Jr., and told McDaniel not to reach out to Hicks.
"None of this is true. The president's family, the campaign and RNC couldn't be working any better together," McDaniel said. "This is a total team effort to re-elect the president and Tommy is an integral part of it."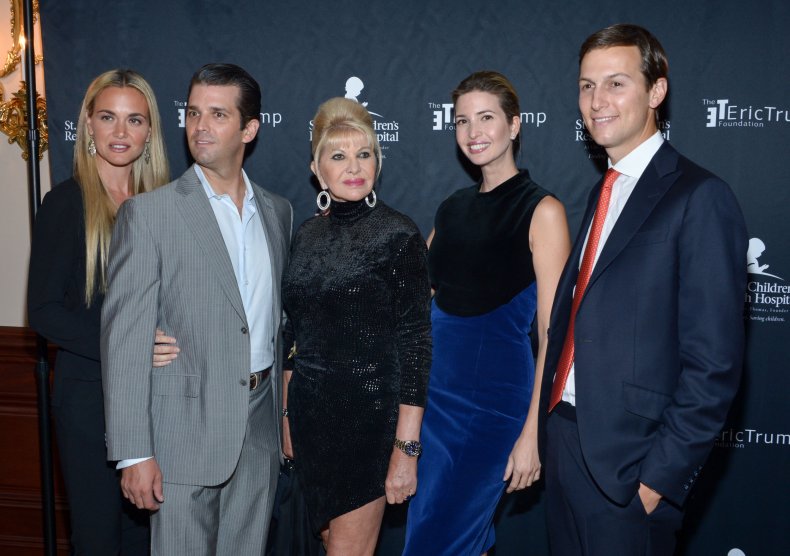 Sherman also quotes a source close to Trump Jr. as saying that the first son's advisers are worried that Kushner will make a scandal out of a tweet Trump Jr. deleted that questioned Democratic 2020 presidential candidate Kamala Harris' bid.
"We need to clean this up," an adviser said after Trump Jr. wrote the tweet, according to the source. "Don doesn't want to give Jared any excuses to delegitimize him."
Upon entering the White House, President Trump chose his eldest daughter Ivanka Trump and her husband Kushner to serve as unpaid senior advisers, while putting his oldest sons Trump Jr. and Eric Trump in charge of the Trump Organization family real estate business.
Though not officially in politics, Trump Jr. has become one of the most vocal advocates of his father on the campaign trail. Meanwhile, Kushner has kept a much lower profile working on the administration's Middle East peace plan, and seldom makes public comments.