If Donald Trump Knew About Tower Meeting, Then Donald Jr. Will Be Indicted, Says Legal Expert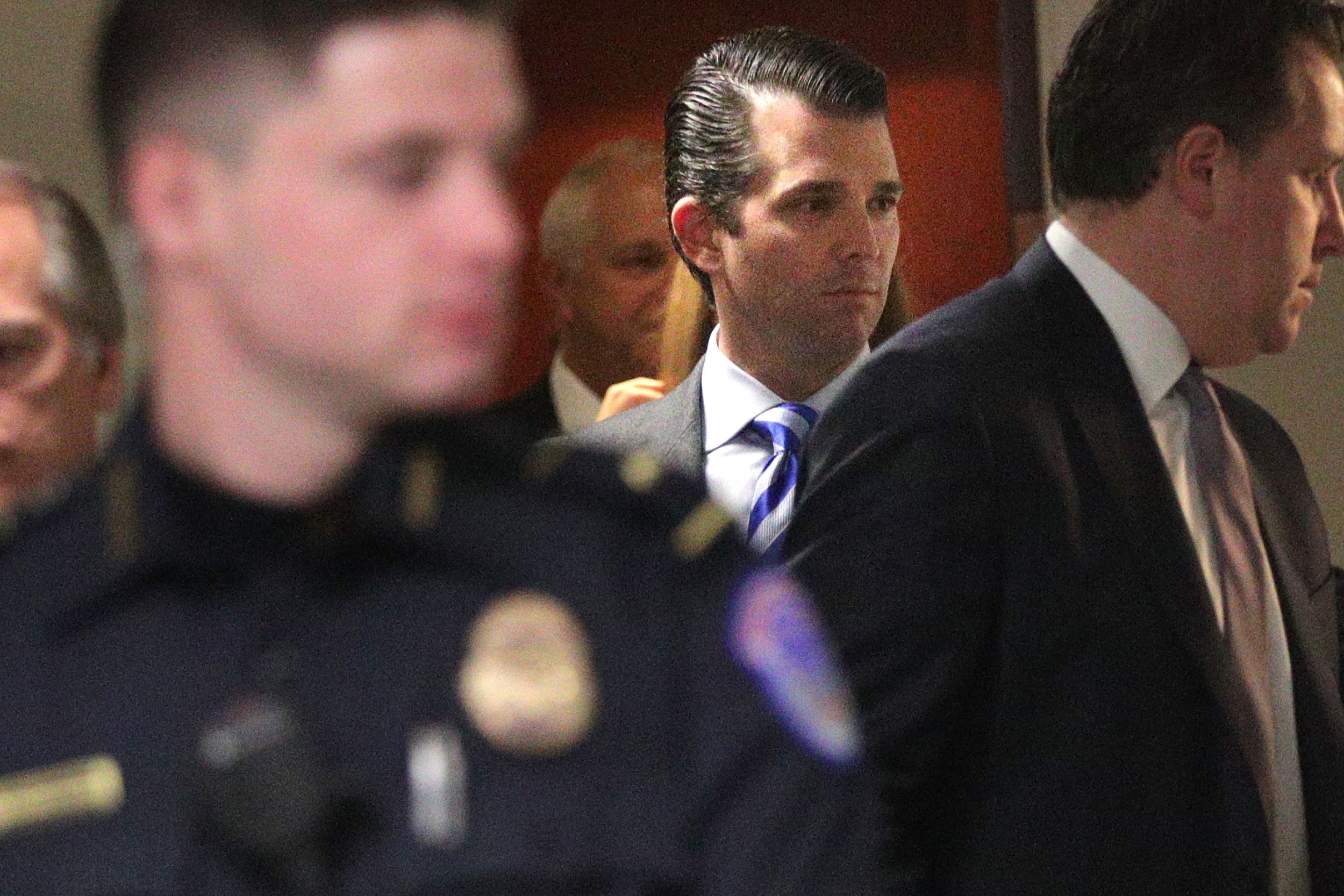 President Donald Trump's top concern in regards to the special counsel's investigation must be his eldest son's previous testimony before Congress, which could lead to an indictment of Donald Trump Jr., according to ABC News's chief legal analyst Dan Abrams on Monday.
Abrams said the president had to continue the narrative that he had no advance knowledge of the June 2016 meeting at Trump Tower, otherwise, his son could be exposed for lying to the Senate Intelligence Committee.
"He has to stick to that part because if he says he knew about the meeting, that almost certainly means Donald Jr. lied in front of Congress, and I think that that would almost certainly mean that Donald Jr. would get indicted," Abrams said. "And that's I think gotta be his number one concern. We can talk about all these questions of campaign finance law and possible defrauding of the United States. The number one concern of his right now has to be that statement to Congress from Don Jr. that Donald Trump didn't know about the meeting."
The president tweeted Sunday he did not know about the tower meeting, but that it was "totally legal and done all the time in politics." Trump also addressed reports about concern for his son.
Earlier in the segment, Abrams explained that former special prosecutor Ken Starr set a precedent of lying to the public as an impeachable offense during his investigation of former President Bill Clinton in the 1990s.
"Ken Starr, back with the Clinton investigation, determined that lying to the public could be in and of itself a ground for impeachment," Abrams said.
He then spoke about the claim made Sunday by one of the president's personal attorneys, Jay Sekulow, who said he had "bad information" when he said last year that the president was not involved in the initial statement put out about the meeting.
"So you've got, first of all, the evolving stories," Abrams said. "Let's be clear: The idea that a lawyer for the president of the United States is coming forward and saying, 'Hey, you know, I had bad information'…as if that happens all the time that a lawyer for the president gets bad information.…This doesn't happen."
Abrams also stated that Mueller's team could look into potential campaign finance violations and whether the meeting's intent was to affect the election, or how the special counsel could seek a charge of conspiracy to defraud the country.
"And the other is a broader statute which Robert Mueller has been using in connection a number of the Russians that have been indicted, and that is, broadly, a conspiracy to defraud the United States," he said. "And that just means, in essence, a conspiracy to help affect the election in a fraudulent way."