Donald Trump Jr., Lara Trump Could Win New York Congress Seat As 'Trump Is Still a Magic Name,' Says Retiring GOP Lawmaker
A retiring Republican Congressman in New York said President Donald Trump's eldest son Donald Trump Jr. or his daughter-in-law Lara Trump have a chance of winning his seat if they choose to run, because "Trump is still a magic name" among GOP members in the blue state.
Though neither of the younger Trumps have indicated they plan to run for office, the idea spiked last week after a poll by a conservative group found that Lara Trump would win by more than 30 points if she pursued retiring Republican Representative Peter King's Long Island congressional seat.
"Among Republican voters, Trump is still a magic name," King told The New York Times in a report published on Monday. "I've been with Don Jr. several times on Long Island. Was with Lara once at a fund-raising event. She handles herself very well. She's good with people."
King, 75, who announced two weeks ago he would not seek re-election, said Lara Trump could win or "at the very least it would be very competitive."
But within the Second Congressional District, "there's real solid support and real solid opposition to the president" and "a tremendous amount of anti-Trump energy," King added.
Club for Growth, a conservative group against taxes that conducted the poll, said Lara Trump had no hand in the survey. They included her to demonstrate her popularity and to encourage her to run.
"We often do that to test people who we think would be a good candidate," Club for Growth president David McIntosh told The Times.
The poll was first reported by the right-wing website Breitbart News. John Jay LaValle, who was chairman of the Suffolk County Republican Party, told the newspaper that "word spread rapidly about the poll" and that he had "not heard one person say a negative thing about it."
Lara Trump, who is married to the president's second eldest son Eric Trump and serves as a Trump campaign senior adviser, was flattered that the poll found she had 53 percent versus candidate and former Republican Representative Rick Lazio's 19 percent.
"I'm incredibly honored by this showing of support from my fellow New Yorkers," Lara Trump stated. "While I would never close the door on anything in the future, right now I am focused on winning a second term for President Trump."
At a Trump campaign event in Arizona last week, Lara Trump said her father-in-law frequently asks her for a read on his support levels in states including Pennsylvania and North Carolina, where she is from, and that she replies it is "stronger now" than in 2016.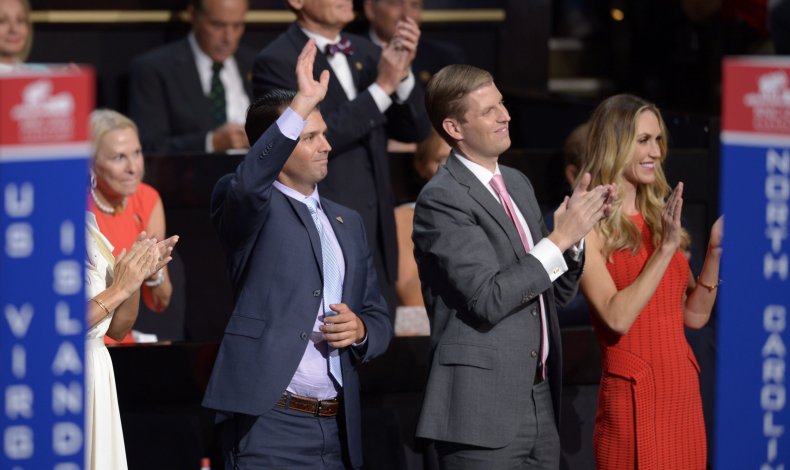 Meanwhile Trump Jr., who has been talked about as a future presidential or New York City mayoral candidate, is a regular at his father's 2020 rallies and a beloved figure among Trump supporters.
"I don't ever rule anything out," Trump Jr. told CBS earlier this month when asked if he planned to pursue political office.
However, Democrats have increasingly registered to vote, including in Long Island's Suffolk and Nassau counties.
The president and First Lady Melania Trump registered to vote in Florida on October 30 with his Mar-a-Lago resort as their primary residence. The president explained that he has been "treated very badly by the political leaders of both the city and state of New York." The couple presumably would not be able to vote for Trump Jr. or Lara Trump if they chose to run in Long Island.