Trump Jr. Praises Anti-Cancel-Culture Rant, Unaware Same Comedian Roasted His Father Even Better
Donald Trump Jr., the eldest son of former President Donald Trump, on Sunday shared and praised an anti-cancel culture rant by a comedian who previously roasted his father even better.
In a Facebook post, Trump Jr. promoted a comedy clip of Jonathan Pie—a fictional news reporter portrayed by British comedian Tom Walker who frequently rants in videos about the state of Australian, U.K. and U.S. politics.
"Check this out, this is one of the most real videos I seen talking about the insanity of modern cancel culture and the stupidity of our society today, where we can't even fathom that maybe things that were written 100 years ago have some less than awesome language in them, less than awesome innuendo. But rather than just accepting that and learning from those mistakes, we gotta cancel them and pretend that they didn't happen," Trump Jr. said in a Facebook post titled, "Whao: This guy goes on an amazing rant against Liberals."
"I guess he's a reporter," Trump Jr. added, seemingly unaware that Pie is a fictional character created by Walker. "It's an awesome video, I apologize for the language... it's one of the great takedowns of this modern day stupidity that I've seen. I think you'll appreciate it."
Trump Jr.'s video then cuts to a clip of Pie ranting about cancel culture.
"Today, we're going to be discussing Laura Ingalls Wilder, the author of the Little House on the Prairie books, whose name has been removed from a writing award because her books display stereotypical attitudes and contain racial language," the comedian says. "These books, they're based on the author's childhood between 1870 and 1894, that's like five years after slavery was abolished. The books were written during the Jim Crow laws. It's almost as if culture norms aren't fixed and change with the passage of time."
He added: "Stop sanitizing and denying your past to make yourself look good. I'm sick of it. It's everywhere you look. We live in the most inclusive, progressive, diverse, prosperous society ever in human history, yet we behave like we've never had it so f***ing bad."
In 2016, a video of Walker's fictional character ranting about Trump's victory in the presidential election went viral on YouTube, prompting global news coverage. At the time, Walker was a staunch leftist, according to HuffPost, but decided to take on liberals for their role in getting Trump elected.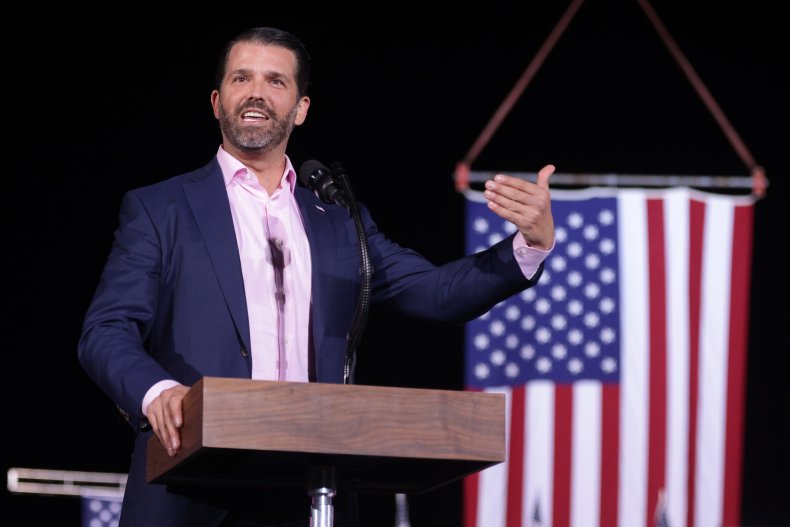 After the 2020 presidential election, Walker shared a video to YouTube of Pie roasting Trump's loss. "I never thought it would be possible to get this excited about Joe Biden," Pie said in the video titled "Trump is a loser!"
"I think that's why Trump has had such a hard time accepting the results—because it involves numbers. Adding numbers," he added. "[Biden] should have wiped the floor with Trump after four years of chaos and lies and imprisonment of multiple high-level Trump officials and dog whistle racism and a quarter of a million COVID deaths. It should have been easy but there's been something quite beautiful about watching Trump's presidency be slowly euthanized by cold hard numbers and irrefutable facts."
Newsweek reached out to Trump representatives for comment. This story will be updated with any response.