Trump Jr. Praises Ex-Longtime Trump Critic J.D. Vance for Consistency
Donald Trump Jr. says his father endorsed Senate candidate J.D. Vance for his consistency and intellectual honesty, brushing aside the Ohio Republican previously likening the former president to "Hitler."
Trump Jr. made the remarks Wednesday during a campaign event to gin up support for Vance in the closely contested Ohio Republican primary that's less than two weeks out. The acclaim from former President Donald Trump's eldest son is the latest as Vance and Trump have solidified a once-unlikely alliance for the coming 2022 midterms.
Last week, Vance secured the coveted endorsement of Trump, who remains popular among Ohio Republicans. Speaking to The Toledo Blade following a campaign event, Trump Jr. said his father endorsed Vance after considering multiple factors, particularly his support for imposing tariffs on China.
"That's the standout where you've (Vance) kind of been with us all along ... J.D. has actually been by far the most consistent and intellectually honest about his positions and everything as it relates to Trump from Day One," Trump Jr. told the paper.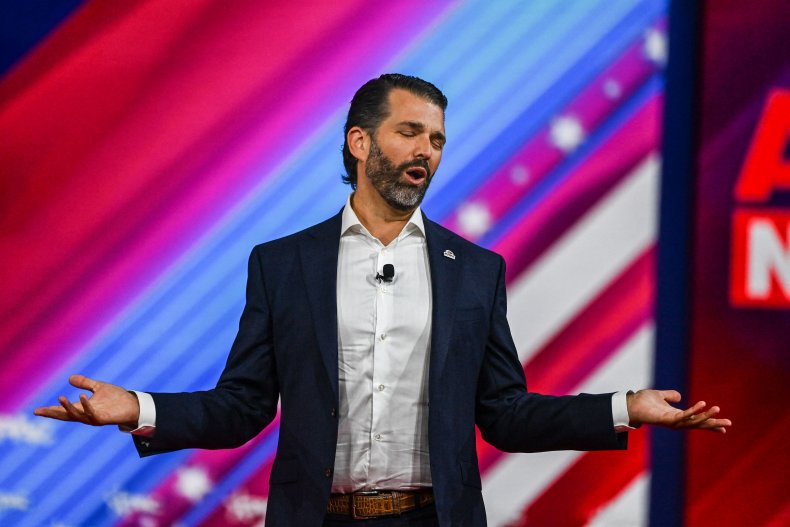 The endorsement is a stark reversal for Vance, a venture capitalist and author of Hillbilly Elegy, who has sharply criticized Trump in the past.
Georgia Representative Josh McLaurin, who said he was Vance's roommate at Yale University, earlier this week shared text messages the two sent each other in 2016. The texts show Vance saying a "demagogue" would appeal to lower-income white voters after being neglected by the GOP.
"I go back and forth between thinking Trump is a cynical a****** like Nixon who wouldn't be that bad (and might even prove useful) or that he's America's Hitler," Vance reportedly wrote in a text. "How's that for discouraging?"
Previously, Vance has disparaged Trump more publicly, saying "I can't vote for Trump, I think that he is noxious." Vance has also criticized Trump for making "people I care about afraid, Immigrants, Muslims."
But Trump Jr., speaking at the campaign event, said bygones are bygones, pointing out that Trump was met with widespread disapproval when he launched his first presidential bid in 2016, according to the Blade.
"Some of our greatest allies now and the people that have fought hardest for my father and for his agenda were not exactly fans," Trump Jr. said, according to the Blade.
Trump Jr. said agreement on policy is what won Vance his father's endorsement.
Speaking at a candidates forum hosted by Newsmax later that evening, Vance acknowledged he was "not a Trump guy." Vance said he changed his mind after watching Trump deliver on his promises.
"He said he was going to be the most pro-life president, he actually was, right?" said Vance. "He delivered on tax policy, on China policy—all these things where I thought, 'this guy is really doing great things.'"
Newsweek has reached out to Trump Jr. for comment.