Why Did Donald Trump Jr. Meet With Russian Lawyer? A Full List of His Changing Excuses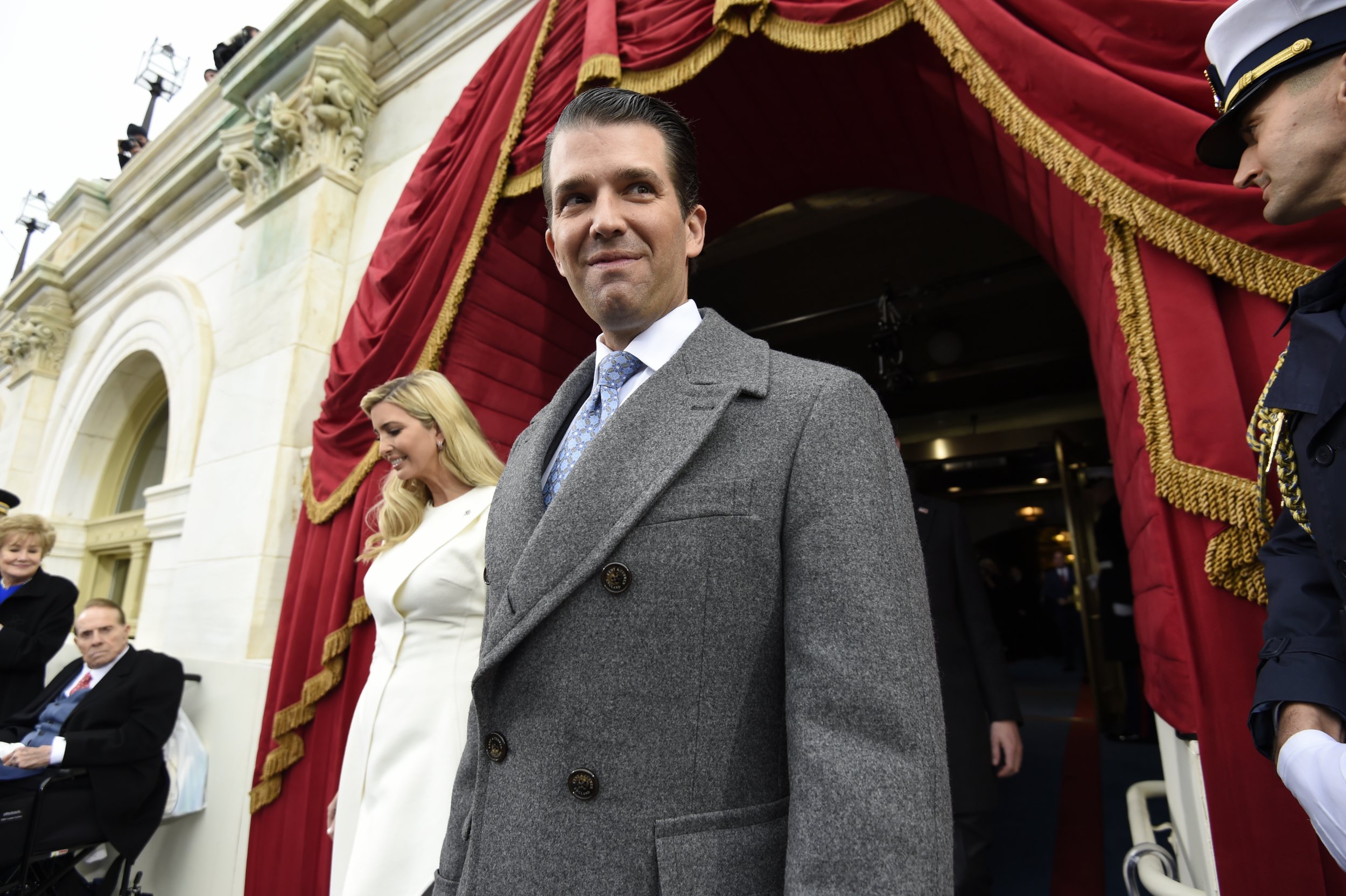 Two months have passed since Donald Trump Jr. admitted to meeting with a Russian lawyer in June 2016 in order to get dirt on his father's campaign opponent, Hillary Clinton. But the American public still doesn't have a definitive answer as to why he decided to link up with someone connected to the Kremlin.
Trump Jr. sat down Thursday with staffers from the Senate Judiciary Committee, which is looking into Russia's interference in the presidential election and evaluating whether President Donald Trump's campaign was involved. The meeting was private, but some of its content leaked quickly: The New York Times reported that Trump Jr. told investigators he agreed to the June 2016 rendezvous because he thought the Russians had "information concerning the fitness, character or qualifications of" Clinton.
It was just Trump Jr.'s latest explanation for what has become a pivotal development in an ongoing controversy. His answers about the Russia meeting—which took place at Trump Tower, was set up by publicist Rob Goldstone on behalf of attorney Natalia Veselnitskaya, and included Trump's son-in-law, Jared Kushner, campaign chairman at the time, Paul Manafort, and others—keep changing over time.
Here are his explanations so far:
He was misled
Trump Jr. said he thought the Russians had "political opposition research," as he explained in a statement included with the emails. Goldstone had offered what the publicist called "some official documents and information that would incriminate Hillary and her dealings with Russia and would be very useful." (They ultimately ended up talking about adoption.)
He was curious
Trump Jr. "wanted to hear [Goldstone] out and play it out and see what happens," as he told Sean Hannity on July 11. "Listen, I'd been reading about scandals that people were probably underreporting for a long time," he added. "So maybe it was something that had to do with one of those things. I mean, this is her perhaps involvement with the Russian government."
He was busy
His story shifted again Thursday. Trump Jr. told investigators at the Senate Judiciary Committee appointment that he was swamped with his father's campaign, fielding tons of emails, and he "had no way to gauge the reliability, credibility or accuracy of any of the things" in Goldstone's messages, according to the Times.
He was polite
Trump Jr. explained away his "I love it" remark as "a colloquial way of saying that I appreciated Rob's gesture," according to the Times.
He was worried
Trump Jr. said Thursday that he felt he needed to know about any possible issues regarding any presidential candidate's abilities. (Remember: Last October, his father's campaign produced an ad attacking Clinton's health.) Trump Jr. said planned to consult with lawyers about any information he received before deciding whether "to give it further consideration."