Donald Trump Jr. Timeline: How President's Son Went From Russian Lawyer Meeting to Capitol Hill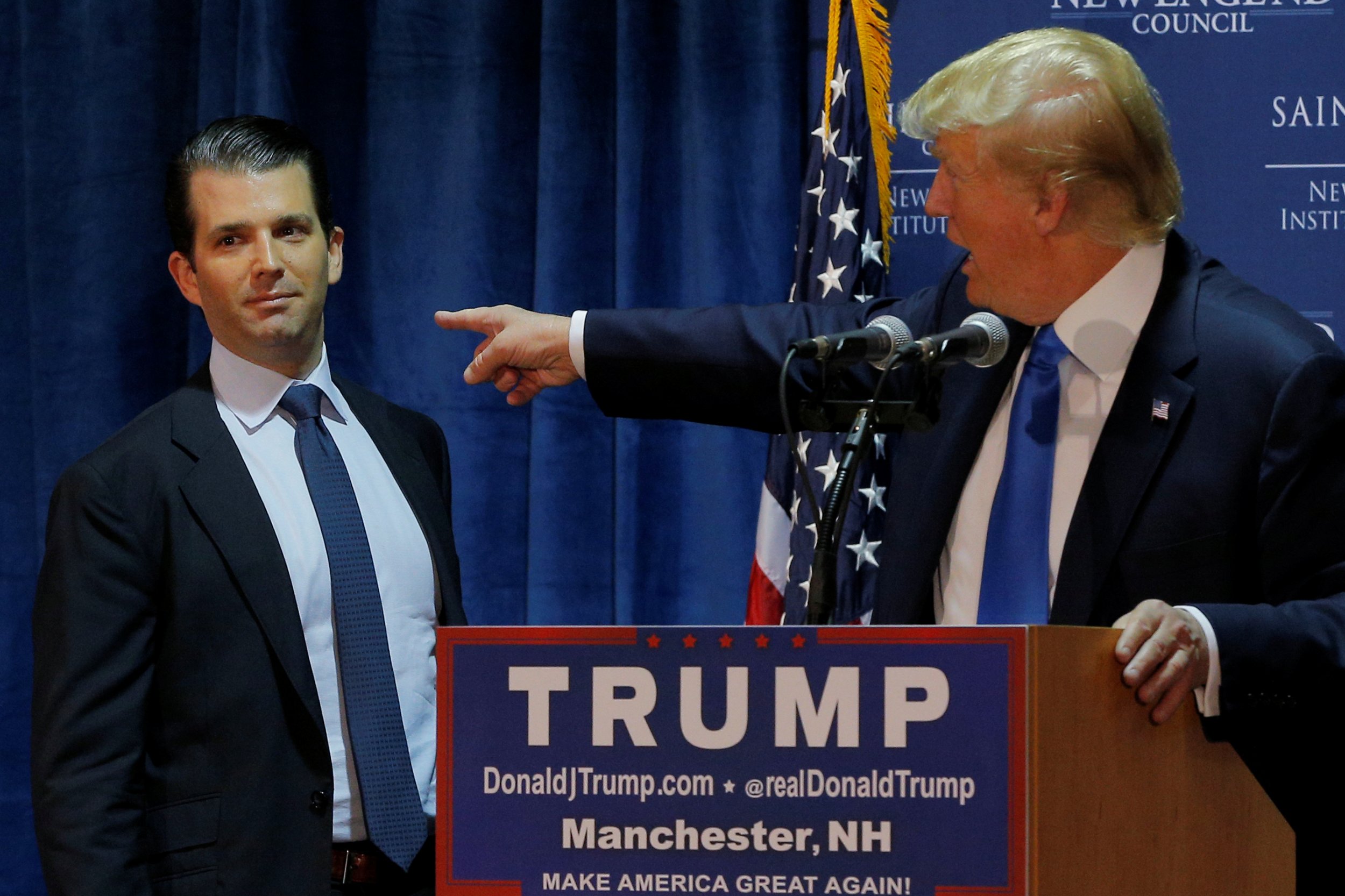 Donald Trump Jr., the president's oldest child, sat down Thursday morning behind closed doors with staffers from the Senate Judiciary Committee to discuss the now-infamous June 2016 meeting he set up at Trump Tower to gain potentially damaging information on his father's presidential campaign opponent Hillary Clinton.
Potentially facing hours of grilling from Senate staff, Trump Jr. reportedly opened the meeting with a 15- to 20-minute statement. Much of the questioning is expected to surround the Trump Tower meeting involving a Russian lawyer who allegedly claimed to have political opposition research about Clinton.
Trump Jr., who, along with his brother Eric, is now running the president's global business organization, arrived on Capitol Hill in Washington, and the meeting began around 9:30 a.m. Eastern time, according to CNN. He could eventually also sit down with the House and Senate intelligence committees, but no dates have been set.
It's been a long and rocky road that led to Trump Jr. winding up in front of the committee. Here's a breakdown of the reported events that landed him there.
June 3, 2016: Much of Trump Jr.'s predicament involves emails he exchanged with British publicist Rob Goldstone. On this date, Trump Jr. receives an email from Goldstone, who wrote that Emin Agalarov—a Russian pop star whose father, Aras, worked with Donald Trump to bring the Miss Universe pageant to Moscow in 2013—had asked him to reach out. Goldstone claimed Aras Agalarov had met with a top Russia prosecutor and had some information that "would incriminate Hillary."
"This is obviously very high level and sensitive information but is part of Russia and its government's support for Mr. Trump - helped along by Aras and Emin," Goldstone wrote.
About 17 minutes later, Trump Jr. responded: "Seems we have some time and if it's what you say I love it especially later in the summer."
June 6, 2016: Three days later, Goldstone attempts to set up a phone call between Trump Jr. and Emin Agalarov. Several emails are sent minutes apart, and Trump Jr. finally thanks Goldstone for his help. It's unclear if the phone call occurred.
June 7, 2017: The next day, Goldstone writes that Emin Agalarov wanted to set up a meeting with a "Russian government attorney" who would be flying from Moscow. That attorney would turn out to be Natalia Veselnitskaya. Believed to be affiliated with the Kremlin, Veselnitskaya has been lobbying on Russia's behalf to try to lift the Magnitsky Act, which put stiff sanctions on Russian businesses and enraged Russian President Vladimir Putin, leading him to ban Americans from adopting Russian children.
The meeting is set for the 25th floor of Trump Tower in Manhattan, and Trump Jr. writes that Trump's campaign manager at the time, Paul Manafort, and his brother-in-law, Jared Kushner, would be attending.
June 9, 2016: The meeting got pushed back by a day, but it was on this day that the Trump Tower meeting occurred. Attending were: Trump Jr., Manafort, Kushner, Veselnitskaya, Goldstone, Rinat Akhmetshin (a Russian-American lobbyist who previously served as a military counterintelligence officer for the Soviet Union), Ike Kaveladze (a real estate and finance executive who worked for Aras Agalarov) and a translator.
July 8, 2017: Months would pass and Trump would win the presidency. Allegations that his campaign colluded with Russia in an effort to claim the White House plagued the young administration. There were constant denials by the president and his staff until The New York Times unearthed details about the June 9 meeting and Trump Jr. said in a statement on this day: "We primarily discussed a program about the adoption of Russian children that was active and popular with American families years ago and was since ended by the Russian government, but it was not a campaign issue at the time and there was no follow up."
July 9, 2017: The next day, another report from the Times stated Trump Jr. knew the meeting was about possibly gaining information that could harm Clinton. But he denied any information was exchanged.
July 10, 2017: The email exchange described above was then unearthed and Trump Jr.'s lawyer told the Times it all was "much ado about nothing."
July 11, 2017: Trump Jr. opts to post the full email exchange on his official Twitter account just before a story was about to be published about the emails. The same day, he appeared on Fox News anchor Sean Hannity's program and said: "In retrospect, I probably would have done things a little differently."
July 23, 2017: Both Trump Jr. and Manafort came to an agreement with the Senate Judiciary Committee to hand over documents "and be interviewed...prior to a public hearing," ABC News reported. Initially, committee Chairman Chuck Grassley had threatened to subpoena the pair.
July 31, 2017: While coming back from the Group of 20 summit in Germany on July 8, President Trump reportedly dictated his son's original statement to the Times about "adoptions," according to The Washington Post.
September 7, 2017: Almost two months later, Trump Jr. appears and tells the committee's staffers that he took the meeting to determine Clinton's "fitness" for office. He also said he intended to consult with his attorney before proceeding if he had obtained any information on Clinton.