Donald Trump Jr. Might Be Subpoenaed After Dodging Russia Questions in House Probe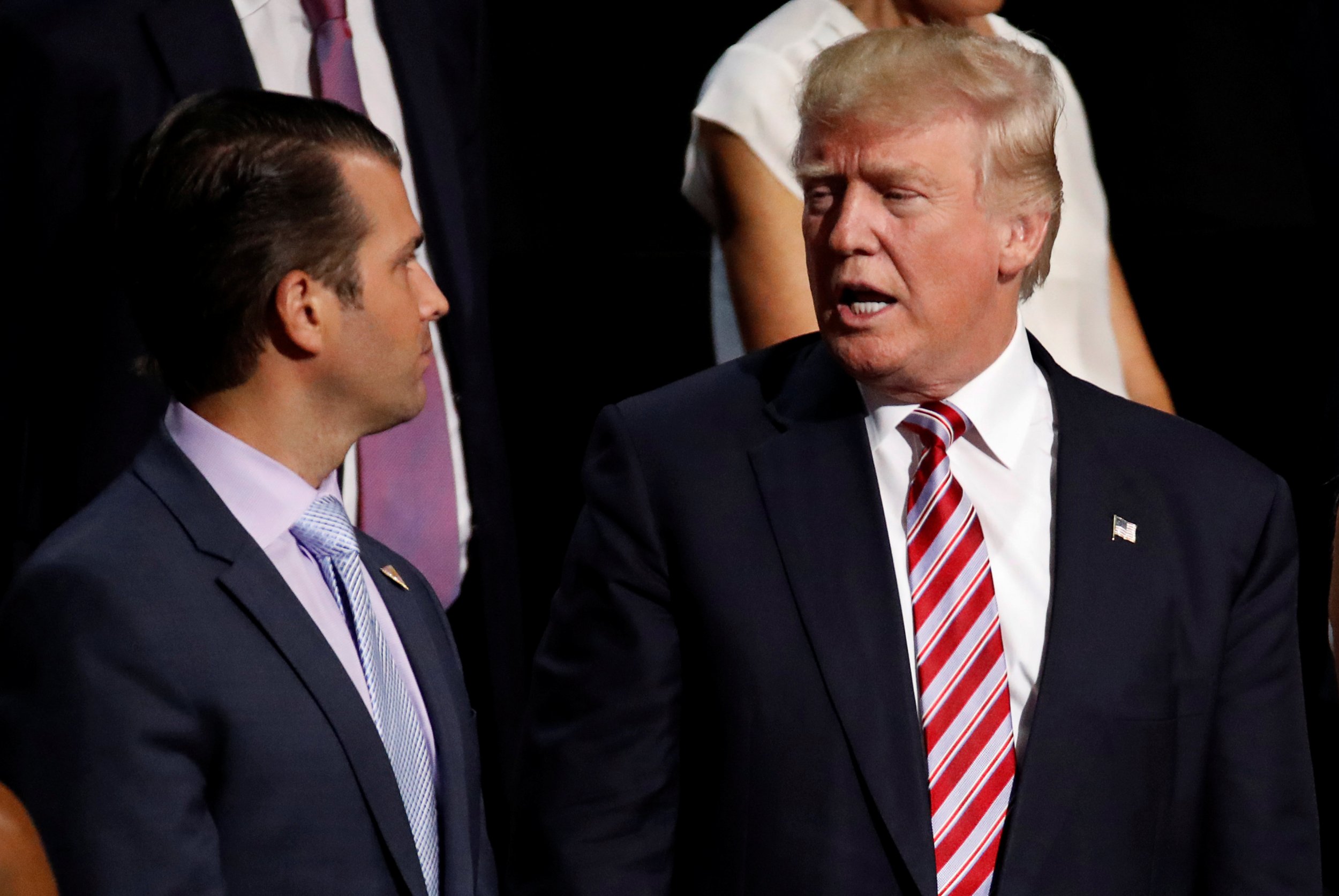 Donald Trump Jr. might be subpoenaed to testify before the House Intelligence Committee again after he used an unusual tactic to dodge questions in an interview about a secret Trump Tower meeting with Russians, a panel member said Sunday.
Representative Jim Himes (D-Conn.) said Trump Jr. evaded questions about the Trump Tower meeting during a closed-door interview with the committee last Wednesday about the Trump campaign's suspected collusion with Russia. Himes said Trump Jr. invoked "attorney-client privilege" to avoid answering questions about a discussion he had with his father, President Donald Trump, about the June 2016 meeting, even though neither man is a lawyer.
Himes called it a "novel claim of privilege"—one that might make the panel compel Trump Jr. to return for more answers.
"We may need to sort of subpoena him or get him back under a compulsory process," Himes told NBC News' Meet the Press.
Congressional investigators do not need to acknowledge attorney-client privileges during an investigation, but the House committee has a rule that it will not compel answers from people who testify voluntarily, as Trump's eldest son did.
During the interview, which lasted several hours, Trump Jr. was mostly "forthcoming," Himes said. The president's son only invoked the privilege regarding a conversation he and his father had about the Trump Tower meeting, in which he, Jared Kushner and former Trump campaign manager Paul Manafort met with a Kremlin-connected lawyer who had promised dirt on Hillary Clinton.
Trump, Kushner and Manafort have denied that the meeting counts as collusion with Russia, and they said the attorney turned out to have no information about Clinton.
Himes said the committee wants answers about what happened after the secret sit-down.
"Was there follow-up? Was dirt conveyed in any way, shape or form and was it used?" he said. "We've seen a lot of contact, we've seen desire to get dirt, desire to work with Russians, desire to contact the Russians. The question is, was there some form—and it is a question, I don't want to prejudice the outcome—was there cooperation?"
Himes gave no indication of when the potential subpoena may come.
Trump Jr. has become a central figure in the Trump-Russia investigations because of his role in the meeting. After The New York Times first exposed the meeting in July 2017, Trump Jr. tweeted screenshots of emails he exchanged with Rob Goldstone, a British music promoter with Russian ties who helped arrange the talk. The emails showed Goldstone saying the meeting would be part of the Russian "government's support for Mr Trump." Trump Jr. wrote back, "If it's what you say, I love it." Trump Jr. later said this was simply an attempt to obtain opposition research, a common campaign practice.