Donald Trump Jr.'s Twitter Is Just As Bad As His Father's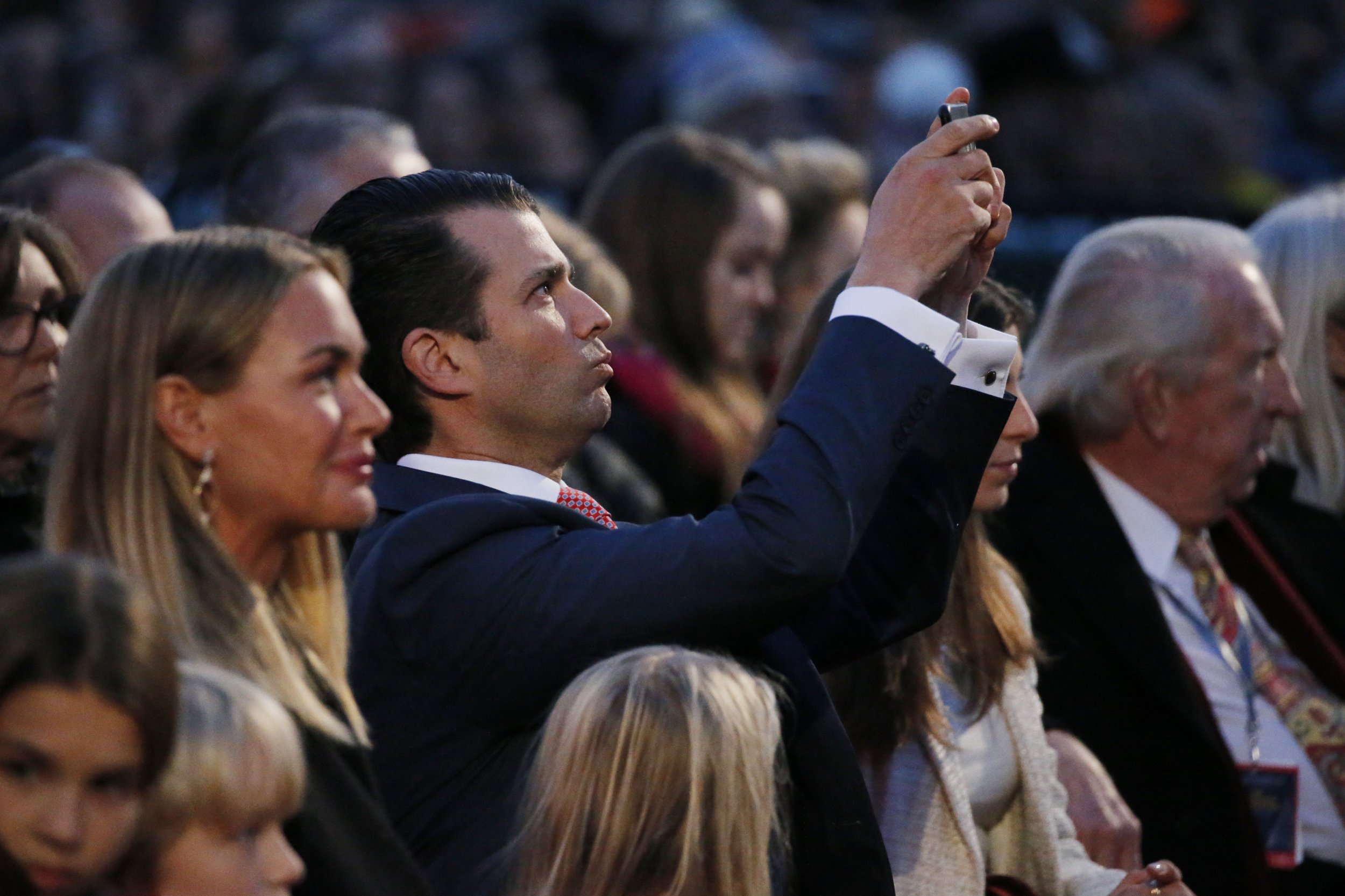 Comparing Donald Trump Jr. and President Donald Trump's Twitter accounts gives a whole new meaning to the term "like father, like son."
The Republican commander-in-chief and his eldest child – each enraptured in the ongoing Trump-Russia collusion saga – often take to Twitter for a variety of the same reasons: to blast the liberal mainstream media while praising Fox News, to circumvent the media's coverage of them, to champion the economy's growth since Trump took office, to accuse Democrats of hypocrisy, lash out at Hillary Clinton and so much more.
The 39-year-old businessman recently claimed, "logic" was "long gone with the libs" while challenging Vermont Senator Bernie Sanders, whom his father has not attacked.
Last month, amid reports the Trump Organization's hotels, had dropped room rates over the last year, Trump Jr. tweeted out a hotel suite deal while the president faces accusations of conflicts-of-interest with his business empire and current office.
There was also the family wine business.
While President Trump hasn't used his Twitter to shill family products, he and Trump Jr. have a special affinity for Fox News host Sean Hannity.
There's also the campaigning for Alabama Republican senate candidate Roy Moore. Trump Jr. tweeted to a conservative blog accusing a conspiracy involving one of the women to accuse Moore of sexual misconduct. The president was a little more reserved and simply blasted Moore's Democratic opponent Doug Jones as a "puppet" and "bad" on every issue Trump seems to hold dear.
The tweets were sent out two hours apart.
On Tuesday, Trump Jr. also took time out of running the family company to criticize those who challenge his father taking credit for the growth of the national economy and praise Barack Obama. And last week, President Trump once again touted the Republicans' tax plan and promised, even more, growth, which he's routinely touted for more than the last year.
Parroting his father on the economy's growth is just start. There is, of course, the insults and accusations lobbed at Clinton during last year's campaign and ever since, exactly like President Trump
And Trump Jr.'s also gotten into public Twitter spats with members of the media. His father has insulted MSNBC Morning Joe hosts Mika Brzezinski and Joe Scarborough, while Trump Jr. has gone after one of his dad's most vocal and frequent critics, Keith Olbermann.
Donald Trump Jr.'s Twitter Is Just As Bad As His Father's | U.S.