Trump Jr.'s Russia Meeting on Clinton Was 'Not Collusion,' Republican Says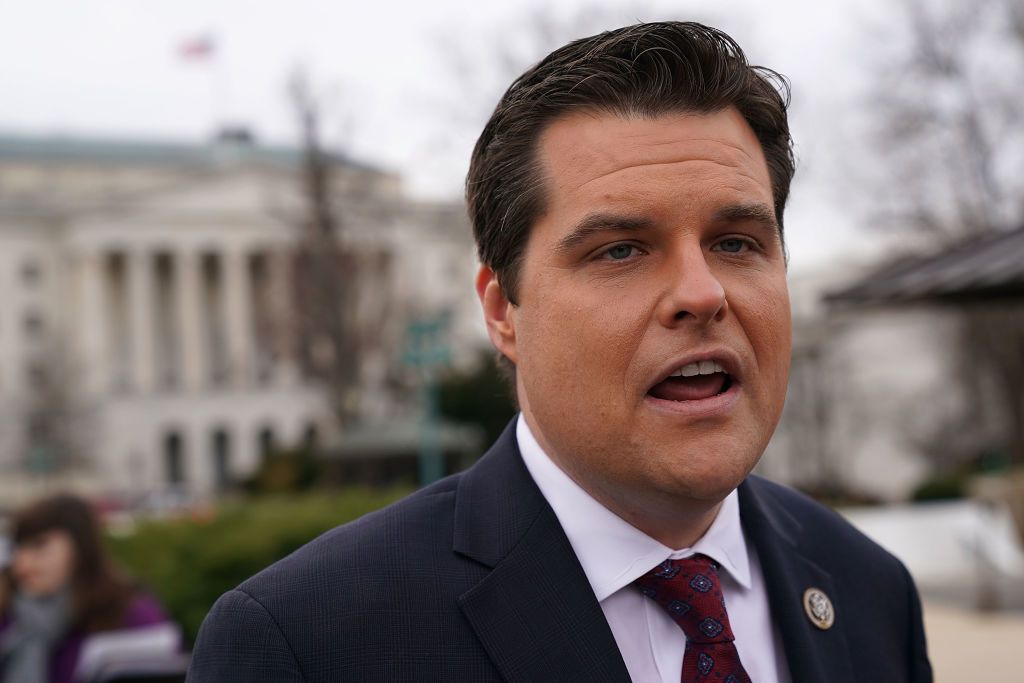 During a heated exchange with CNN anchor Erin Burnett late Wednesday Republican Congressman Matt Gaetz said the Trump campaign's eagerness to get "dirt" on Hillary Clinton is not evidence of collusion with Russia in the 2016 election.
In the interview, Burnett cited testimony to the Senate last August by Glenn Simpson, the co-founder of Fusion GPS—a political research firm that hired a former British spy to compile a dossier on candidate Donald Trump.
Simpson testified to the Senate Judiciary Committee about the company's work on the controversial dossier that was originally commissioned by a Republican during the primaries, and then funded by Hillary Clinton's campaign when Trump became candidate. The testimony was made public by Democrat Dianne Feinstein early this week, and the CNN anchor asked Gaetz about the part of the largely unverified dossier that showed members of the Trump campaign were eager to get dirt on Clinton.
She pointed to the apparent corroboration of the claim made in an email sent by Donald Trump Jr. before a meeting with a Russian lawyer in Trump Tower in June 2016. Responding to an offer of information on Clinton from the Russian government, Trump Jr. emailed, "If it's what you say I love it." He then met with the Kremlin-linked lawyer who was claimed to have the damaging information.
"That's not collusion," said Gaetz, who sits on the House Judiciary Committee, in response to Burnett's questions. "Are you really maintaining that is evidence of collusion?"
"That's an absurd claim," Gaetz continued. "That's like if somebody got the names right in the dossier or locations and times that somehow the verification of a single fact in the dossier somehow informs on the rest of it. We need to know the truth and we need to determine where the facts lie."
Read more: How true is the Trump-Russia dossier? One year later, what we know about its claims
Gaetz said that just because CNN has been able to verify information contained in the dossier, "doesn't mean it's true." He added "there is no independent verification of these documents" and suggested that verification of facts by the media doesn't get to the truth.
A story in the The New York Times in late December said that Trump campaign aide George Papadopoulos was approached by a professor connected to the Kremlin in April 2016 with news that Moscow had thousands of damaging emails about Clinton. He reportedly revealed this to an Australian diplomat, who then informed the FBI.
In Simpson's testimony last August he says that the FBI opened an investigation into the Trump campaign, not because of the dossier, but because it "corroborated reports the bureau had received from other sources, including one inside the Trump camp."
A source has told Business Insider that testimony "was a reference to George Papadopoulos."
Other claims in the dossier have also proven accurate, but others remain unverified—including its most salacious claims about a "golden shower" sex act.
During the interview, Gaetz pointed out that Burnett was also citing testimony by Simpson's lawyer that is unverified and not in the dossier. On page 279 of Simpson's testimony his lawyer Josh Levy claims that "somebody's already been killed" as a result of the document.
"There was no collusion, everybody including the Dems knows there was no collusion, & yet on and on it goes," President Donald Trump tweeted early Wednesday, calling the investigations in Congress and by special counsel Robert Mueller into his campaign's ties to Russia "the single greatest Witch Hunt in American history."
"Republicans should finally take control!" Trump urged. Gaetz and other Republicans have been trying to do just that.