Trump Judge Pick David Stras Confirmed Without Traditional Approval by Home State Senators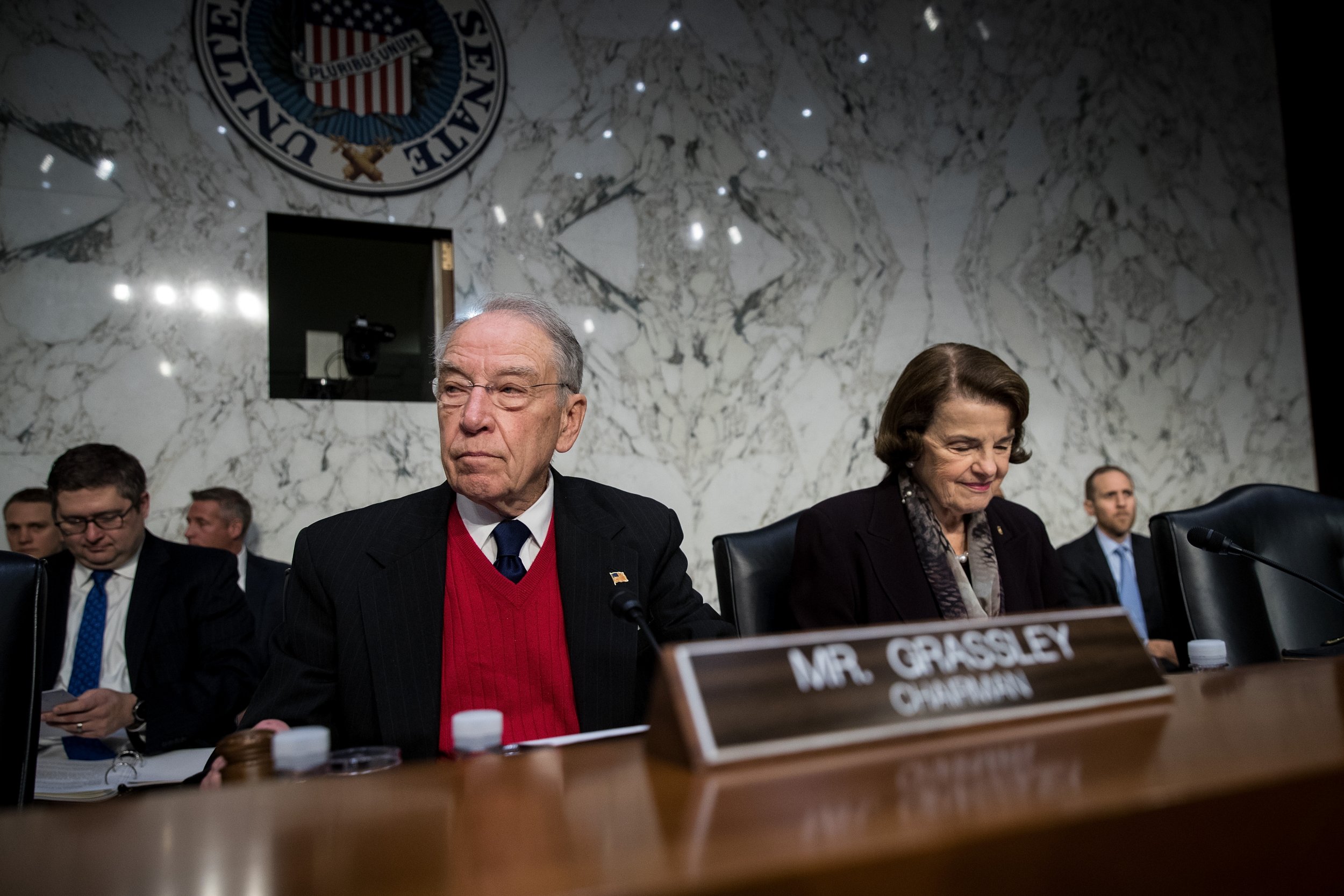 President Donald Trump's federal judge appointee David Stras was confirmed by the Senate Tuesday without approval of a home state senator, a move that bucks decades of tradition.
"For the first time in 30 years the Senate has confirmed a judge without having received sign-off from both home-state senators. Terrible! The Senate needs to protect its 'advise and consent' role. Otherwise, it will become nothing more than a rubber stamp," Senator Dianne Feinstein (D-Calif.), a member of the Judiciary Committee, tweeted after the Tuesday confirmation.
The "blue slip" process allows senators from the home state of judicial appointees to submit their approval or disapproval, on the premise that they have better knowledge of the appointee's past. However, Senate Judiciary Committee Chairman Chuck Grassley tossed out the blue slip process for this appointment in November, and the Senate confirmed Stras, a Minnesota Supreme Court justice, in a 56-42 vote.
Former Minnesota Senator Al Franken said last year he would not turn in a "blue slip" for Stras as a sign of disapproval of the nominee's hard-right views.
Watchdog groups including NAACP Legal Defense Fund and LGBTQ advocate Lambda Legal opposed Stras' nomination for the Eighth Circuit Court. Lambda Legal raised concerns over whether Stras' was willing to adhere to decisions made by the U.S. Supreme Court in LGBT rights cases, saying that Stras questioned lines of the decision in Lawrence v. Texas, which struck down a Texas sodomy law as unconstitutional.
The NAACP said his record showed "hostility" towards civil rights. Stras wrote a dissenting opinion in a rape case that argued courts did not have jurisdiction to bring in expert testimony to back up parts of a victim's story.
Stras previously served as an associate justice on the Minnesota Supreme Court, and clerked for Supreme Court Justice Clarence Thomas and two circuit court judges. In a Monday statement, Grassley wrote that he believed Stras would be an "impartial" judge and would not be a rubber stamp for political ideology.
In a November memo, the Senate Judiciary Committee majority said that the blue slip process was simply a courtesy, not a binding rule, and that hearings could be held for appointees despite negative or unreturned slips. Minnesota Senator Amy Klobuchar, a Democrat, approved of Stras but said, "I don't agree with all of his decisions."
Franken said last year he believed Stras would be a "conservative jurist in the mold of Supreme Court Justices Clarence Thomas and Antonin Scalia." The former senator resigned on January 2 over sexual misconduct allegations. Franken's successor, Senator Tina Smith, opposed Stras' confirmation.
Stras is the thirteenth Trump pick confirmed to a federal appeals court. With 12 confirmations during 2017, Trump set a record for the most appeals court picks confirmed during a president's first year in office. Former President Barack Obama only had three circuit court appointees confirmed in his first year. Trump's Supreme Court appointee Neil Gorsuch was confirmed in April 2017.