With New Appointments, More Than One-Third of Trump Appeals Judges Have Record of Anti-LGBT Bias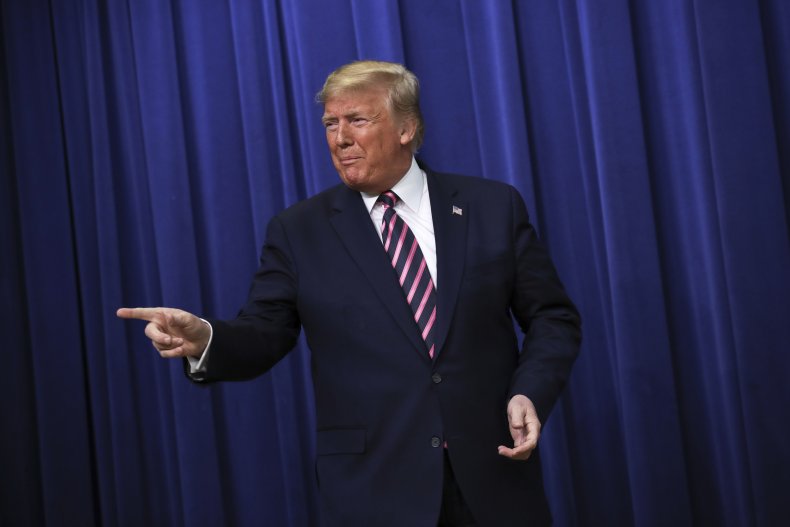 More than one-third of President Donald Trump's circuit court nominees have a documented history of bias against LGBT people, according to a sweeping new report that illustrates how the president's disregard of judges' ratings as well as conservatives' efforts to reshape the judiciary may have an enduring impact on the federal court system.
The report by Lambda Legal, a non-profit organization that advocates for LGBT rights, raised questions about whether nominees who have demonstrated or expressed opinions adverse to LGBT equality will be able to be impartial toward LGBT litigants, particularly as gay and trans civil rights cases become increasingly prominent, the authors said.
"This is just the canary in the coal mine," Sasha Buchert, a senior attorney with Lambda Legal, told Newsweek. "These are nominees that we're seeing who are not just inimical to LGBT protections but to civil rights generally. We don't oppose people based on their affiliation, but it's troubling that they're all reading from the same playbook."
Circuit courts are the courts of appeals for federal cases, sitting just below the Supreme Court in the hierarchy in the judiciary. And perhaps most consequentially, these courts are often the 'court of last resort' for any of the thousands of litigants whose cases the Supreme Court declines to hear, leaving the circuit court judges' opinions as the final word. The circuit court nominees, as with nearly all federal judges appointed by the president, serve for a lifetime and can only be removed from the bench upon their retirement, death, resignation or impeachment.
"We often hear folks on the other side of the aisle talking about how this is just a lawyer doing his job, representing his client," Buchert said. "But it's their record and personal statements we looked to in order to determine they're not going to be able to provide impartial justice."
The Senate so far has confirmed 50 Trump circuit court nominees, or about one-third of the approximately 170 judges serving at the circuit court level. In the Eleventh Circuit alone, which serves 36 million residents in Alabama, Florida and Georgia, 42 percent of the bench was nominated by Trump, according to Lambda Legal.
Among the judges noted in Friday's report is Lawrence VanDyke, a forthcoming member of the Ninth Circuit and one of Trump's newest judges, who achieved confirmation in the Senate despite a record of anti-LGBT views or of opposing LGBT equality as determined by Lambda Legal.
A spokesperson for the Court of Appeals for the Ninth Circuit did not respond to a request for comment.
While VanDyke was a second-year law student at Harvard Law School, he penned an op-ed suggesting there was cause to believe that same-sex marriages "hurt families, and consequentially children and society."
And in a 2010 amicus brief filed with the Supreme Court, VanDyke argued that college campus groups who want to exclude LGBT members were shielded by the First Amendment's freedom-of-association protections.
The non-partisan American Bar Association (ABA) took the rare step of warning the Senate Judiciary Committee that there were concerns "about whether Mr. VanDyke would be fair to persons who are gay, lesbian, or otherwise part of the LGBTQ community" in its evaluation of his candidacy for the federal bench.
"Mr. VanDyke's accomplishments are offset by the assessments of interviewees that Mr. VanDyke is arrogant, lazy, an ideologue, and lacking in knowledge of the day-to-day practice including procedural rules," the ABA said in its letter ahead of VanDyke's confirmation. "There was a theme that the nominee lacks humility, has an 'entitlement' temperament, does not have an open mind, and does not always have a commitment to being candid and truthful."
When asked about the ABA's assessment during his confirmation hearing, VanDyke broke down into tears. He denied that he would treat litigants unfairly based on their sexual orientation or gender identity.
"It is a fundamental belief of mine that all people are created in the image of God," he said. "They should all be treated with dignity and respect."
The ABA ultimately provided VanDyke with a rating of not qualified, the lowest rating a nominee for the federal bench can receive.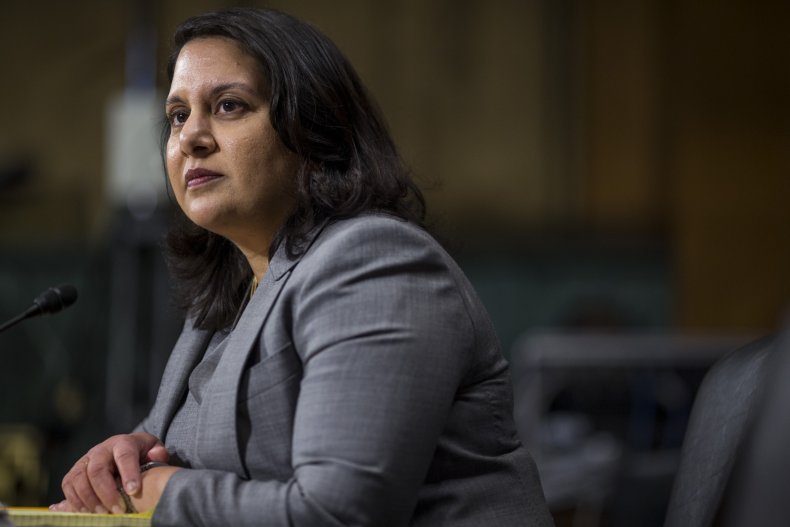 While the ABA has objected to only a few of Trump's nominees, the president's pursuit of such confirmations breaks with precedent. In the past 30 years, Trump is the only president to have nominated and confirmed circuit court judges with a not qualified rating, the report, called "Trump's Judicial Assault on LGBT Protections," showed. Besides VanDyke, two other of the president's circuit court nominees who were confirmed by the Senate have been rated not qualified, and nearly half of all federal judges to have received this rating in the last 30 years were nominated by Trump.
Another judge named in the report, Trump nominee Neomi Rao, was appointed to the court of appeals seat that had been held by Justice Brett Kavanaugh.
As an undergraduate student at Yale University, Rao wrote a column for The Yale Herald observing that "trendy" movements had "added sexuality to the standard checklist of traits requiring tolerance."
"Because homosexuality, unlike gender and race, concerns a socially unacceptable activity, many gays have responded to the demands of normalcy in radical ways," she wrote. "They want not only equal rights, but they struggle more fundamentally to alter culture and society."
Rao also faced criticism for her early writings which appeared to suggest victims of sexual assault might bear some culpability.
"A man who rapes a drunk girl should be prosecuted," she said in another column. "At the same time, a good way to avoid a potential date rape is to stay reasonably sober."
A representative for the Court of Appeals for the District of Columbia Circuit did not return a request for comment, but Rao has publicly defended her ability to remain impartial in judicial settings.
When pressed by Senator Cory Booker during her confirmation hearing about her views towards LGBT people, Rao replied "no" when asked whether she thinks gay relationships are immoral.
"Senator, my personal views on any of these subjects are things I would put to one side," she said. "Whatever my personal views are on this subject, I would faithfully follow the precedents of the Supreme Court.
"I take people as they come," she added. "Irrespective of their race, ethnicity, sexual orientation, I treat people as individuals. Those are the values that I grew up with, and those are the values I would apply if confirmed."
The ABA ultimately rated her well qualified, the organization's strongest endorsement.
Lambda Legal also illustrated how extensively the Trump White House, Senate Majority Leader Mitch McConnell and organizations such as the Federalist Society have been able to remake the federal bench and how the Senate's traditionalist confirmation process has been altered to allow them to do so.
"When it comes to judges, we're looking at 20, 30 or 40 years of impact that will extend far beyond however long this administration lasts," Sharon McGowan, Lambda Legal's legal director, told Newsweek. "There's a risk to the integrity of the courts, and the length of time that there is this potential for harm to be done is so long."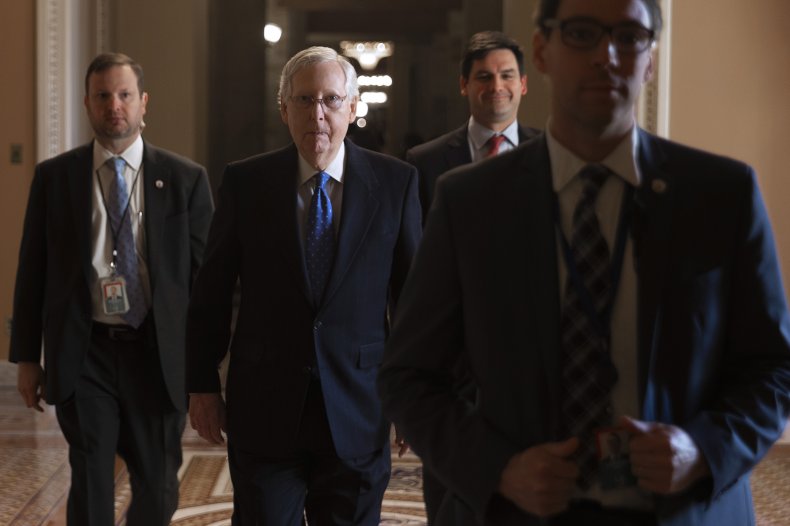 Because of expedient Senate action on Trump nominees, the White House has managed to flip one-quarter of the circuit court system from majority-Democrat-appointed judges to majority-Republican-appointed judges in 2019 alone. These three circuits cover nine states from New Hampshire to Texas.
In April, Senate Republicans led a slim majority vote in the Senate to invoke the so-called nuclear option and reduce debate time for district court judges to a mere two hours, from the original allotted time of 30 hours per judge.
The abandonment of the century-old blue slip process also has reduced the Democratic minority's ability to influence the advancement of Trump nominees within the Senate's confirmation process.
And while Trump's influence on the circuit courts is apparent through sheer numbers alone, the affiliations of these judges are also garnering additional scrutiny. Lambda Legal has found that more than 85 percent of these nominees are members of the Federalist Society, an influential conservative legal organization that reports show has helped determine Trump's roster of appointments.
Ultimately, the report aims to demonstrate why it matters whether nominees have certain affiliations or have expressed certain views, notwithstanding their assurances of impartiality during confirmation hearings.
"I'm not confident for some of the nominees that the act of putting on the robe will instill in them the higher purpose of doing justice to all," McGowan said.
However, she expressed an inkling of hope that the realities of life on the federal bench may inspire some moderation, especially when past writings have evinced more hardline beliefs.
"I think there are certainly some nominees who acknowledged the error of their prior writings and recognized that their views had become more informed over the years," she said. "The judiciary still is grappling with LGBT issues and we're going to need to continue to do the work to explain why it is compatible with all of the other constitutional guarantees to have LGBT people live full, equal lives."