Trump Judicial Appointments Reach Milestone, Over 150 Judges Confirmed With One Year Left to Go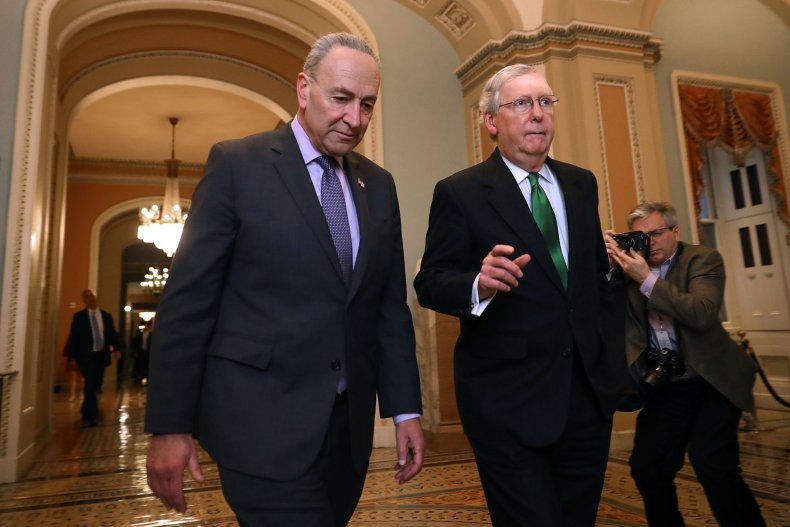 Senate Judiciary Chairman Lindsey Graham hailed the confirmation of President Donald Trump's 150th federal judge this week, calling it a "historic milestone"
"As Chairman of the Senate Judiciary Committee, I will continue to push through highly qualified, conservative judges at all levels of the federal courts," he said in a statement. "These conservative judicial appointments will impact our nation for years to come."
This represents nearly half the number of federal judges former President Barack Obama was able to appoint during his full eight years in office, though Trump still has more than a year left in his first term.
The recent pace of confirmations is partially the result of a deal struck by Senate Majority Leader Mitch McConnell and Senator Chuck Schumer, the minority leader, to speed up confirmations at the end of 2018. The deal allowed Democrats from red states to spend more time campaigning in their home states ahead of the 2018 midterms instead of attending confirmation hearings in Washington. The deal also included the confirmations of two of Obama's nominees, Mary McElroy of Rhode Island and Stephanie Gallagher of Maryland.
On Wednesday, dozens of protesters crammed the halls of Congress to protest the confirmation hearing of Steven Menashi, a Trump administration aide who was nominated to the Court of Appeals for the Second Circuit.
In 2017, when Secretary of Education Betsy DeVos rescinded Obama-era guidance to colleges about how to comply with Title IX, the federal law that prohibits discrimination on the basis of sex in higher education, Menashi was serving as her acting general counsel.
In various blog posts and editorials he wrote in the late 1990s and early 2000s, Menashi complained of "leftist multiculturalism," "PC orthodoxy" and "gynocentrists," CNN reported.
Liberal groups have also expressed concern about the impact Trump's appointees will have on the makeup of the judiciary. Some of these appointees are exceptionally young, extending their reach in the federal jurisprudence for decades. One of Trump's confirmed judges, Allison Rushing, at 36, is the youngest federal judge in the country.
One Vox analysis found that Trump's nominees have been "whiter, more male, and slightly younger than those proposed by former President Barack Obama."
The Leadership Conference, a civil rights organization helmed by an Obama Justice Department alumna, reacted to news of the milestone confirmation on Twitter.
"Trump is taking over our courts with anti-civil rights nominees who represent a gigantic setback for judicial diversity," the group wrote. "We can't win if we don't fight – and we must keep fighting to #StopTrumpsTakeover."
According to an analysis from the Washington Examiner, Trump is on pace to appoint 30 percent of all federal judges currently on the bench by the end of his first term.