If Donald Trump Turns July 4 Parade into Campaign Rally, Military Personnel Could Breach Ethics Rules
In the event that President Donald Trump turns his "Salute to America" Fourth of July parade with tanks into a campaign rally of sorts by providing premium seating tickets to his supporters, he could be putting military personnel in jeopardy of breaching ethics rules, according to an officer in the U.S. Navy Reserve.
Josh Campbell, who is also a CNN law enforcement analyst and former FBI agent, weighed in on the matter Tuesday as ethics and legal experts raised concerns about the appearance and possibility that Trump supporters would get access to the best viewing areas for the free, public event.
Walter Shaub, who was the director of the Office of Government Ethics under ex-President Barack Obama, tweeted, "Hey Congress, you good with Trump letting the [Republican National Committee] hand out VIP tickets to a taxpayer-funded event as a reward for big campaign donors? Are we the country that lets a politician use the military as a fundraising prop for his reelection?"
Former U.S. Attorney Preet Bharara, who served under Obama and was fired by Trump, commented that Shaub's point would be "another good hearing topic."
Campbell replied with a screenshot and link to the Department of Defense ethics guide and highlighted section 4.1.2 on prohibited political activities.
"A member of the Armed Forces on active duty shall not: 1. Participate in partisan political fundraising activities, rallies, conventions, management of campaigns, or debates," reads the relevant section of the guide. "The prohibition is broad and does not depend on whether a member is in uniform or even whether an inference of official endorsement can be drawn," it continues.
Trump has a history of turning supposedly non-partisan occasions into opportunities to blast critics and tout his accomplishments. Last month, Trump drew criticism for giving an interview with Fox News in Normandy, France, in which he blasted House Speaker Nancy Pelosi and special counsel Robert Mueller while the gravestones of American soldiers could be seen in the background.
The White House did not immediately respond to a request for comment from Newsweek on Tuesday.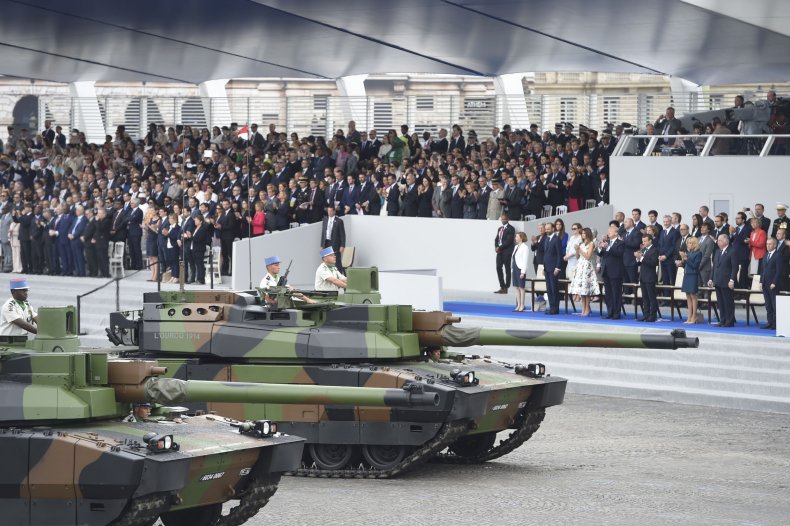 Trump attended a Bastille Day event in Paris with tanks in 2017 and has since wanted to hold an event showing military prowess in Washington, D.C. It did not materialize in the past due to concerns over high costs and possible infrastructure damage.
The president on Monday said tanks would be stationed outside the Independence Day celebration, set to take place at the National Mall Thursday. An Associated Press photographer found two M1A1 Abrams tanks as well as four additional military vehicles on a freight train in southeast Washington, D.C., that night.
The Republican National Committee on Monday indicated it received tickets to distribute for the event. A Democratic National Committee official told NBC News on Tuesday morning that they had not been given tickets.
Trump has vowed that his speech for the celebration on the Lincoln Memorial steps will be directed at all Americans. On Tuesday morning, he tweeted that military leaders were "thrilled" to participate in the celebration.
"Big 4th of July in D.C. 'Salute to America.' The Pentagon & our great Military Leaders are thrilled to be doing this & showing to the American people, among other things, the strongest and most advanced Military anywhere in the World," Trump tweeted. "Incredible Flyovers & biggest ever Fireworks!"