Trump Jumbles 'Coach' Saban's Name on Eve of Alabama Senatorial Runoff Race
During a conference call on Tuesday, President Donald Trump may have confused current University of Alabama football coach Nick Saban with former football coach Lou Saban, who died in 2009.
Trump was on the call to support Alabama gubernatorial candidate Tommy Tuberville. Tuberville is running against former U.S. Attorney General Jeff Sessions, for the chance to win Alabama's Republican Senate nomination. Sessions resigned from the Trump Administration in May 2018 after recusing himself from investigations into Russian meddling in the 2016 election.
Trump lauded Tuberville as a "really successful coach" at Auburn. "Beat Alabama, like six in a row, but we won't even mention that," Trump said. "As he said... because of that, maybe we got 'em Lou Saban. And he's great, Lou Saban, what a great job he's done."
Nick Saban has been the head coach of Alabama's Crimson Tide since 2007. During that time, Nick Saban has guided the team to five national championships. In 2013, Nick Saban was inducted into the Alabama Sports Hall of Fame.
Lou Saban coached both college-level and professional football over a five-decade sports career. Lou Saban also served as the president of the New York Yankees baseball organization from 1981 to 1982, helping cement his nickname as "Much Traveled Lou." Lou Saban held 18 jobs over 33 years. However, he never coached for Alabama.
Newsweek reached out to the University of Alabama for comment.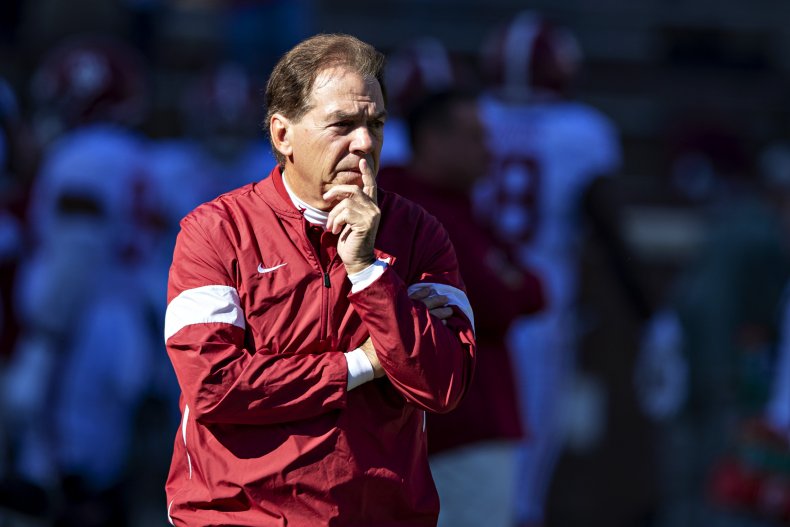 Trump's comments about Saban came after he expressed affection for Alabama on Monday's conference call.
"It's been a great state and I love helping you," Trump said. "And I think one of the reasons and one of the ways that we're going to be helping you is by recommending strongly Tommy Tuberville to be your next senator."
Tuberville served from 1999 to 2008 as head coach of the Auburn Tigers football team. In a video released by his campaign in February, Tuberville said he was running for office to "be a voice for the people of Alabama."
"You know, this country's got a disease," Tuberville said. "And the disease is the career, corrupt politicians in this country have allowed socialism to creep in."
President Trump has criticized Jeff Sessions while throwing his support behind Tuberville.
"Alabama, do not trust Jeff Sessions," Trump tweeted in May. "He let our Country down." Trump described Tuberville as the "true supporter of our #MAGA Agenda."
Sessions responded on Twitter by telling Trump, "Your personal feelings don't dictate who Alabama picks as their senator, the people of Alabama do."
Voters are expected to cast their ballots for either Tuberville and Sessions during Tuesday's state election. The winner of the election will take on incumbent Democratic Senator Doug Jones in the November election.